Close Banner
Advertisement
This ad is displayed using third party content and we do not control its accessibility features.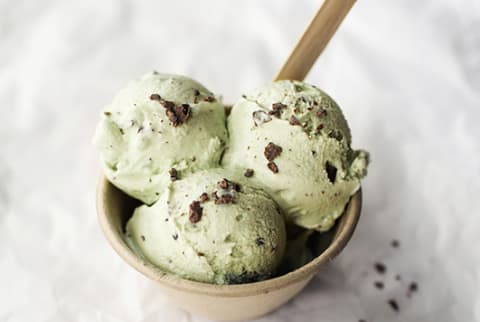 Photo by Virpi Mikkonen and Tuulia Talvio
Avocado naturally gives a nice flavor to mint ice cream, and a handful of chocolate chips makes this ice cream even more fun to eat.
Avocado Mint Chocolate Chip Ice Cream
2 (14-ounce/400-ml) cans full-fat coconut milk (refrigerated overnight)
2 ripe avocados, peeled and diced
5 to 7 tablespoons rice syrup or other sweetener
1 teaspoon peppermint extract
1 large handful of fresh mint leaves
¼ cup (60ml) raw cacao nibs (or unsweetened chocolate chips or grated raw chocolate)
Open the coconut milk cans and scoop the thick white cream into a blender. Add avocados, rice syrup, peppermint, and fresh mint, and blend until smooth. Add the cacao nibs/chips and stir with a spoon.
With an ice cream maker:
Pour the mixture into your ice cream maker and prepare the ice cream according to the manufacturer's instructions. Serve right away or transfer to a freezer-safe container; cover and freeze until ready to be served. Let the ice cream thaw for 10 to 15 minutes before serving.
Without an ice cream maker:
Pour the ice cream mixture into a freezer-safe bowl and freeze for about three hours, mixing well every 30 minutes. Scoop into bowls, serve, and enjoy!
Excepted from the book N'Ice Cream. All photo and recipes by the authors, Virpi Mikkonen and Tuulia Talvio.

Virpi Mikkonen
Virpi Mikkonen is a food blogger, food writer, recipe designer, and certified health coach. Mikkonen's blog, Vanelja, won Best-Designed Blog at the Saveur Blog Awards in 2015
Tuulia Talvio is a food blogger and certified yoga instructor. Her blog, Uusia Tuulia, has been featured on Brit & Co, Camilla Styles, Yahoo Food and Feedfeed.
Both authors live in Helsinki, Finland with their families – and eat ice cream all year round.