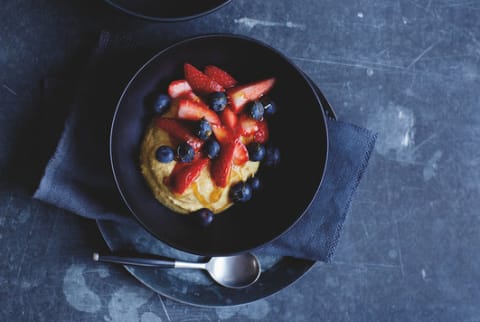 Photo by Superfoods Superfast
August 4, 2016
I think turmeric is one of the greatest spices we can add to our diets for so many reasons.
Ground turmeric is perfectly good, but grated fresh turmeric is even better. It's probably not possible to have a curry every night of the week, so I try to think of other ways to incorporate it into my diet. This one works like a charm.
Fruity Turmeric Breakfast Bowl
1 x 400mL can (1½ cups) coconut milk, refrigerated overnight
½ banana, roughly chopped
½ green apple, cored and roughly chopped
½ teaspoon ground ginger or grated fresh ginger
1 teaspoon ground or freshly grated turmeric
100g (1 cup) strawberries, chopped
100g (¾ cup) blueberries
honey, for drizzling
Spoon the cream off the top of the coconut milk and add the milk below to a food processor or blender with the banana, apple, ginger, and turmeric. Blitz until smooth, then pour into bowls and top with the strawberries, blueberries, and a drizzle of honey.
That's all it takes—a super-easy way to get that super spice in.

Julie Montagu
Julie Montagu is one of London's top yoga and nutrition teachers. As Cosmopolitan put it, "Among London's taut-buttocked set, the name Julie Montagu is talked about with the sort of reverence reserved for the Dalai Lama. (Her Sunday class in SW3 gets so packed that she often teaches standing on a radiator. True Story.)"
Julie is the star of Bravo TV's "Ladies of London" and the brains behind her new membership wellness site www.truly-julie.com. Married with four children, Julie's workshops on self love, letting go and happiness have been sell out successes. Head to www.juliemontagu.com for more information.