Treat Your Friends With These Flourless Almond Butter Cookies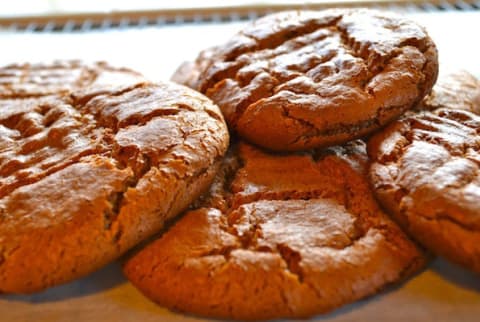 November 4, 2013
These cookies are so good and so healthy it's almost criminal. It's fun to have a healthy, easy and extra delicious recipe in your repertoire to wow your friends at any gatherings.
This is one of my secret recipes that I reserve for such occasions. Let's keep it between you, me and the internet. I use the recipe below when serving them at a party, and halve the amount of honey when I make them for an everyday snack. They remind me of traditional peanut butter cookies, without the guilt or bloating.
Advertisement
This ad is displayed using third party content and we do not control its accessibility features.
Flourless Almond Butter Cookie Recipe
Makes 16 cookies
Note: Use organic ingredients whenever possible.
Ingredients
2 cups creamy almond butter, room temperature
2/3 cup raw honey (local if possible)
2 large eggs (free range if possible)
2 level teaspoons baking soda*
½ teaspoon fine sea salt
½ teaspoon pure vanilla extract
Advertisement
This ad is displayed using third party content and we do not control its accessibility features.
Method
Preheat the oven to 350º Fahrenheit. Line two baking sheets with parchment paper.** Add all of the ingredients to a large mixing bowl and mix together on medium-high with a hand mixer for 60-90 seconds, or until the mixture comes together like a thick dough. It should be very thick and sticky.
Form the dough into ping pong-sized balls, rolling them gently with wet hands to form. You'll need to rinse and wet your hands every second or third cookie, as the dough is very sticky.
Place 8 dough balls on each parchment lined cookie sheet spaced about 2 inches apart, making sure each ball is about the same size for even cooking time. Use the back of a fork to slightly flatten each cookie and make a crisscross pattern on the top (you may need to wet the fork in between each cookie if the dough is too sticky.)
Bake each sheet of cookies individually for 10-11 minutes, until lightly browned but not too dark on the bottoms. The bottoms will burn easily, so check the cookies at 10 minutes; slide the parchment paper with the cookies still on it right onto a cooling rack or other surface to prevent the cookies from continuing to cook on the cookie sheet. Let cool 5-10 minutes before eating. Store the cookies in an airtight container in the refrigerator up to 5 days (but let's be honest, they'll never last that long).
Notes: Look for all natural, aluminum-free baking soda; you can find it online or at your natural grocer. And remember, parchment paper and wax paper are two very different things. Be sure you're using parchment paper.
Bon Appétit!
Advertisement
This ad is displayed using third party content and we do not control its accessibility features.
Elizabeth Rider
Blogger & Recipe Writer
Elizabeth Rider is a leading nutrition & whole living expert teaching women around the world how to become the healthiest, most successful people they know. In a world flooded with diet information, Elizabeth's healthy recipes and straight-forward nutrition advice draw millions of inspired readers to her popular blog. Best known for her fun and accessible approach to food & healthy living, she's built an online wellness empire from scratch on her iphone and laptop. The Psychology Of Eating named her website as a Top Health Coach Blog, and List Nutrition called her site a Top 20 Nutrition Blog. Thousands have had success using her online programs, which include Clean Up Your Diet™, Purpose To Profit™ and The Wellness Business Bootcamp™.

As host of Elizabeth Eats on FMTV, Elizabeth is delightfully changing the way the world views healthy home cooking. She speaks on stages around the world and mentors scores of ambitious people each year to seek and live life on their own terms. As a Certified Holistic Health Coach (Integrative Nutrition) and accomplished online entrepreneur, cultivating a lifestyle of freedom and health is her religion. Elizabeth is a graduate of Cornell University's Plant-Based Nutrition program, a TEDx speaker, and regular contributor to The Huffington Post. She has been featured on Shape.com, MindBodyGreen, Greatist and POPSUGAR among others.
About Elizabeth Eats: Join Certified Health Coach and popular food blogger, Elizabeth Rider, as she shares her favorite recipes that are guaranteed to change the way you think about healthy home cooking. Her simple recipes and easy-to-make swaps recreate some of your favorite comfort foods and introduce you to entirely new soon-to-be favorites. Watch as she walks you through making each delicious dish step-by-step. Easy to follow, fun to watch, and delightful to sample, this fresh series will leave you looking forward to cooking your way to a healthier, happier you. No tofu, cardboard, or deprivation required.