The Best Trail Runners Of 2023 + Tips From Top Running Coaches
Health Writer & Editor
By Kristine Thomason
Health Writer & Editor
Kristine is a writer, editor, and editorial consultant who lives in Long Beach, CA.
Last updated on February 23, 2022
Our editors have independently chosen the products listed on this page. If you purchase something mentioned in this article, we may
earn a small commission
.
I don't know about you, but I would take an outdoor run over indoor treadmill miles any day. And while most of my weekly routes stick to a paved road, when I have the opportunity, I love to hit the trails.
Why trail running? I think RRCA-certified running coach Raj Hathiramani, an instructor with Aaptiv and Mile High Run Club, sums up my feelings pretty perfectly: "Trail running is an effective way to escape routine and immerse yourself in nature. Running through oxygen-rich, shaded woods will make you feel raw, energized, and connected to something bigger—Mother Earth."
Advertisement
This ad is displayed using third party content and we do not control its accessibility features.
Beyond the mental benefits, there are quite a few physical perks, too.
"Trail running creates less impact on the body while building more strength in muscles to stabilize the core and legs," says Hathiramani. "Plus, trail running forces you to shorten your stride and increase your turnover to navigate various obstacles, resulting in more efficient running!"
However, if you're new to trail running, there are some important factors to keep in mind before embarking on an off-road adventure.
I chatted with running coaches and trail experts to help you stay safe, smart, and find the best trail running shoe to meet your needs.
Best Trail Running Shoes of 2023
Based on all of those useful tips from the experts—and my own personal experience testing running shoes, as a health and fitness editor—I've rounded up all of my favorite trail runners for this year:
Advertisement
This ad is displayed using third party content and we do not control its accessibility features.
Best Tech-Forward: Under Armour HOVR Machina Off Road Running Shoes
I've mentioned how much I like the UA HOVR Machina in the past (check out my roundup of the best running shoes for women), and this off-road edition is no exception.
Just like its road-running counterpart, I love that it seamlessly connects to the UA Map My Run app, for real-time form tips. This version also has a number of features that make it ideal for the trail, like a water-resistant upper, support around the heel for extra stability, plus plenty of traction and strategic lugs—to help take on any terrain.
UA HOVR Machina Off Road Running Shoes, underarmour.com ($160)
mbg Creative / Under Armour
Best For Sustainability: Allbirds Trail Runners SWT
You may know and love Allbirds for their variety of sustainable sneakers—and just last week, the brand launched a trail runner.
Similar to their usual best practices, these running shoes are constructed with earth-friendly materials—such as eucalyptus tree fiber, natural rubber, and recycled plastic bottles, to name a few.
And they certainly don't compromise on performance. When I tested these out, I personally appreciated the wonderful combination of a wide, cushioned outsole and ultra-grippy tread. Plus, it has a knit, sock-like "collar" at the top of the shoe that wraps around your ankle and keeps nasty rocks and debris out.
Trail Runners SWT, allbirds.com ($138)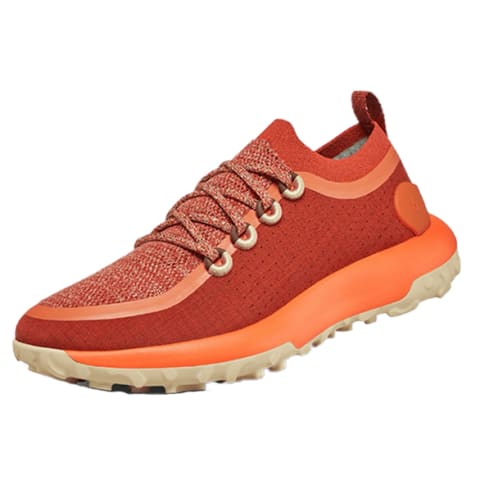 mbg Creative / Allbirds
Best For Cushion: HOKA Speedgoat 4
This trail runner has it all: a breathable yet durable mesh upper, 3D-printed overlays for extra support, and a wider toe box to accommodate all foot types.
When I laced up these shoes to take them for a spin, what really stood out to me was the fantastic cushion along with superb tread (think deep lugs and ultra-grippy rubber, perfect for wet or dry terrain), which gave me so much confidence on the trail.
Speedgoat 4, hoka.com ($145)
mbg Creative / HOKA
Advertisement
This ad is displayed using third party content and we do not control its accessibility features.
Best For Speed: The North Face Flight Vectiv
These shoes were designed with input from elite athletes, and it shows. I first took these shoes for a test run earlier this year on mountain trails. I was immediately impressed by how seamlessly I could hop from dirt path to paved (often icy) road, without losing stability—thanks to the brand's signature Surface Control rubber outsole, and slightly shorter lugs, for grip on various terrain.
I was also immediately struck by how much faster I felt, which has to do with various features in the shoe, such as a rocker midsole and 3D carbon-fiber plate for forward propulsion (among other energy-maximizing technology).
Flight VECTIV, thenorthface.com ($199)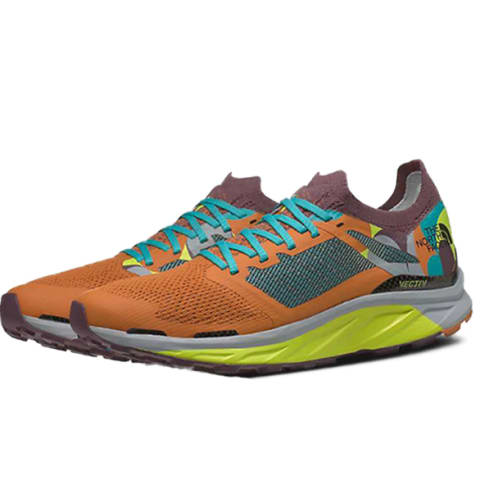 mbg Creative / The North Face
Best Lightweight: Altra Superior 5
One of the coolest things about Altra shoes is their signature FootShape design, which is meant to accommodate the natural shape of your foot. This shoe, in particular, also features strategically placed lugs, to help provide optimal traction as you run.
For someone who prefers a little less cushion, the Altra Superior 5 is a great choice. That said, when I tried these out myself, I was impressed to find that even with a thinner outsole than I was used to with other trail runners, my foot still felt supported and immune to the feeling of rocks underfoot. Plus, the overall lightweight shoe helped me stay nice and quick on my feet.
Superior 5, altra.com ($120)
mbg Creative / Altra
Best Tread: Saucony Peregrine 11
This shoe does not mess around when it comes to grip. It features thick lugs made of PWRTRAC tacky rubber, which help dig in and power through just about any type of terrain—both uphill and downhill.
It also has a nice combination of responsive cushioning and a protective rock plate, to help propel you through a trail run, without anything slowing you down.
Peregrine 11, saucony.com ($94.95)
Advertisement
This ad is displayed using third party content and we do not control its accessibility features.
Best Support: Merrell MQM Flex 2 Gore Tex
"MQM" stands for "move quickly through the mountains"—and that's exactly what this lightweight shoe delivers. The MQMs have been one of my go-to's for years, as they're great for both hiking and running on the trails.
This shoe is all about protection, thanks to a toe cap, rock plate, and plenty of ankle support—plus, this edition has a GORE-TEX® waterproof membrane to keep your feet dry and safe from the elements.
MQM Flex 2 Gore Tex, merrell.com ($104.95)
mbg Creative / Merrell
Best Minimal Shoe: Vivobarefoot Primus Trail II All Weather FG
If you prefer to feel more in touch with the earth as you run through nature, this minimalist shoe is a great pick. It is ultra-lightweight and has a thin yet durable sole that allows you to feel more of the trail under your feet.
It also features a wider construction for stability, and to fit your foot more naturally. What's more, it's another fantastic sustainable option, made using recycled all-weather mesh.
Primus Trail II All Weather FG, vivobarefoot.com ($195)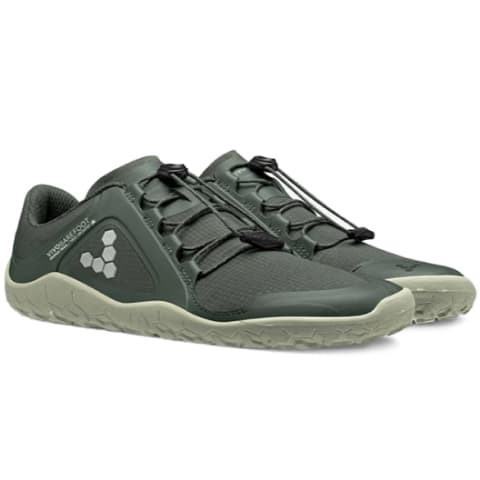 mbg Creative / Vivobarefoot
What to look for in a shoe.
As for what to seek in an ideal trail running shoe, "it needs to be specific to you, your needs, and the trail," says Praznik. These are some of the top factors to keep in mind, according to the experts:
Comfort: "The most important quality of a trail running shoe is comfort and fit; you shouldn't need to 'break in' the shoe; it should feel comfortable on the first wear," says Pyke.
Cushion: "Lightweight, responsive cushioning is better for shorter distances and runners who want a better feel for the trail," says Hathiramani. "Moderate and maximum cushioning provide more support for longer distances and rockier trails while also being easier on the joints."
Weight: "I always consider the weight and bulk of the shoe since I plan to use it for running; I want it to feel lighter and more agile than a hiking boot," says Pyke.
Support: "It is best to choose trail running shoes with a good tread as well as sufficient protection and foot support for uneven surfaces," says Hathiramani.
Fit: "The majority of your foot should feel snug and cradled, but you should be able to comfortably wiggle your toes. It's also a good idea to try on your shoes with the same socks, insoles, ankle braces, etc., that you plan on wearing," says Praznik.
Grip, tread, and lugs: "The deeper the treads, the better traction the shoe will give you on muddy trails, whereas shorter, more closely spaced treads are good for dry trails. Shoes with different tread patterns provide grip and stability at any angle," says Hathiramani.
Element-proofing: "Depending on the type of trails you'll be running on—you might consider a waterproof shoe for muddy and wet terrain," says Pyke.
Advertisement
This ad is displayed using third party content and we do not control its accessibility features.
What to consider before you hit the trails.
While trail running may seem pretty straightforward (the same as road running, just sans pavement, right?), it's crucial to keep some smart, strategic safety tips in mind.
For starters, "whether you're a beginner or an expert, before heading out for a run, it is imperative that we all plan ahead. In fact, the first step in purchasing a trail shoe should really be to research the trail and read up on what to expect," says Meaghan Praznik, head of communications at AllTrails.
"Choose trails appropriate for your fitness level and any injuries or conditions you have," Hathiramani adds. "For example, if you haven't been training on hills, avoid trails with challenging inclines and declines. If you are injury-prone, look for softer surfaces such as grass, dirt, or wood chips."
And if you're new to trail running, be patient with your progress, says running coach and physical therapist Bridget Pyke. "Start on easier trails and run shorter distances, then gradually build up to longer and more technical trails." In preparation, she also advises incorporating ankle mobility and stability exercises into your routine—to help prevent injury, such as ankle sprains.
Lastly, "For safety, always run with a buddy or a group," says Pyke. "If you are running outside of cell phone range, bring a GPS tracking device in case of emergency."
Kristine Thomason
Health Writer & Editor
Kristine is a writer, editor, and editorial consultant who lives in Long Beach, CA. Kristine is a New York University graduate with a degree in journalism and psychology, and also a NASM-certified personal trainer. She has spent her editorial career focused on health and well-being, and formerly worked for Women's Health and Health. Her byline has also appeared in Men's Health, Greatist, Refinery29, HGTV, and more. In her current role she oversees, edits, and writes for the health, food, and movement sections of mindbodygreen.