7 Tips for Selecting a Yoga Teacher Training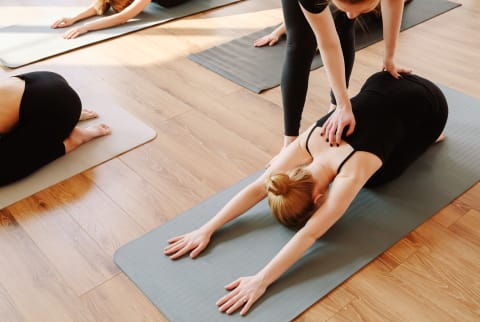 Image by Danil Nevsky / Stocksy
August 25, 2011
I've recently had some wonderful conversations with people interested in attending a yoga teacher training program. These conversations have spanned the continuum; there have been those that are fairly certain as to what they want to do, to those that really aren't sure where to invest their time, money, heart and soul (because, honestly, those are the resources that we use when we attend one of these events, right?) and everything in between. Even if you don't want to teach yoga, the idea of going to training can be appealing. It's a chance to understand a particular style of yoga more, meet like-minded people, travel, exercise and make your physical health a priority and in many instances, deeply explore who you are and how you can be your best self through the challenge of the physical and spiritual expression of yoga.
Before you hop on a plane, here are some things you may want to consider and/or do before you go:
1. Find a style you love: Why invest in a training on a style of yoga you "kinda like?" Unless you have all the time and money in the world, love what you're going to dive into. This means it's not your best friend's favorite style and you're not persuaded by the teacher's cool ads. It's a style that speaks to you, feels good in your body and you can speak truthfully from your heart about your experiences, as a student, of the style. This will all be the foundation of your teaching, so you might as well start there at your training.
2. Spend time getting to know the teacher before you go: Take the time you need to get to know the teacher leading the training. Even within a particular style of yoga, the person leading the training can have his or her own expression of the style. There are so many ways that you can learn about the teacher; all methods of social media, attending local trainings or workshops, books, DVDs, live streaming classes, regular classes if they are available near you; these are all cost-effective ways you can learn about the teacher and see if his or her style and presentation works for you.
3. Find out about the format of training: If you prefer personal attention, it might not make sense to attend training where there are lots of people. If you want to learn about the sutras and traditional yoga philosophy, attending a training that focuses more on yoga sequencing and alignment won't be a good fit. Talk to people that have attended in the past, talk to the yoga teacher's business office and read the descriptions on their website. Look for a posted daily agenda for the training, if there is one, and if there isn't, ask the business office what the daily agenda will include. Closely look at what's included; see if the components are pieces that are interesting to you and part of your overall plan for training.
4. Recognize that yoga teacher trainings are not vacations: Ok, yes, you may be in an exotic location. You may be eating tropical fruits and veggies. There may be an ocean nearby or even within walking distance. But, most likely (and I can only speak for my own experience here) you won't really have a lot of free time to lounge, read, swim or relax. You'll be absorbing information, practicing, sharing, practice teaching, writing and expressing. It's exhausting but at the same time, incredibly valuable. Just have a true sense of what to expect, as much as you can, through some of the tips shared above.
5. Develop a personal practice before you go: Teacher trainings usually have a pretty strict agenda. They have to; you've got a lot to review. As such, they are hard on the body and mind but again, this all comes with the benefit of absorbing valuable teachings and experiences. One of the best preparations you can do before you leave is to develop a habit of practicing. Ideally, you'd have access to a studio that supports the style of yoga that will be the focus of the teacher training, but even if not, just be practicing daily or at least 3 days a week. This will create a strong body, which you'll need for the extensive practices you'll do at training. This will also create the discipline you'll need to leverage when you're hard at work at training.
6. Prepare to give of yourself 100%: Teacher trainings are the magical combination of wisdom meeting intellect, soul meeting intelligence, the group experience supporting the individual, which in turn, supports the group. These trainings can be transformative if everyone is there giving of themselves fully. This means in each interaction with others, in providing feedback, in participating in different exercises, do it completely. It means being present, without distractions. The more you are there for the others, the more they can be there for you. That all contributes to an amazing experience for everyone.
7. Think ahead: Plan some time when you get home to transition back to a normal schedule. You'll not only need your rest; you'll need time to re-adjust to, in many cases, a regular sleep schedule, a regular eating routine and, more importantly, you'll need time to give your heart and soul time to absorb everything that you've learned. Much of it will be intellectual but much of it will be about you, your abilities, what you want to do with your future and identifying what you're passionate about.
Attending a teacher training can be the first step into a career you love, a way to express yourself with passion and a foundation for living a life that is consistent with your values. Get really clear on what you want and go for it!

Karen Fabian
EYRT, NASM-certified personal trainer
Karen Fabian is the Founder of Bare Bones Yoga. She is an ERYT and Certified Baptiste Teacher and has been teaching since 2002.
Karen teaches in studios, schools, training centers and businesses in Boston. She teaches anatomy for yoga teachers in a variety of teacher training programs. She also has a teacher mentorship program and writes for a variety of yoga related websites. She self-published her first book, "Stretched: Build Your Yoga Business, Grow Your Teaching Techniques," in July, 2014. Her book, DVD and schedule are all available on www.amazon.com.