Close Banner
Advertisement
This ad is displayed using third party content and we do not control its accessibility features.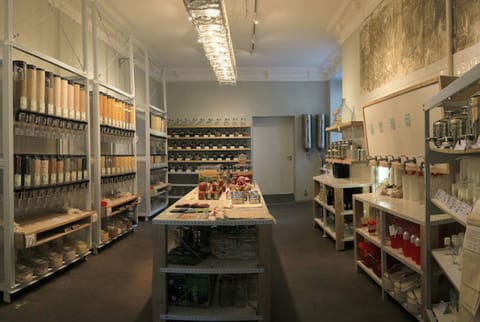 Photo by Jendrik Schröder
Well, one market in Berlin, Germany is actually making it happen. At Original Unverpackt, you won't find produce bags, paper bags, or, well, any kind of bags. The products are mostly in bulk bins, and the store tries to steer clear of recognizable brand names.
Salon has more on the nuts and bolts of how the operation works:
[Original Unverpackt's] 350-some products — including from fruits, vegetables, dry grains and pourable liquids like yogurt, lotion and shampoo — are dispensed into refillable containers. (Some liquids come in bottles with deposits on them, which is already standard in Germany).
Salon goes on to say that, as a bonus, most of the products are organic. Now THIS is a store we'd love to shop at!
While you're unlikely to see any American supermarket ditch all its disposable bags and containers in the near future, the crafty Germans have given us something to which we can aspire. Who doesn't like the idea of buying exactly the amount of food you need, and not having to throw away any bags in the process?

Anthony Schneck
Anthony Schneck received a BA in English from the University of Virginia, where he first discovered yoga. He lives in Brooklyn and enjoys music, food without gluten, writing and his garden.