This Equipment-Free HIIT Workout Will Give You Your Strongest Body Ever
Whether you're traveling, stuck inside due to chilly weather, or you're just not in the mood for the gym, worry not: It is possible to still get a killer workout in. All you really need is your own body weight, a little creativity, and a lot of intensity.
This is one of my favorite HIIT workouts, and it uses nothing but your own body weight, a bench, plyo box, or a sturdy chair. In other words, you can bust it out no matter where you are. Here are your moves:
Stand in a squat position with your feet about shoulder-width apart. Jump straight up as explosively as you can, bringing your arms by your side or overhead as you do so. Land back in a squat position and repeat without pausing.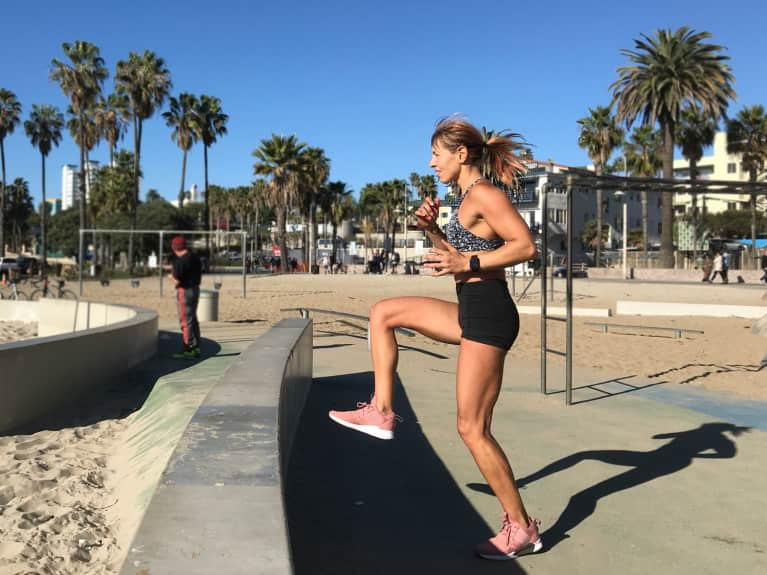 Face a bench or plyo box and put one foot on the bench. Alternate your feet on and off the bench or platform as fast as you can. You should feel like you're sprinting in place. Explosively drive your knees up and pump your arms as fast as possible.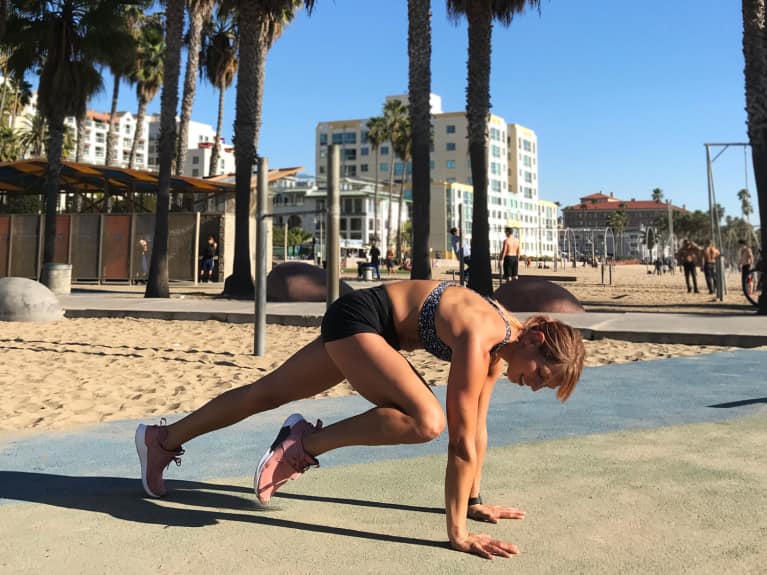 Start in a pushup position. Bring one knee toward your chest as far as it will go. Repeat with the other knee, pushing up through your shoulders and keeping your core tight as you do so. Once you feel like your form is solid, focus on speeding it up so that it feels like you're running in place.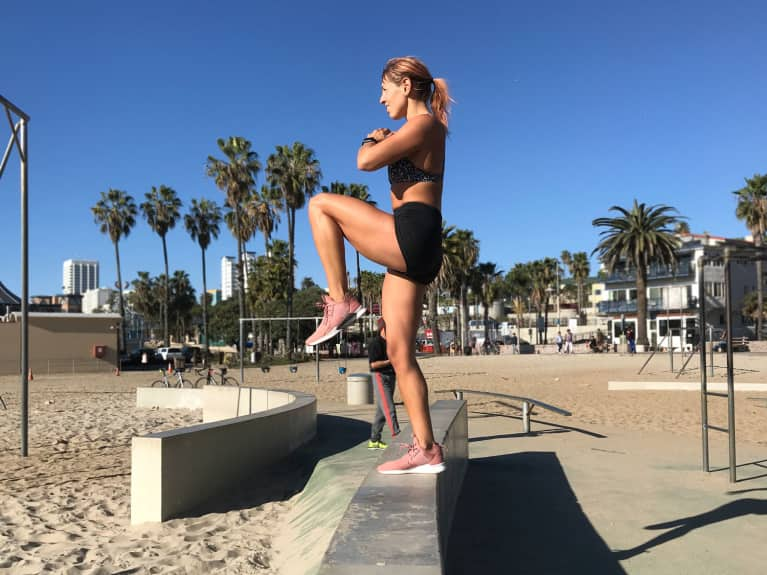 Stand in front of a plyo box, bench, or elevated surface. Step up onto the surface with one leg, following with the other leg. Step back down, then immediately squat down as far as you can, aiming to basically sit on your calves. Repeat, this time starting with the other leg.
Lie on your back with your hands by your side. Pulling your belly button toward the ground, tuck your knees toward your chest and raise your head and hands off of the floor. Extend your legs until they're straight in front of you, continuing to press your belly button into the ground. Return your legs to the tuck position. That's one rep.
Here's exactly how to use each move:
Repeat three rounds, resting as little as possible between exercises and rounds:
20 squat jumps
50 speed step-ups
50 mountain-climbers
10 squat step-ups
15 v-up tucks
Want to turn your passion for wellbeing into a fulfilling career? Become a Certified Health Coach! Learn more here.