This Cleansing Flow Will Release A Month's Worth Of Tension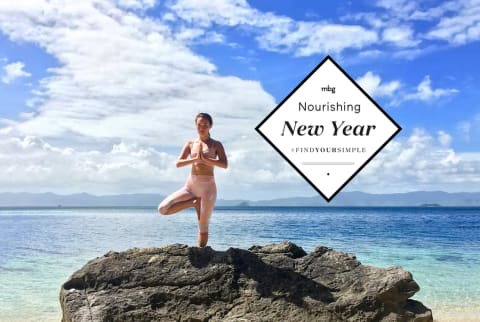 January 3, 2018
Don't push yourself enough? This January, nurture yourself with Nourishing New Year. Instead of focusing on flaws to fix, this January we're nurturing ourselves back to balance with simple, grounding steps. For the next two weeks, mindbodygreen will share with you a story a day inspiring you with simple ways to nourish yourself, your community, and our world through eating, moving, giving, creating, and loving. Follow these common-sense principles along with us for the next two weeks, and start the new year with a calm mind, connected spirit, and balanced body. Check out the full plan here!
Let's be honest: What's often dubbed "the most wonderful time of the year" can also leave us feeling burnt out and ready to wipe the slate clean come January. Whether you're feeling a little bloated from those delicious holiday indulgences or bruised from difficult interactions you may have had, these four poses will help you release tension and give you a mental and physical reset.
Go upside down.
Photo by Nichole Ricketts
Nothing helps you gain new perspective faster than literally changing your orientation. Begin by establishing a solid structure: Grab for opposite elbows to ensure they're no wider than your shoulders, interlace your fingers with the pinkie side down, and roll onto the crown of your head.
Tuck your toes and find yourself in downward-facing dog with the flattest part of your head resting on the floor. If headstand isn't part of your practice quite yet, this is a great place to stay, and you'll get the same benefits from inverting. Emphasize the connection between your forearms and the floor to alleviate pressure from the head and neck, and if you're ready to come up, tiptoe the feet in until your hips are stacked over your shoulders, then engage your abdominal muscles to simultaneously raise both legs. When you descend, remain in child's pose for at least 10 to 15 breaths.
Drop in.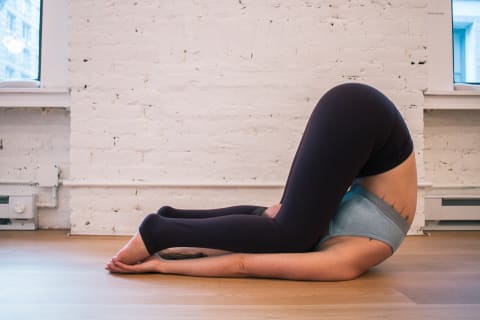 Photo by Nichole Ricketts
After excess socializing, you might be craving a little solitude. According to Nevine Michaan, founder of Katonah Yoga, a rounded plow is the ultimate restorative pose because it allows you to withdraw from the external world and quiet your mind. With your knees in your armpits and your legs alongside your ears, you can tune out sights and sounds and spend quality time dropping in. When you come out of a rounded plow, it's best to rest in happy baby for a few moments rocking gently side to side, to allow the lower back to release.
Twist.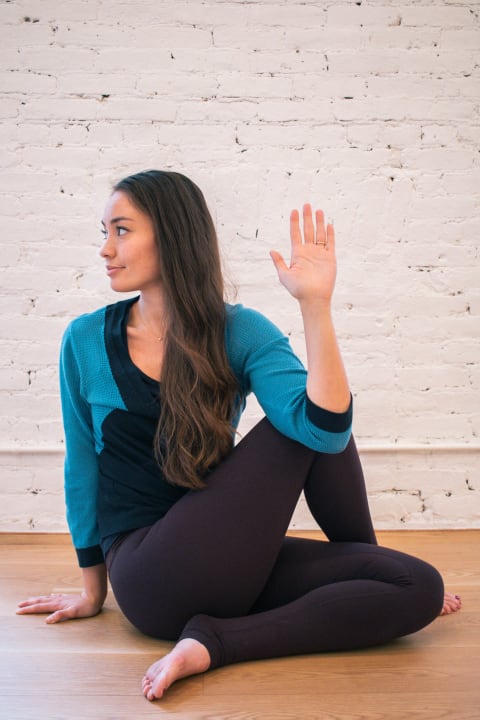 Photo by Nichole Ricketts
Twisting is a wonderful way to detox and de-stress after a week (or two, or three) of indulging. With your right knee bent, place your right hand behind your seat and leverage this arm as a way to sit taller. Take a deep breath in to extend your left arm in the air, then wait for the bottom of your exhalation to hook your elbow outside your knee to turn. To make this twist more dynamic, try fixing your posture each time you inhale and revolving a little farther each time you exhale. Be sure to repeat for an equal number of breaths on the second side.
Restore.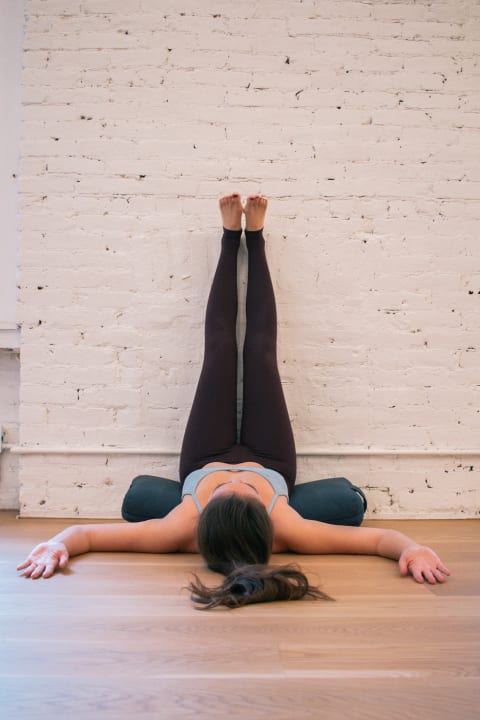 Photo by Nichole Ricketts
Carving out a few moments to rest after the hustle and bustle of the holidays does wonders for your nervous and immune systems while improving your mood. If you do only one pose from this list, let this simple yet highly beneficial variation of "legs up the wall" be it. Place a pillow or blanket under your sacrum, rest your legs against a wall, and cactus your arms with the palms facing up. Close your eyes, allow yourself to be supported by the wall and floor beneath you, and breathe deeply.
Looking for more ways to make good on your 2018 commitment to self-care? Check out @3rdRitual for ritual-based workshops led by Jenn Tardif and an exciting line of mindful tools coming soon.

Jenn Tardif
Jenn Tardif is a New York-based yoga and meditation teacher, a certified aromatherapist, and the founder of 3rd Ritual. Jenn leads global retreats, spearheads wellness programs for institutions and brands, and mentors new and aspiring teachers along the way. After experiencing firsthand and witnessing time and time again the magical effects yoga can have on our mental, spiritual, and emotional well-being, Jenn made a lifelong commitment to share the teachings with anyone curious enough to learn more.