Close Banner
Advertisement
This ad is displayed using third party content and we do not control its accessibility features.
5 Yoga Postures That Could Pose A Threat If Done Incorrectly

By Elizabeth Gerson
mbg Contributor
Elizabeth Gerson is a former mindbodygreen intern and a student at Stanford University studying Psychology and Communication with a specialization in Health & Development.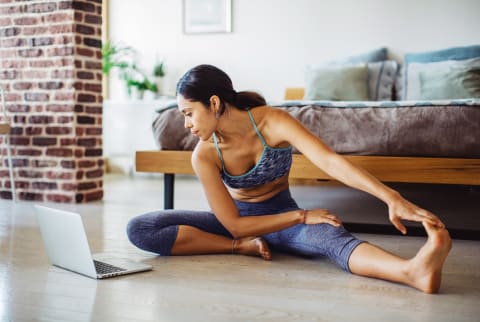 Done regularly, yoga can be a powerful way to reduce stress and promote relaxation. However, when done incorrectly, even the most seasoned yogi can put themselves at risk for some serious injuries.
We consulted yoga instructor and certified health coach Claire Grieve to help understand what it means to practice safely. Not only does Grieve work with NFL players and other athletes on injury recovery, but she's also suffered her own serious injury from a ski accident a few years back, which has affected her yoga practice.
Whether you're new to yoga or an experienced yogi, Grieve suggests paying close attention to your capabilities and objectives. From there, "every pose, especially new or challenging poses, should be approached slowly with presence, paying attention to proper alignment in order to avoid injury," she says.
Sure, yoga may not be "dangerous," but some postures may pose a threat if done incorrectly. Always pay attention to your body, and be extra attentive when attempting these five yoga poses.
Headstand
"Placing all of your body weight on your neck can aggravate any pre-existing pain in the spine or create a new injury if your alignment is off," Grieve says. For those who want to keep inversion in their routine without the spinal stress, she suggests practicing headstands against the wall for added stability. Other variations could include a forearm stand or legs against the wall.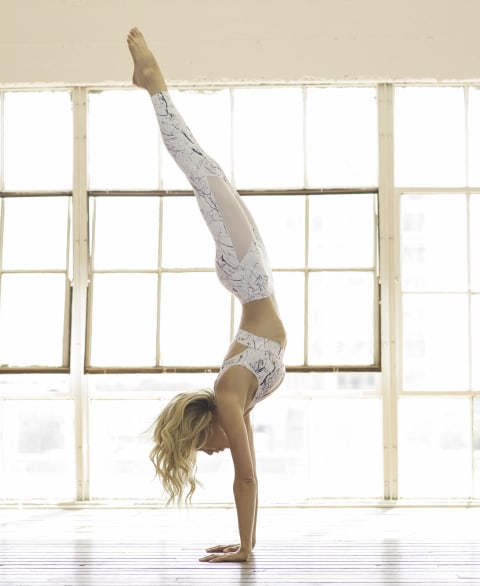 Headstand/handstand
Claire Grieve
Shoulder Stand
The shoulder stand could also spell trouble for your spine and neck when done incorrectly. "Many yoga teachers don't even teach this pose in a group setting because of the risks," Grieve added. To master this pose, she suggests always practicing with a teacher around and beginning with blocks and blankets.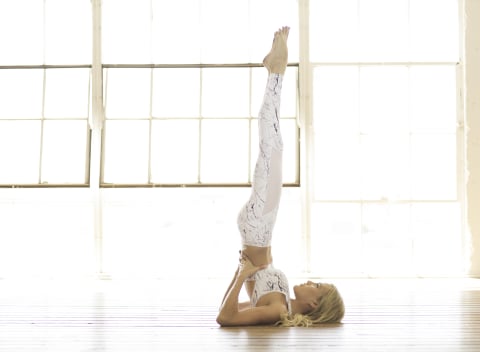 Shoulder Stand
Claire Grieve
Hero Pose
"Hero pose can be a luscious pose that opens up the hips and front legs," according to Grieve. "But if you have knee issues already, it will only cause more strain." To go at it safely, use softer blankets and blocks or ditch it altogether for alternatives like the pigeon pose or lunges.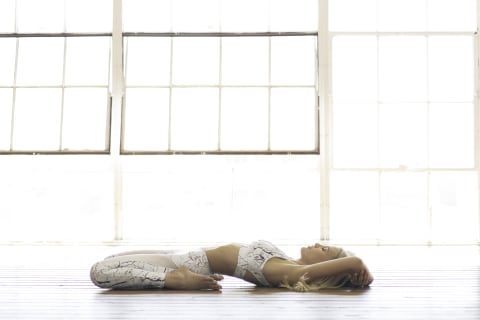 Hero pose
Claire Grieve
Chaturanga
While chaturanga may appear to be harmless, it can wreak havoc on your rotator cuff when performed without caution. "The effect is amplified by the repetitive nature of this pose. To avoid injury, make sure to maintain your alignment by fixing your gaze toward the horizon."
Claire Grieve Chaturanga
Claire Grieve
Camel Pose
Camel pose is a popular go-to in many yoga classes for good reason—its heart-opening properties are said to boost mood and energy. If you have a bad back, however, it could lead to greater injury. "If you experience lower back pain, modify to a simple heart opener with your hands resting higher on your lower back only bending your upper back," Grieve advises.
Camel Pose
Claire Grieve
Bottom line, yoga should help relieve stress, not cause it, and practicing safely should be every yogi's top priority.