The Only Stretch You Need For Better Posture Instantly
mbg Contributor
By Krysten Peck
mbg Contributor
Krysten Peck is a freelance writer specializing in arts, wellness, brands, and visual storytelling. She received a bachelor's degree from Dickinson College.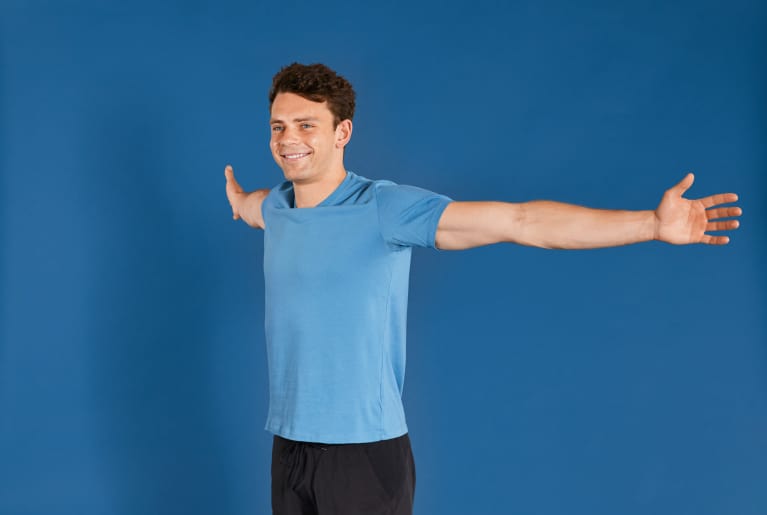 Here at mbg, we believe in Mindful Movement. In our video series, we'll break down various moves designed to help you take care of your physical body and connect you to your emotional and spiritual self. Today's video: how to engage your upper back and realign your posture.
Posture can be tricky. So much of how we stand, sit, and carry ourselves, is, of course, based a bit on genetic predisposition but mostly on ingrained lifestyle habits and environmental factors (sitting at a desk all day long, anyone?) that can be hard to kick. Part of changing posture simply starts with awareness. Luckily, with a few small, incremental changes, you can refine and strengthen your posture to help access your breath and improve general body mobility.
Sure, practicing yoga over time can help reverse poor posture habits, but dropping down into a short yoga sequence at the office might not always fly as super accessible. That said, we've found the perfect stretch to help activate upper-back muscles, lengthen your chest, and deepen your breath—all from the comfort of a workspace.
We tapped U.K.-based fitness instructor and creator of The 2 Meal Day® Max Lowery to demonstrate a simple shoulder dislocation stretch that'll help relieve tension in the upper back and alleviate tightness for more openness in the chest area.
See more Mindful Movement here.