Here Are The Best Workouts To Do When You Have No Time, Expert-Approved
mbg Associate Movement & Wellness Editor
By Ray Bass, NASM-CPT
mbg Associate Movement & Wellness Editor
Ray Bass is the associate movement and wellness editor at mindbodygreen and a NASM-Certified Personal Trainer. She holds a degree in creative writing from the University of Pennsylvania, with honors in nonfiction.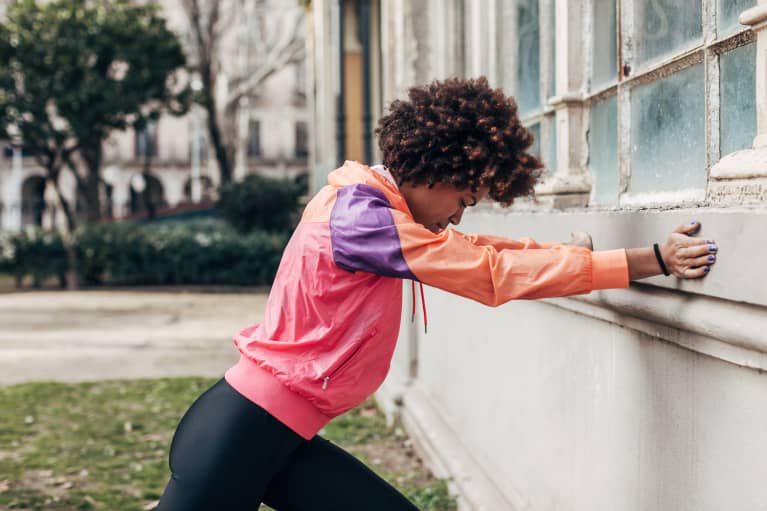 Here at mindbodygreen, we believe in trying your best, but accepting that life—and parenthood—is a journey, with ups, downs, and potholes along the way. That's why this Mother's Day week we're introducing (Mostly) Mindful Mamas week, where we're offering stories to help the mother figures in our lives get back a bit of that time, through wellness that isn't perfect but feels achievable. Instead of spending one day at the spa, our stories this week focus on small changes moms can make now that will last long past Sunday. We also know this isn't an easy week and time of year for a lot of people, and our hearts are with anyone feeling tender. Wishing you all a good week...
If you're a parent, squeezing in a workout can be hard. It can be hard for anyone, really, but getting time to yourself can be especially difficult if you have little ones running around that need your care and attention. Sometimes you only have 10 or so minutes while your child is napping or otherwise occupied—so what type of exercise should you do during those moments? How can you, as they say, get the most bang for your buck?
Well, we decided to ask the experts. Here are the most efficient workouts that will help you make the most of whatever time you have to exercise.
Smash out a bodyweight HIIT circuit.
"When I am short on time, I love doing a bodyweight HIIT workout combined with two minutes of planks. I usually pick four exercises (e.g., squats, push-ups, lunges, squat jumps) and perform each for eight rounds, 20 seconds fast, 10 seconds break. I follow that up with a one-minute plank (and do that two times). It provides a quick energy boost and helps me focus on the work or task that's in front of me."
—Nora Tobin, performance enhancement and nutrition specialist
Save yourself a commute by working out at home.
"Working out at home saves me the trouble (and time) of having to commute to the gym. My go-to workout is a HIIT workout, using either just bodyweight exercises or some simple equipment I have at home like a jump rope, medicine ball, or a single kettlebell. HIIT helps me maximize the benefits of my workout in the amount of time I have available."
—Krista Stryker, certified personal trainer
Try a strength-building (but restorative) yoga flow.
"When I have only 20 minutes to work out, I split the time between an intense strength-building yoga flow and restorative poses.
"I'll start with a few rounds of sun salutations to get my blood flowing and clear my mind. Then I'll move to total body strength-building poses. Holding these poses for 60 seconds on each side will work your whole body: warrior 2, warrior 3, chair pose, boat pose, crow pose, and yoga plank. I'll finish off the practice with a few restorative poses like legs up the wall and goddess pose to calm my nervous system, reconnect to my breath, and allow my muscles to begin recovery."
—Claire Grieve, yoga specialist and stretch therapist
Do a combination of strength and flexibility exercises.
"When I have only 10 to 20 minutes to work out, I like to do mat Pilates. Mat Pilates is great because you don't need any equipment and you can do it anywhere. The combination of exercises allows for strength and flexibility. If I have an extra five minutes, I like to jump rope for the cardio aspect."
—Jason Williams, certified personal trainer, Pilates and barre instructor
Or do a mix of cardio and strength—and grab some weights if you can.
"I always do kettlebell swings and snatches because they send my heart rate through the roof while building strength. The cardio burn is intense, and I can get a lot out of 10 minutes with these.
"I love doing a rep ladder: 10/9/8/7/6/5/4/3/2/1 of heavy swings, and then kettlebell snatches on the left and right sides, resting when needed."
—Lacee Lazoff, NASM-certified personal trainer