These Sweet Potato Brownies Are Gluten-Free & Naturally Sweetened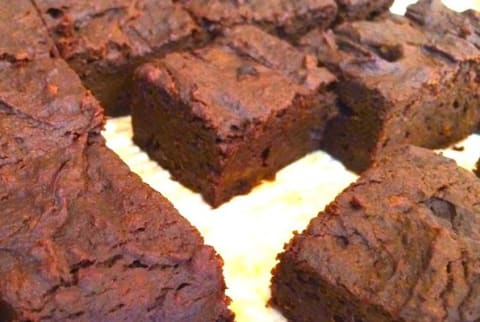 June 20, 2014
The sweet potato has certainly earned its reputation as a healthy and delicious food that needs very little, if anything, added to it to get great flavor. A perennial favorite, sweet potatoes make great summer side on the grill or warm winter dishes when the mercury drops.
Sweet potatoes as dessert, however, are just as scrumptious as their savory counterparts. My new favorite treats are these sweet potato brownies. Full of rich cocoa flavor and a subtle hint of sweetness, this recipe is gluten-free, contains no refined sugars and is loaded with all the incredible anti-inflammatory properties sweet potatoes bring to the table.
Great for picnics, parties or just a healthy snack, these brownies will find permanent place in your recipe rolodex.
Sweet Potato Brownies
Ingredients
2 cups sweet potato (about 1 large sweet potato, already baked)

1/2 cup coconut oil, melted

1/2 cup cocoa

1/4 cup buckwheat flour

1/4 cup honey

1/8 cup almond milk

1/8 cup cacao nibs (optional)

1 tsp. cinnamon

1 tsp. vanilla

1 egg, lightly whisked

1/2. tsp. baking soda
Method
Preheat oven to 400 degrees. Line an 8x8 baking pan with parchment paper, or lightly grease with coconut oil. Set aside.
In a large bowl, mix together sweet potato, coconut oil, honey, almond milk, vanilla and the egg. Set aside.
In a medium bowl, combine the cocoa, buckwheat flour, cacao nibs, cinnamon, and baking soda. Make sure all ingredients are thoroughly mixed.
Add the cocoa mixture to the wet ingredients. Blend thoroughly. Pour brownie batter into baking pan. Bake for 28 to 30 minutes.
*Note: if using a freshly-baked sweet potato, allow to cool enough to handle.
Traci D. Mitchell
Traci D. Mitchell is a nationally recognized fitness, nutrition and weight loss expert who has been featured on numerous news programs, publications and radio shows, including Dr. Oz, the Today show, and The Steve Harvey Show. A certified personal trainer and metabolic typing adviser, Traci has been changing the lives of others for fifteen years. She holds a master's degree in communications from Marquette University and a master's in nutrition education from Hawthorn University. She lives in Chicago. Join the movement, become a #BellyBurner and visit her at tracidmitchell.com.