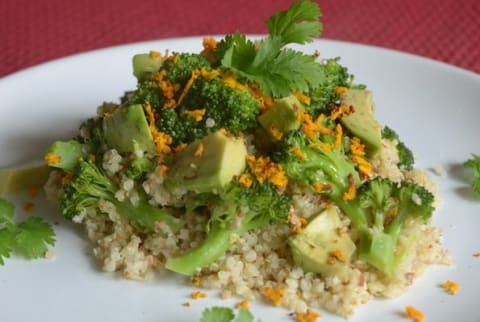 June 2, 2014
This is my favorite vegetarian weekday lunch, and it's also one of my children's favorite meals. It combines quinoa with almonds, sunflower and flax seeds, broccoli, and avocado. A bit of grated turmeric adds a wonderful flavor and a bright orange color.
This salad, which you will serve at room temperature, is gluten-free, and has been designed to give you plenty of nutrients: protein, healthy fats, vitamins, minerals, fiber and antioxidants.
Advertisement
This ad is displayed using third party content and we do not control its accessibility features.
You can prepare it ahead of time and take it with you to the office for a nutrient-packed, delicious lunch.
Perfect Weekday Lunch: Quinoa & Broccoli Salad With Almonds
Serves 2
Ingredients
½ cup quinoa, uncooked

½ cup raw almonds

1 Tbsp. sunflower seeds

2 tsp. flax seeds

2 Tbsp. olive oil

3 Tbsp. lemon juice

2 cups broccoli

1 large avocado

a piece of turmeric root (or turmeric powder)

sea salt

coriander leaves (optional)
Directions
First, prepare the quinoa. Usually, you won't need to rinse it under cold water, as it has already been washed during the manufacturing process.
Place the quinoa in a pan, and then add 1 cup warm water and half a teaspoon sea salt. Bring to a boil. Reduce the heat to low and simmer, covered, for about ten minutes or until the liquid is fully absorbed. Fluff with a fork and set aside.
While the quinoa is cooking, prepare the other ingredients.
Steam the broccoli for 3 to 5 minutes only, in order to get the most of its nutrients.
In a food processor, blend together almonds, sunflower seeds and flax seeds for a few seconds.
Peel and dice the avocado. Now combine the cooked quinoa together with the almonds and seeds, olive oil, lemon juice, and broccoli. Serve half of the salad on each plate and top with the diced avocado, some grated turmeric (or a pinch of turmeric powder) and a few coriander leaves, if using. Enjoy your lunch!
Advertisement
This ad is displayed using third party content and we do not control its accessibility features.
Anne Ricci
Anne Ricci is a passionate nutrition and weight loss specialist who has lived, traveled and cooked in more than 40 different countries. She provides healthy eating advice to women and helps them lose weight and feel confident about their body and about themselves.
Visit her website for nutrition and weight loss tips as well as delicious healthy recipes from 5 continents.