Founder of Body by Simone
By Simone De La Rue
Founder of Body by Simone
Simone De La Rue began training in classical ballet at the age of three and has enjoyed a successful dance career spanning over two decades. She opened her first studio in 2011 and is the creator of Body by Simone.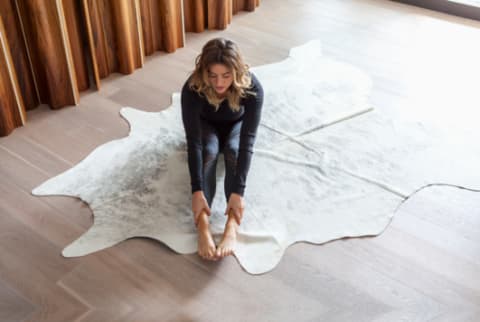 February 16, 2017
Simone De La Rue is a dancer, personal trainer, and the founder of the popular dance cardio workout Body By Simone. In Simone's class Dance Workouts To Boost Happiness you'll gain strength, cultivate self-love, and become more joyful than ever.
Intending to exercise is one thing; actually making it happen is another. Truth be told, time and low energy levels get in the way—which is why having a five-minute workout that will boost your mood and get your heart rate up is crucial.
Whether you want to wake up five minutes earlier to do this one in the morning or bust a few moves on your lunch break, here's a dance workout that will make you a whole lot happier.

Simone De La Rue
Simone De La Rue began training in classical ballet at the age of three and has enjoyed a successful dance career spanning over two decades. She opened her first studio in 2011 and is the creator of Body by Simone. She employs over 30 trainers through her fitness empire, which includes two Los Angeles studios, one NYC studio, three DVDs, an online streaming service, a clothing line, a co-branded shoe with Newton Running, and a TV show on the E Network. De La Rue is also the author of Body by Simone: The 8-Week Total Body Makeover Plan. Body by Simone has been featued in The New York Times, where it was called "The Girlfriend Workout", and in Forbes Magazine, which called it, "Hollywood's Hottest Workout Empire."
Read More About Simone De La Rue

Simone De La Rue
Simone De La Rue began training in classical ballet at the age of three and has enjoyed a successful dance career spanning over two decades. She opened her first studio in 2011 and is the creator of Body by Simone. She employs over 30 trainers through her fitness empire, which includes two Los Angeles studios, one NYC studio, three DVDs, an online streaming service, a clothing line, a co-branded shoe with Newton Running, and a TV show on the E Network. De La Rue is also the author of Body by Simone: The 8-Week Total Body Makeover Plan. Body by Simone has been featued in The New York Times, where it was called "The Girlfriend Workout", and in Forbes Magazine, which called it, "Hollywood's Hottest Workout Empire."
Read More About Simone De La Rue