Quick & Easy Vegan Praliné Ice Cream With Chocolate Sauce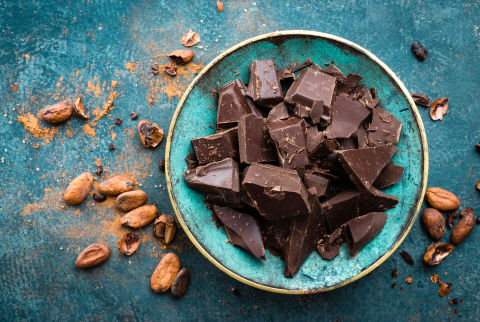 Image by Yelena Yemchuk / Getty
June 16, 2014
As we wind into summer, I find myself craving ice cream all the time. For a few days, I tried to resist this urge.
But recently, as I was running, I realized that if self-love means accepting yourself fully and unconditionally, that includes accepting cravings for something totally decadent and rich in chocolate.
That's how this creation was born!
Quick & Easy Vegan Praline Ice Cream With Chocolate Sauce
Ingredients for Ice Cream
1 & 1/2 frozen banana

1 big Tbsp. almond butter

1/4 cup of your favorite milk

Pinch cinnamon
Ingredients for Chocolate Sauce
1 fresh banana

1 Tbsp. cacao powder

1/2 cup of your fav milk

Directions
For each (ice cream and chocolate sauce), blend all ingredients in your high speed blender until smooth. Serve your ice cream in a nice little bowl and pour the chocolate sauce on top.
Garnish with your favorite toppings. Here I've used some mulberries and cinnamon.
Want more recipes like this? You can download your free copy of my Healthy & Happy People recipe book here.

Pauline Hanuise
Holistic Health Coach
Pauline Hanuise is a certified Holistic Recovery & Health Coach and one of Cosmopolitan's top 5 women in health and wellness. Having recovered from 15 years of struggles with full-blown bulimia, she is now helping women making peace with food. Get her FREE email coaching series to stop binge eating here.