The Trendy, B-Vitamin-Filled Food That You'll Want To Put On Everything (P.S. — It Tastes Like Cheese!)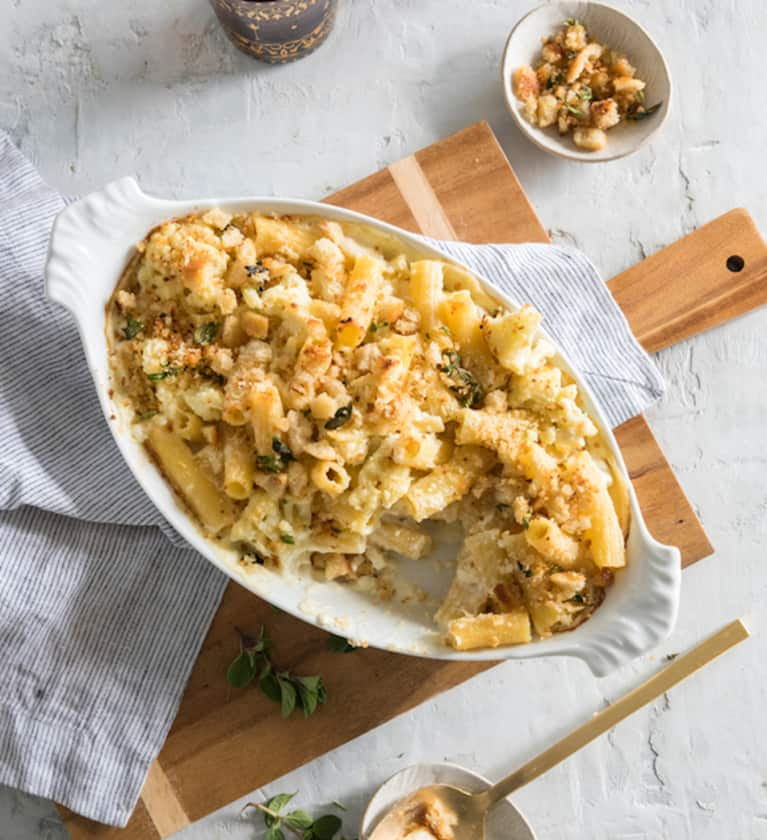 You've probably heard about it, but its unglamorous name might have prevented you from trying it. Despite nutritional yeast's old-school vegan origins and slightly weird appearance (a yellow flaky powder), it's finally being seen for what it is: a totally delicious ingredient that can bring a lot of new flavor to your cooking (vegan or not) that just also happens to be good for you.
Nutritional yeast is having a moment for its delightfully savory, almost-but-not-quite funky, Parmesan cheese-like flavor. That umami taste is a handy tool to have in the kitchen and can be used in a bunch of different ways. You'll find it on menus at some of our favorite feel-good food spots like The Butcher's Daughter (where they sprinkle it on kale chips) and bloggers like Dana Shultz of Minimalist Baker are working it as a crave-worthy avocado toast topper.
OK, so what is this stuff?
Nutritional yeast—or nooch, if you're really into it—is different from live yeast (used for making bread) or brewer's yeast (the stuff you make beer with) and is usually grown from sugar-cane, beet molasses, or wood pulp. Because it's grown from a substance that's typically lacking in nutrients, the yeast creates its own amino acids and vitamins through chemical reactions, generating unique nutritional qualities.
It's a part of the fungi family (the same as mushrooms) and undergoes a natural fermentation process. Once that's done, then it's harvested and dried, which inactivates the yeast, making the nutrients available and preventing any further growth. This whole process is what gives nutritional yeast its unique flavor, free of sodium and sugar and brimming with nutrients like B vitamins, zinc, and selenium (some of which are added to the yeast during the processing).
Nutritional yeast is one of the original superfood powders. Dr. Bindaya Gandhi says, "Nutritional yeast is rich in essential amino acids, minerals, and B vitamins, which many people on a plant-based diet are low in. It's also a low glycemic index food and helps control blood sugar. It's made of probiotics, which is great to diversify your gut and keep your immune system strong."
We know B vitamins are essential and, as Dr. Deanna Minich explains, "Nutritional yeast is a good source of a variety of B vitamins, including thiamin (B1), riboflavin (B2), niacin (B3), pyridoxine (B6), and cyanocobalamin (B12). As a result, it can be an important addition for those who may have B vitamin insufficiencies, such as vegans or those with genetic variants in methylation."
Registered dietitian Kimberly Evans sums it up nicely: "I love foods that add flavor in an interesting way. Nutritional yeast offers that umami flavor boost our taste buds are looking for, turning healthy foods into crave-able foods. The fact that it's fortified with B-12 and folic acid is frosting on the cake."
There are so many ways to harness the nondairy cheesy flavor of nutritional yeast—and all you have to do is sprinkle some on. The taste can be strong, so start with a teaspoon for smaller-batch sauces and work your way up from there. We love it with:
5-Ingredient Creamy Caesar Dressing
⅓ cup tahini (stirred well)
1 to 2 teaspoons nutritional yeast
1 small garlic clove, very finely chopped or grated on a microplane
Juice of ½ large lemon (or 1 small lemon)
Salt and pepper to taste
Method
Whisk together in a medium bowl until well-combined. Add 1/4 cup of filtered water to thin out. Add more to get desired consistency.
Toss with shredded Tuscan kale or Romaine lettuce for a super-satisfying salad with major benefits.