Close Banner
Advertisement
This ad is displayed using third party content and we do not control its accessibility features.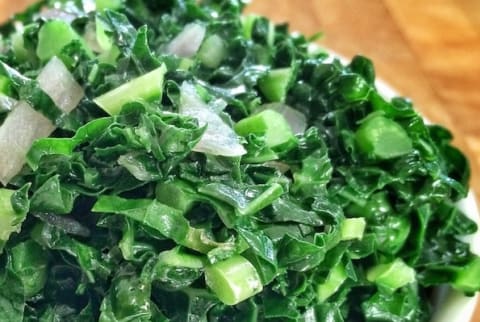 We all know kale is an amazing nutrient dense vegetable. However, I've often heard people say that its bitter taste and hard, chewy texture makes it difficult to eat. Stir frying is the best and easiest way to remedy these issues (if you're eating it raw, apple cider vinegar works wonders also.) You can use the curly dinosaur kale for this, or the flatter dark green tuscan kale, which works wonderfully. This quick and easy recipe is a great way to introduce kale into any diet.
2 large bunches of Tuscan kale (roughly 15 stems)
1/2 onion
1/2 cube vegetable stock
2 tablespoons hot water
1 tablespoon olive oil
1. In a small bowl, dissolve the stock in the hot water.
2. Dice up the onion and kale (the secret is to dice and chop up the kale into very small pieces).
3. Heat the oil in a wok on high heat and add the onions, stir for about 2 minutes until soft and fragrant. Add the stock and the water.
4. Add in the kale and keep stir frying for about 6-8 mins until it softens and the hardness of the kale breaks down. Enjoy this as a side dish, or add into other dishes like quinoa or salads.

Binny Liu
I am a full time Bikram Yoga teacher that lives in Perth, Australia. I developed compartment syndrome and fibromyalgia in my teens, and being gluten and lactose intolerant, have spent a large part of my years being in constant pain and suffering from digestive issues.
Over the past 10 years, I've shifted to a mainly raw plant based diet, explored alternative modalities of healing therapies and realised that being well and healthy is a way of life. I discovered yoga 4 years ago and have been teaching Bikram yoga since 2011, in the US and Australia.
I truly believe that we all have the power and the capabilities to heal our own bodies, to nourish the spirit and seek our own happiness and life's purpose.