No-Bake, Gluten-Free Chocolate Chip Cookies (Just 5 Ingredients!)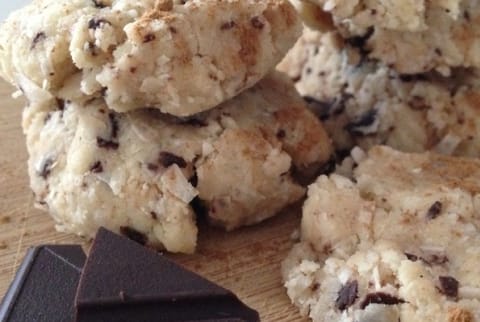 October 2, 2014
Raw cookies anyone? This recipe is ridiculously simple and healthy. Your kids (and you) will love it.
No-Bake, Gluten-Free Chocolate Chip Cookies
Ingredients
1 cup coconut flakes
1.5 cups almond meal
4 tablespoons coconut oil, melted
2 squares of your favorite dark chocolate, diced in small chunks
1/2 teaspoon cinnamon
Method
1. Add almond meal, cinnamon and chocolate chunks into a mixing bowl.
2. Blend coconut flakes in a high speed blender until mealy, then add to the bowl with the almond meal mixture. Mix well with your hands or a spoon.
3. Add the melted coconut oil and mix with your hands until you get a slightly sticky texture. Then, using your hands, create four balls with your paste and carefully press them on a plate with your hand. Place in the fridge for a couple of hours to set.
NOTE: If you want these a bit sweeter, add a teaspoon of coconut sugar.

Pauline Hanuise
Holistic Health Coach
Pauline Hanuise is a certified Holistic Recovery & Health Coach and one of Cosmopolitan's top 5 women in health and wellness. Having recovered from 15 years of struggles with full-blown bulimia, she is now helping women making peace with food. Get her FREE email coaching series to stop binge eating here.