Close Banner
Advertisement
This ad is displayed using third party content and we do not control its accessibility features.
Yoga For A Strong Core: The Only Move You'll Ever Need
This weekly core drill will get your abs and back muscles stronger in no time. Below, I'll provide a beginner, intermediate, and advanced option of knee-to-chest contractions. Choose the version that best suits you. See if you can advance throughout the week to some of the more advanced options.
As you do this physical drill, remember that the value isn't in the result, but in the action itself. Immerse yourself in it and do it with 100 percent of your attention. The result will happen naturally, without you needing to focus on it. Then you will enjoy the process instead of waiting for something to happen in the future. Try applying this to the rest of your actions, especially your work. You might find a new joy in it because you are present and able to fully be absorbed in whatever you are doing.
Every day this week, add this pose to your regular practice. If you don't have time to practice one day, then at least do this and you will see your strength build in time.
Chest-To-Knee Contraction: Beginner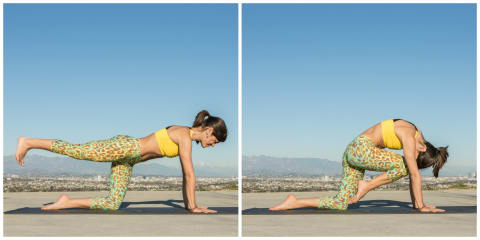 Come to all fours. Inhale and lift the right leg up into the air. Exhale and bring your knee to your chest and try to kiss your knee while rounding the back and hollowing in the navel. Inhale and lift the leg, keeping the hips square, and exhale to bring it in. Repeat 10 times. Switch sides.
Knee-To-Chest Contractions: Intermediate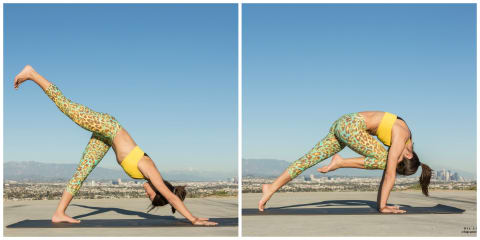 Come into downward-facing dog. Inhale and lift the right leg up, keeping the hips square to the floor. Exhale and bring your shoulders forward; push the floor away from you with your hands, and bring the knee into the chest, attempting to eliminate the distance between the knee and the forehead. Contract your belly. Inhale and lift the leg back up with a square hip, and repeat the sequence 10 times. Switch sides.
Chest-To-Knee Contractions: Advanced
Bring yourself into a forearm plank position. Inhale and lift the right leg up, keeping the hip square, and exhale bring the right knee into the chest and round the back. You really have to push the floor away from you with your forearms. Repeat this 10 times.
5 Yoga Poses To Celebrate The New Moon
4 Yoga Poses To Stretch Your Hip Flexors

Rina Jakubowicz
Rina Jakubowicz is known for her vibrant and uplifting approach to yoga. She is an international bilingual yoga teacher, Reiki practitioner, motivational speaker, author, and TV show host. She has been a teacher of teachers for over ten years, presenting at Kripalu Center, Himalayan Institute, Omega Institute, as well as in countries across the globe such as Chile, Puerto Rico, Mexico and Andorra. Rina is one of Gaiam TV's newest featured teachers, the yoga expert on Univision's Tu Desayuno Alegre, and a regular contributor for Yoga Journal Online and MindBodyGreen. She is Yoga Journal's March 2015 cover model. Rina founded and owns two Rina Yoga studios in the Miami area and was selected as one of South Florida's Business Leaders Movers and Shakers in 2011. She also created the yoga app, Snooze Yoga, and a pioneering yoga curriculum for children and teens, Super Yogis' Schoolhouse.