Holy Detox! Kale & Swiss Chard Soup (Recipe)

RYT-200
By Andrea Rice
RYT-200
Andrea Rice is a yoga, meditation teacher, and writer whose work has appeared in the New York Times, Yoga Journal, and more.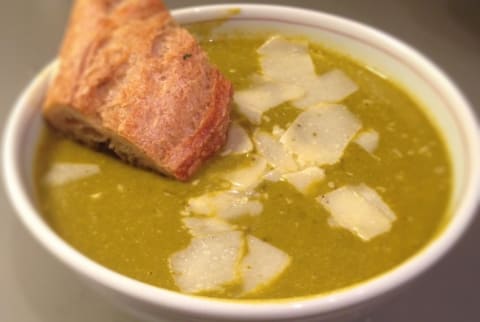 October 15, 2013
Now that fall has arrived, one of my favorite ways to clean out the fridge while simultaneously preparing something nutritious and delicious for the workweek, is by making soup.
Many of you may notice during this time of post-summer, pre-winter limbo, that your CSA harvests just don't last quite as long. You might even find yourself scrambling to use things up before they go bad.
Advertisement
This ad is displayed using third party content and we do not control its accessibility features.
This was the case for me, with an abundance of greens (chard and kale), some potatoes and peppers. I am seriously adamant about not wasting food and I kind of obsess about new and creative ways for fridge cleanout. I was also recovering from a wild weekend about town and thus, a detox soup was born.
I probably don't need to mention how much I love kale, nor will I delve into its well-known healing properties, so I'll talk about the amazing health benefits of Swiss chard instead.
Chard leaves are loaded with antioxidants, phytonutrients, and more. Swiss Chard stems are loaded with glutamine, an amino acid that bolsters the immune system and enhances the body's ability to recover from injuries and even surgery. So don't throw those stems away. Ever. In this case, chop them up and throw them into the soup pot, or alternatively, try whipping up a side dish of stems sautéed in olive oil, or even a cheesy gratin. Use your imagination!
Detoxifying Swiss Chard and Kale Soup with Cilantro, Jalapeno and Lime
Serves 6 to 8
Ingredients
1 large (or 2 small) bunch(es) Swiss or rainbow chard (keep those stems!)
A big few handfuls of kale, de-stemmed, washed and chopped
1 bunch cilantro, chopped with stems
4 or 5 small potatoes or 1 large potato, sliced
1 large carrot, chopped
1 medium size yellow onion, sliced
1 jalapeno or Shishito pepper, finely chopped
1 large clove garlic, minced
Juice and Zest from 1 lime
1/2 cup yogurt, sour cream or your favorite vegan alternative
2 tablespoons tomato paste
2-3 tablespoons olive oil
5 cups chicken or vegetable stock (homemade is best!)
2 tsp. ground coriander seeds
2 tsp. ground cumin seeds
1 to 2 tsp. salt, depending on taste
Optional shaved parmesan or muenster cheese for topping
Preparation
Heat the olive oil over medium heat in a large soup pot and sweat the onions, carrots and potatoes until just tender (about 5 to 7min). In the meantime, chop your chard stems scant 1/2 to 1/4 inch thick and add to the pot.
Using a mortar pestle, grind the cumin and coriander and then add to the veggies. Add the tomato paste, garlic and jalapeno, smashing into the vegetable mixture until fragrant.
Lay the kale, chard and cilantro on top and salt generously. Begin to fold the greens into the veggies, cover the pot with a lid and turn the heat down slightly until the greens begin to wilt. Next add your stock and bring the heat back up to a boil, then a gentle simmer until all of the vegetables (especially the potatoes!) are tender.
Remove from heat and cool briefly, before whisking in the yogurt or non-dairy cream. Pour the soup into your high-speed blender or Vitamix and puree until smooth, rich and creamy. The color should be a nice, deep green.
Bring the soup back to the pot over low heat and add the lime juice and zest. Ladle the soup into bowls and finish with freshly shaved parmesan or non-dairy cheese. I recommend incorporating some toasted baguette or a nice piece of crusty gluten free bread for dipping.
Advertisement
This ad is displayed using third party content and we do not control its accessibility features.

Andrea Rice
RYT-200
Andrea Rice is a writer, editor, and yoga and meditation teacher. She is the former Yoga Editor at mindbodygreen and her work has also appeared in The New York Times, Yoga Journal, and other online publications. Her first book, The Yoga Almanac, will be released in March 2020. You can find her regular classes at shambhala yoga & dance center, and connect with her on Instagram and Twitter.