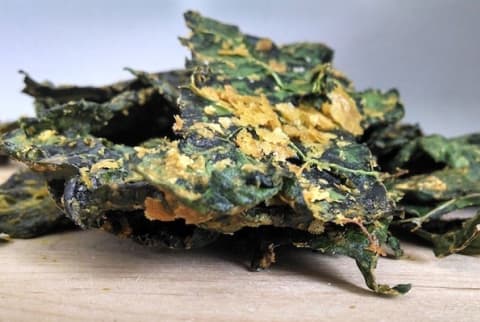 February 18, 2014
This deliciously crunchy snack is savory and packed with beneficial nutrients like calcium and vitamins A, C, and K (in the kale) as well as iron and B-vitamins (in the nutritional yeast).
1 small bunch of kale (lacinato or curly)
2 teaspoons olive or coconut oil
1-2 tablespoons nutritional yeast
Salt
Preheat oven to 250 degrees.
Rinse kale and dry thoroughly. Remove stems, and tear or cut pieces of kale into 2-inch pieces. Put kale pieces into a bowl and toss with oil to coat kale. (If you use coconut oil, you'll need to gently heat it to liquefy the oil first.)
Add nutritional yeast and toss to lightly coat kale. Arrange on baking sheets one layer deep only, and sprinkle lightly with salt.
Bake at 250 degrees for 15 minutes or until crispy. Store in an airtight container to preserve freshness.

Margaret Wertheim, R.D.
Margaret Wertheim, R.D., is a Registered Dietitian Nutritionist and is the author of Breaking the Sugar Habit: Practical Ways to Cut the Sugar, Lose the Weight, and Regain Your Health. Take this quiz to determine whether you need to curb your sugar intake. Margaret holds a Bachelors in Biochemistry from the University of Wisconsin-Madison. She counsels individuals and groups on how to adjust their diet to include whole and real foods to support optimum overall health. She also specializes in supporting women's health, fertility, and pregnancy through nutrition and lifestyle choices. Check our her blog for the latest nutrition information, healthy eating tips, and recipes, check out her Breaking the Sugar Habit online course, or sign-up to download your free Natural Sweetener Guide or Fertility and Pregnancy Resource Guide.