This Is Why So Many People Are Addicted To Kundalini Yoga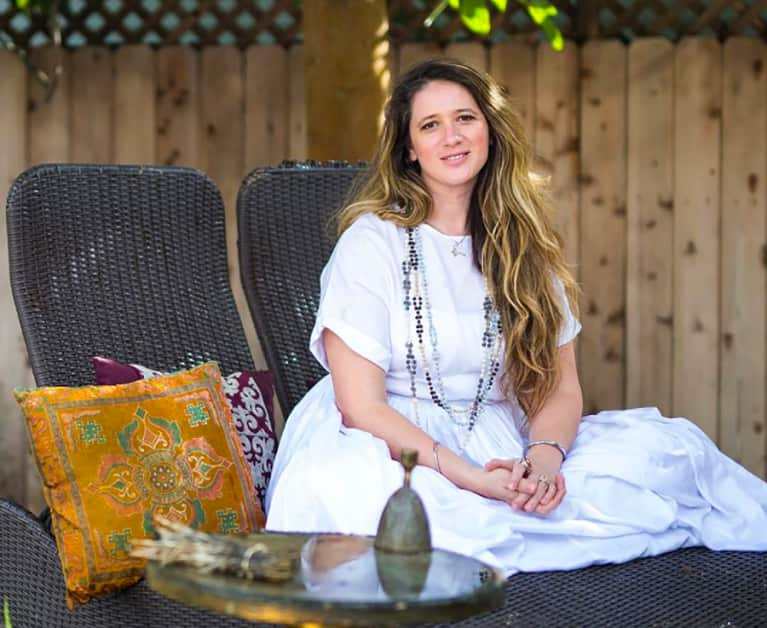 This week, we're celebrating the launch of world-renowned Kundalini yoga teacher Guru Jagat's new class by highlighting some of the incredible ways Kundalini can improve your life. In Guru Jagat's class Kundalini Yoga 101 you'll learn the basics of Kundalini, break a sweat, and nourish your creative spirit.
With Kundalini yoga bursting into the mass media at a mega-watt frequency, you're probably starting to see the many unique sides to the practice. You might be wondering, "is Kundalini yoga for me?"
Here's what you need to know.
1. Think about what you want out of your practice.
If you want fresh air, a fresh mind, and a fresh destiny, Kundalini is for you. Within the vast cannon of teachings in Kundalini yoga, there is a practice for everybody—a posture, a breath, a mantra, a meditation, a mudra—that will be practical and powerful for each person and deliver the peace, intelligence, clarity, energy and prosperity desired.
The fact is, Kundalini is an umbrella practice. Within it are the roots of Hatha, Pilates, Wim Hoff, breath work, P90x, hormone therapy, psychiatrics, chakra balancing, energy healing, astral projection and even "remote viewing". If you've been using medical marijuana or plant medicine psychotropics, Kundalini will deliver mind-altering states in a quantum way without taking outside substances. Look no further.
And if you're a gym queen, we've got your hot and sweaty workouts covered. If you want to bliss out on some deep shanti-vibes, it's there. If you can barely touch your toes, let alone even think of popping on a spandex outfit, worry not. You can do Kundalini Yoga from your couch, your office chair, even a wheelchair.
If you've got a body, Kundalini works. It works on your glands, your nerves, and trains the mind to function at its highest power as much as possible.
Your glands are what keep you healthy on a deep level and also give you "experience." You know what it feels like to have a jolt of adrenaline course the system. The same mechanisms that give you that racing urgency can also be hijacked to trigger more desirable experiences like wisdom, hope, or fulfillment. This kind of "emotional endocrinology" is something that scientists Candace Pert, Bruce Lipton, and even his holiness the Dalai Lama have been focusing on in the exploration of human evolutionary development.
Kundalini Yoga is a "hacker's tech" for the fast-paced urbanites and millenials among us. You can, very quickly and effectively, balance your glands even at the chair you're sitting in right now.
Just inhale deep through the nose, exhale deep through the nose and continue for three minutes. If everyone everywhere started to breath deeply and consciously for three minutes a day our world would be a very different place. The activity of long deep breathing through the nose balances the pituitary gland, nicknamed the "Master Gland". The hormonal command of the pituitary sets the rate and amount of other endocrine secretions in the body.
So balancing the pituitary through long deep breathing quickly changes the amount of the other biochemicals in the bloodstream, thereby adjusting your psycho-emotional experience. Creating a new experience and a new level of health for yourself can be literally that easy.
And since much of weight gain and weight loss is also hormonal, adjusting the pituitary gland is a yogic trick for balanced body weight.
Your intelligence, health, creativity and true happiness are important enough to you to begin to practice and discover how powerfully and quickly you can activate deep connectivity and true health.
In this time of powerful fear and hysteria, your balance and wellbeing and the yogic and meditative practice by which you come to that state is becoming a necessity rather than a luxury.
We need people on this planet who are happy, strong, and capable of helping others. The new activism in this time is not lashing out. It is fighting for and freeing your mind, body, and emotions. What I have discovered over the years in my own practice of Kundalini Yoga is that these practices act fast. And they are effective for creating a sustained, stable, elevated experience of human existence that is deeply fulfilling, and inspiring for your family, work, creativity, and purpose on this planet.
And the good news is if you can't even imagine chanting a mantra, Kundalini yoga has a practice for you. If you enjoy bending like a pretzel while sipping green juice on the regular, Kundalini has it covered. So f you are truly interested in a way to live that is more vital, inspired, and ultimately fulfilling, then yes—Kundalini yoga is for you.