Here's How South Korea Gets Wellness Right
mbg Contributor
By Krysten Peck
mbg Contributor
Krysten Peck is a freelance writer specializing in arts, wellness, brands, and visual storytelling. She received a bachelor's degree from Dickinson College.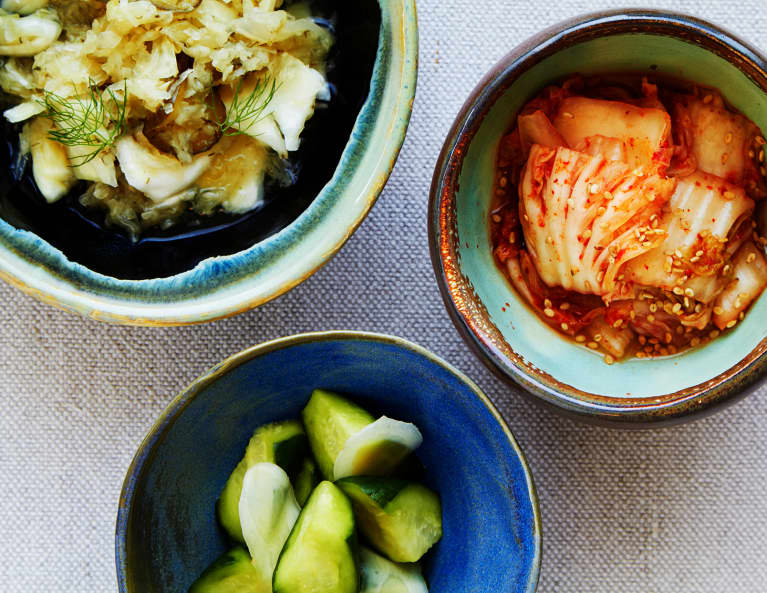 February 13, 2018 — 9:50 AM
Beyond the K-Pop fandom and Winter Olympic Games, South Korea is home to a quiet wellness scene steeped in tradition that could serve as a model for the rest of the world. From the food to the great outdoors, here are a few of the ways wellness is happening in a big way In the Land of the Morning Calm.
Olympic coverage may fixate on the games and incredulous weather temperatures, but there's another lesser-known temporal side to the country's environment: the wilderness. South Korea is home to vast sites of nature where "extraordinary animals flourish and Koreans continue to practice age-old traditions in tandem with the seasons and with nature," according to the BBC.
For one, the haenyeo, or "sea women," of Jeju Island are a tribe of women divers who've thrived for generations while making their living diving for seafood, without the aid of any breathing apparatus. Researchers have linked the cooperative, tight-knit behavior and group pattern of these women to improved levels of community and social connectivity—a major area of wellness overall.
There's also been a spike in outdoor camping for many Koreans, which is said to be attributed to the high levels of stress and burnout that many urban dwellers experience on a day-to-day basis. "We live in an extremely fierce and competitive world. Coming out here in nature, I feel a sense of healing. So I keep coming back," one camper told Korean news website arirang.com.
Fermented veggies are the main dish.
The list of health benefits associated with the consumption of fermented veggies are seemingly endless: From digestive and skin health to gut maintenance and nutrient absorption, fermentation is the new black in the wellness world, but in South Korea, it's a mainstay in cuisine and culture. Kimchi is a condiment served with most meals in Korea. Made up of fermented cabbage, garlic, vinegar, and spices, the condiment is loaded with vitamins A, B, C and in most abundance, lactobacilli—a good bacteria found in fermented foods like yogurt.
A commitment to balance (with work and internet, less is more).
According to reports, South Korea has skyrocketed as one of the most overworked countries in the world, a far cry from the nation's title as Land of the Morning Calm. Work is the epicenter of life for many South Koreans—with a total of 2,069 hours clocked in per year (nearly double the average of OECD member countries)– so it comes as no surprise that burnout is a disconcerting effect of this phenomenon. Many South Koreans are seeking refuge at weeklong meditation centers, like Prison Inside Me and rehab boot camps for the web-obsessed.
These retreats cater to the overworked and overhauled members of Korean society (professionals, stay-at-home mothers, and even high school students) and encourage guests to detach themselves from worldly affairs by focusing inward on their spiritual healing, without the crutch of everyday distractions such as their phones, technology, and work. Meditation also has its roots in Korean culture, where temples and meditation centers serve the dominant Buddhist population.
Affordable and accessible spas.
Spas don't get the best rep for being affordable and inclusive, especially in the wellness world—but Korean spas might just be an exception. These spas are a dime a dozen in major U.S. cities like New York City and Los Angeles—two of the cities with the largest Korean populations—and follow suit after Korea's popular bathhouse culture. In Korea, traditional bathhouses are known as "jjimijilbang" and attract crowds looking for community, relaxation, and other amenities like hot and cold saunas, swimming pools, and Jacuzzis. They're commonplace throughout most of South Korea and run the gamut from upper echelon status to your local-tourist-designated spots.
Mind-and-body-centered exercise.
Tae kwon do is a Korean martial arts practice grounded in self-defense and combat. As the national sport of Korea, tae kwon do extends beyond the physical and fitness benefits—it's an art, a way of life, and an extension of the mind-body connection: "It is a discipline that shows ways of enhancing our spirit and life through training our body and mind," as stated on the Team USA tae kwon do website. According to the World Taekwondo Academy website, tae kwon do is also said to help develop and manage self-confidence, stress, friendships, self-discipline, and time management skills. Even if martial arts isn't in line with your fitness tastes, tae kwon do may help your overall physical training, especially when it comes to flexibility.
A wellness ethos that's ingrained in a society culture-wise and prioritizes both mental and physical health? Consider it a win in our books.
Interested in personalizing wellness in your world? Read how one woman redefined wellness on her own terms, for health and happiness.