The Daily Routine That Preps This Olympic Hopeful For Victory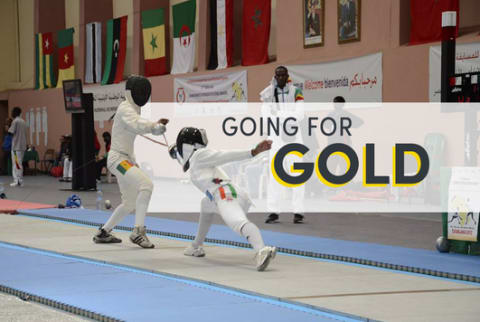 August 4, 2016
Whether she's running to practice or taking a power nap, the Ivory Coast's Olympic gold fencing hopeful Gwladys Sakoa shares what unique power has helped her become a champion and gives us sneak peeks into her clever beauty and fitness rituals. Her ability to blaze beyond stereotypes is what makes Gwladys one to watch. This.Girl.Is.On.FIRE!
Fencer Gwladys Sakoa is competing at the Olympics for the first time in her life this summer, where she will represent the Ivory Coast. A few weeks before she takes off for Rio, the 23-year-old athlete shared the secrets of her "fighter's prep": how she trains, what she eats, her beauty routine, and her conquering mindset.
Advertisement
This ad is displayed using third party content and we do not control its accessibility features.
The Ivory Coast–born Parisian discovered her preferred sport at age 8. After she was spotted by a coach, she put all her conviction, talent, and training into becoming a professional athlete. From neighborhood competitions to winning second place at the 2016 African Championships in April, Gwladys Sakoa has spent years fighting her way to the top while graduating from high school and then studying to become an early childhood teacher.
Better to be fried today and on your A-game on D-day
For a few weeks now, Gwladys has been undergoing an intensive training regimen. The workload's intense. "My weeks are full and there are days where we lighten the load in order to catch our breath but it's still extreme," Gwladys tells me on Sunday after church. Every day, she heads to a gym outside Paris where she meets up with her coach Daniel Levavasseur, who also coaches the Chinese team as well as Swedish, Canadian, English, and American athletes—an international setting for Gwladys to wield her sword in.
"I wake up at 7:30 a.m. and have a slow shower. I tend to avoid chemical-laden products—I favor potassium alum over other deodorants and I use cocoa butter to hydrate. Then I eat a nutritional, fortifying breakfast designed by Herbalife." Hydration is key, and Gwladys drinks CR7 DRIVE, a hypotonic elixir that helps boost water absorption and maintain constant performance when exercising. In the morning, Gwladys trains from 10 a.m. to 1 p.m. "We have several bout sequences to go through. We alternate between various preps—working on different touches, or on stamina, for instance."
Napping—a fundamental step
It's 1 p.m. and Gwladys heads out for her lunch break—when you're going through such a strict physical training program, eating is incredibly important. "I eat a lot for lunch; it's crucial. Each lunch includes carbs—pasta or rice—with chicken breasts, for instance, then a dairy product and fruit, with lots of red berry tea—my favorite. And then it's naptime. I sleep for a minimum of one hour—that's when I can really rest. Before I head back for my afternoon practice, I eat a fruit and prepare my drink."
Gwladys drinks more than two and a half liters of water per day and goes to the gym equipped with water diluted with Herbalife Hydrate, a drink that's packed with calcium and magnesium. "I drink constantly," she explains. "It keeps me hydrated and it gives me a boost."
Advertisement
This ad is displayed using third party content and we do not control its accessibility features.
Stretching is important
It's 4 p.m. Gwladys gets to her afternoon practice. But before she starts, she needs to stretch. "In order to warm up, we play volleyball, basketball, or badminton. If I'm alone, I'll run, do some sidesteps, jog, stretch my arms and my hamstrings. My right leg is more muscular than the left, but I stretch both, obviously! Then I train until roughly 6 p.m."
"We do individual practices or 35-minute lessons with the coach. If there are a lot of techniques we need to go through, they can last up to an hour, or less if we work on one specific thing like the direct (an attack pose) or the sixte (a supinated wrist move), for instance. After each session I do 400 crunches—oblique crunches, core, or high-pulley crunches—and a ton of other exercises to strengthen my muscles, and then I stretch for a minimum of 10 minutes."
In the evening our athlete relaxes with a shower and a daily facial mask before eating an early dinner. "I usually have a light dinner or go all-in for an Ivorian meal, like alloco—a fish-based dish with fried plantains," the light sleeper says with a smile (she never sleeps for more than six hours per night).
In order to get accustomed to Rio—where there's a five-hour time difference with Paris—Gwladys is already in Brazil ahead of the biggest competition of her life. To complete her preparation, she's asked her cousin to braid her hair, a symbolic touch. "The braids can't be too thick, though, as they need to fit underneath my mask!"
Go, Gwladys, we're rooting for you!
Advertisement
This ad is displayed using third party content and we do not control its accessibility features.
Daphné Segretain
Daphné Segretain is the Editor-in-Chief of Fab Beauty. Between television, magazines, and the web, she's scoured news, culture, and beauty in all its kaleidoscopic formats. Today, as editor of a global beauty site, she supports writers and contributors from all over the world.