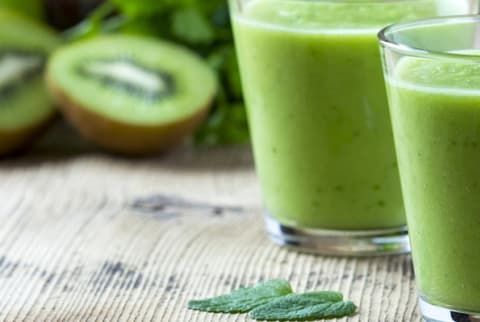 Photo by Shutterstock.com
July 11, 2014
We've all heard of the amazing benefits of green smoothies. People everywhere are using green smoothies to transform their health. Every good wellness, nutrition or fitness expert encourages folks to make green smoothies a staple of a healthy diet.
That's fine and dandy, but when you hear someone talking about green smoothies, often the only instruction and recipe you get is:
Get an expensive Vitamix (I love mine, by the way). Grab some fruit, liquid, leafy greens, blend it up, serve and enjoy.
Sounds easy enough ... but if you're anything like me, you want a little more information. Surely there have to be some combinations that are better than others, and some concoctions that help with certain ailments right? The answer is a big, fat, hells yes!
So how about some supercharged smoothies you can actually afford? People talk about superfoods all the time, and their benefits. However did you know you don't have to spend $22 for a bag of goji berries to get these benefits? The trick is to combine the right food, and in turn you end up with a super food ... or in this case, a super smoothie.
Today I'm going to lay out 10 health-boosting smoothie recipes that taste great. All you need are a few ingredients and a high-power blender (Vitamix a plus, but not required, I promise). For all of these recipes, simply toss them in your blender, add ice if you like it cold, serve and enjoy. Try to use organic when possible, and be sure to wash all produce well.
"Put Me To Sleep, Sandman" Smoothie
2 handfuls of spinach
1-2 Tbsp. of spirulina
1/4 cup of raw sunflower seeds
1 cup of frozen or fresh blueberries
1-2 cups of unsweetened almond milk
1 tsp. of cinnamon.
2 cups of spinach tightly packed
1 ripe medium banana
3/4 cup of fresh or frozen blueberries
1 Tbsp. of pumpkin seeds
1 Tbsp. of raw sunflower seeds
1 Medjool date
1-2 cups of filtered water or unsweetened almond milk.
"Cleanse My Kidneys and Liver" Smoothies
2 big handfuls of kale
1 green apple (cored, peeled and sliced)
1 lemon (peeled and seeds removed)
1 inch slice of ginger
1-2 cups of filtered water
2 cups of tightly packed spinach
1 green apple (cored, peeled and sliced)
2 stalks of celery
1 fresh beet (peeled and cut into cubes)
1 lemon (peeled and seeds removed)
1 orange (peeled and seeds removed)
1-2 cups of filtered water
"Make Me a Goddess" Smoothies
2 cups of tightly packed spinach
1/2 ripe medium banana
1/2 ripe avocado (peeled and pit removed)
6 raw almonds
6 raw cashews
2 cups of unsweetened almond milk
2 cups of Swiss chard
1 medium ripe banana
1/2 cup of blue berries
12 almonds
1-2 cups of almond milk
1 tsp. of cinnamon
1 cup of spinach
1 handful of kale
1 apple (any kind)
1/2 banana
2 Brazil nuts
1-2 cups of unsweetened chilled green tea
2 cups of spinach
1 apple (any kind)
1 lime (peeled and seeds removed)
2 cups of unsweetened chilled green tea
"In Love With My Heart" Smoothies
1 cup of spinach
1 handful of kale
1 frozen banana
1/2 cup of frozen raspberries
10 hazelnuts
2 Tbsp. of raw cacao powder
1/2 tsp. of pure vanilla extract
1-2 cups of unpasteurized coconut water or filtered water
1 cup of spinach
1 cup of kale
1/2 avocado
1/2 banana
1 orange (peeled and seeds removed)
1/4 cup of raw walnuts
1 Tbsp. of chia seeds
2 cups of filtered water

Torrie Pattillo
Soul-Alignment Strategist
Torrie Pattillo is a modern mystic who helps socially conscious entrepreneurs who want to experience soul-alignment in life and business.

Through her blog, live video streams and online programs, she's here to help you embody your divine purpose, connect to your intuition and create Sacred Affluence™

Her insights have been featured in The Huffington Post, MindBodyGreen, Lightworker Nation, Be True Be Love Magazine and Sacred Sister Society's online summit.

When she's not empowering the next generation of change agents to build a soulful foundation to support the dreams they were born to fulfill, you can find her channeling her inner "Bohemian Mermaid", curled up with a book, or mastering the art of being a vegetarian foodie.

Get free tips to transform your life and business into a magical revolution at: TorriePattillo.com