Close Banner
Advertisement
This ad is displayed using third party content and we do not control its accessibility features.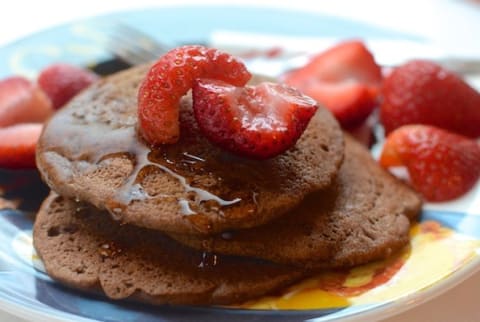 It's time to switch up your breakfast routine because teff is taking over. Teff is an ancient gluten-free grain that is native to Ethiopia. Each tiny grain is packed with iron, calcium, and protein, and it has a deliciously mild and nutty flavor.
These teff pancakes are easy to make, hard to mess up, and they will leave you feeling happy and satisfied. Enjoy!
2 cups teff flour
1 Tablespoon baking powder
1 Tablespoon arrowroot powder
½ teaspoon sea salt
2 Tablespoons coconut oil
2 cups almond milk
1 Tablespoon vanilla extract
OPTIONAL: 1-2 Tablespoons honey or vegan sweetener of choice
OPTIONAL: 1 teaspoon cinnamon
Preheat griddle over medium heat.
Mix teff flour, baking powder, arrowroot powder, and sea salt in a large bowl. Add coconut oil, almond milk, vanilla extract, and sweetener. Mix until all ingredients are combined.
Pour a 1/8 – 1/4 cup of batter onto griddle.
Flip pancakes when bubbles begin to form on top of pancake and bottoms are golden brown.
Serve with pure maple syrup and fresh strawberries.
Makes 15 pancakes. Freeze leftovers for a healthy grab-and-go breakfast.

Carrie Vandelac
Carrie Vandelac is a health coach and wellness blogger at www.CarrieVandelac.com. She's on a mission to make whole foods simple and to help people find lasting healing through food. After suffering from ulcerative colitis for seven years, Carrie revamped her diet and is now symptom-free, medication-free, and oh-so-happy. Carrie believes in real food, a good night's sleep, and laughing until you cry. You'll find her reading, hiking, belting out a tune, or performing in a local theatre production. Say hi on Facebook, Twitter, or her blog. She'll give you a warm welcome and tell you that your hair looks nice today.