Straighten Up: Improve Your Posture With These Exercises & Stretches
Founder of Naturally Sassy
By Sassy Gregson-Williams
Founder of Naturally Sassy
Sassy Gregson-Williams is the founder of Naturally Sassy, a fitness and food online global platform, a ballerina, certified personal trainer, and cookbook author. She is based in Los Angeles, CA.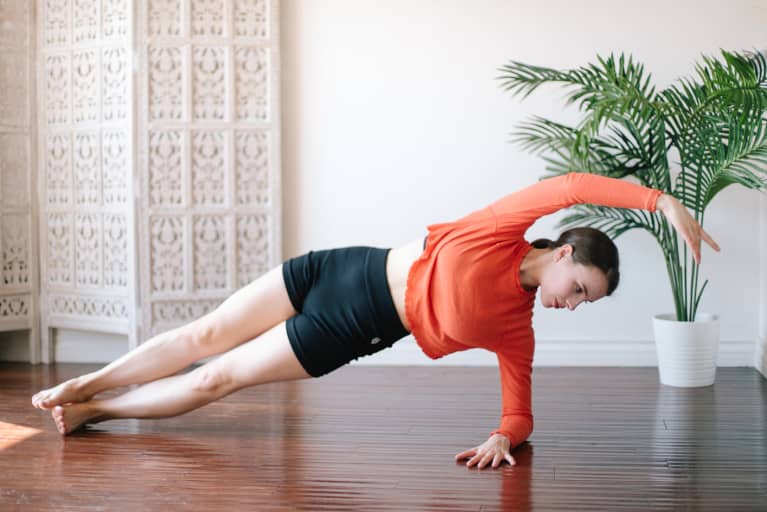 Correct posture is something I am proud to say is at the heart of my Ballet Blast method. I want my clients to achieve their goals, but even more so, I want them to master their posture. Why? Because if you have good posture, every workout is going to be more effective, and therefore you'll have less chance of injury, and results come quicker.
So many of my clients sit down all day, hunched over their computer or phone, straining their neck, and internally rotating their shoulders. This pattern hour after hour, day after day causes extreme tightness and what I like to call the tech neck epidemic.
Improving your posture and getting rid of neck tension involves more than just exercises; it means reprogramming your day-to-day activities, undoing bad habits, and creating new ones. Those lifestyle changes paired with stretching and the right exercises can get you back to your neutral alignment while experiencing less pain and better performance in life and the workout studio.
How to correct your posture:
Indulge me, and do one tiny piece of homework. Tomorrow, make a conscious decision to note down every time and duration you look below eye level. This might be on your laptop answering emails or phone scrolling through Instagram. Whatever it is, write it down and note how long you stay in that position for.
One of the reasons most of us have back and neck pain is because we're constantly hunched over technology. The good news is, there are some really easy quick fixes you can make right now to help:
Buy a Laptop stand a display monitor or invest in a standing desk or Swiss Ball. Whichever option you choose, it's important to make sure you're looking at your eye level.
Hold your phone higher. When you text, scroll, or story, hold your phone at eye level, like you're taking a picture of a friend.
Go for short walks around the office or your apartment. Set a timer for every hour to remind you to get up.
Spend 60 seconds resetting your posture. It doesn't seem like much, but this will keep your energy and perfect posture going for far longer.
Try to sit without crossing your legs. The more "squared off" you are to your computer, the better.
Wear a backpack instead of a bag—and don't buy one without testing it first. You need to make sure it has straps you can tighten so the bag's close to your body.
2. Do the right stretches and strengthening exercises.
A consistent stretching routine and structured workout program are really important for correcting posture.
Before you start implementing these tips, stretches, and exercises, I want you to identify your posture type. The two most common posture types I see are kyphosis and hyperlordosis. Kyphosis (hunchback posture) traits are shoulders forward, your head down and your upper back curved. Hyperlordosis (swayback posture) is the opposite, with an exaggerated curve in your lower back.
If you have kyphosis-type posture, do these stretches:
Neck Stretch: Holding just above your ear, tilt your head to the side and continue to look forward. Hold this stretch for 30 seconds on your left and right sides. You can also try tilting your head slightly down to look at the floor or up to the ceiling to deepen the stretch.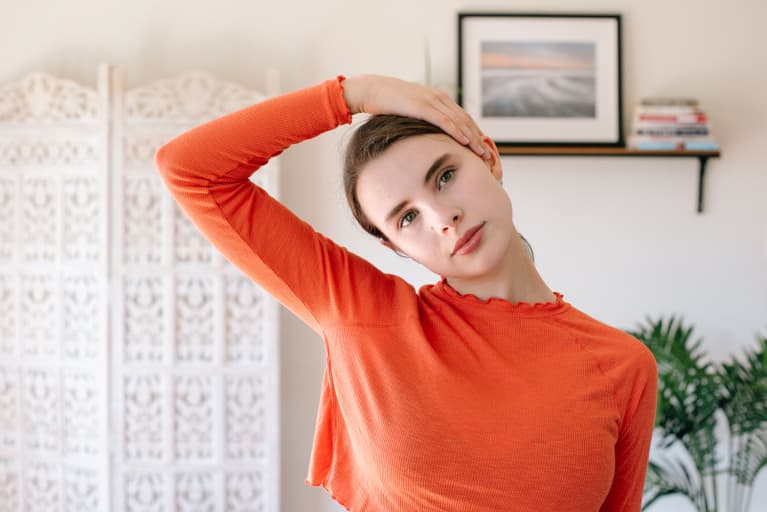 Chest Stretch: Place your hand flat against the end of a wall, keeping your hand at the same height as your shoulder. Walk your body farther forward than your shoulder; as you do this, the stretch in your chest will increase. Tilt your head toward the relaxed arm to increase the stretch. Hold this stretch for 30 seconds on both your left and right side.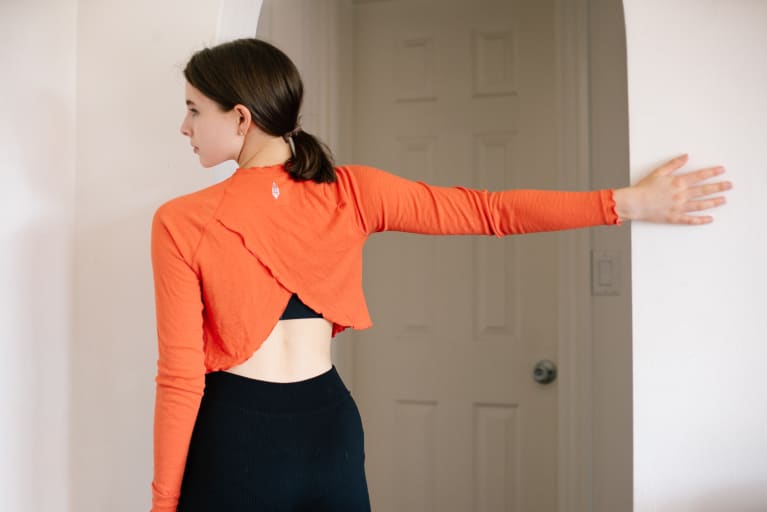 If you have hyperlordosis-type posture, do these three strengthening exercises and the four stretches that come afterward:
Diamond taps: Leaning back on your forearms, turn out your legs to a diamond position and tap one foot down at a time, alternating legs. Do three sets of 12 repetitions.
Paddle: Lying on your stomach with your head hovering just off the floor, lift your opposite hand and leg up, and then down, alternating sides as you go. Do three sets of 12 repetitions.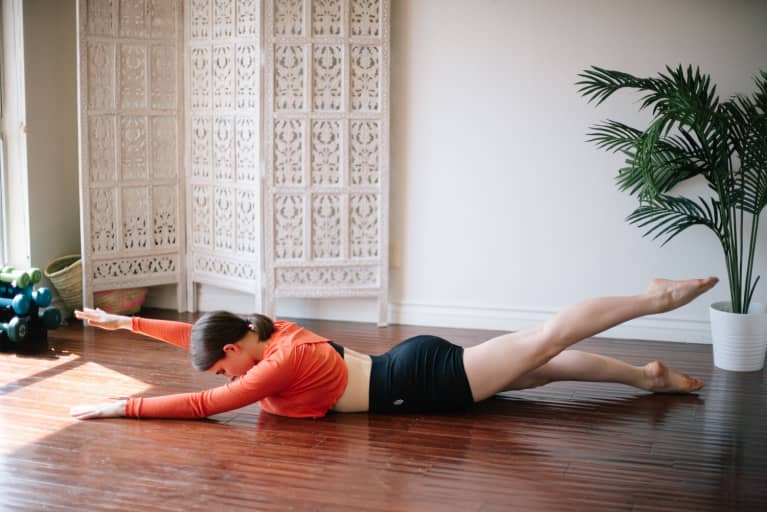 First to second position fly: You can do this exercise standing (top photo) or lying down (bottom photo). Holding a 3- to 5-pound weight to begin, start in first position (left photo) and send your arms to second (right photo), keeping your spine straight and elbows bent. Do three sets of 12 repetitions.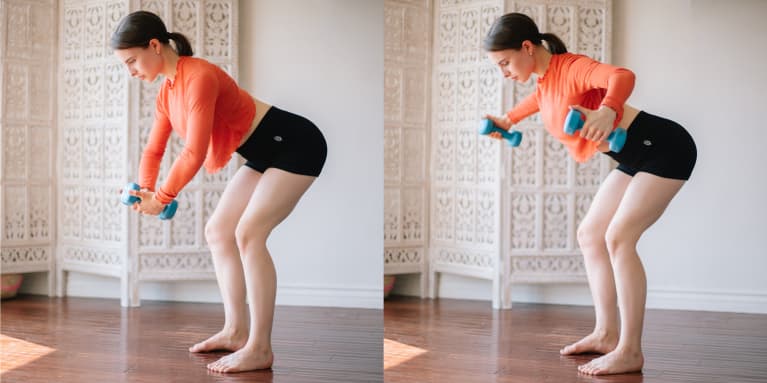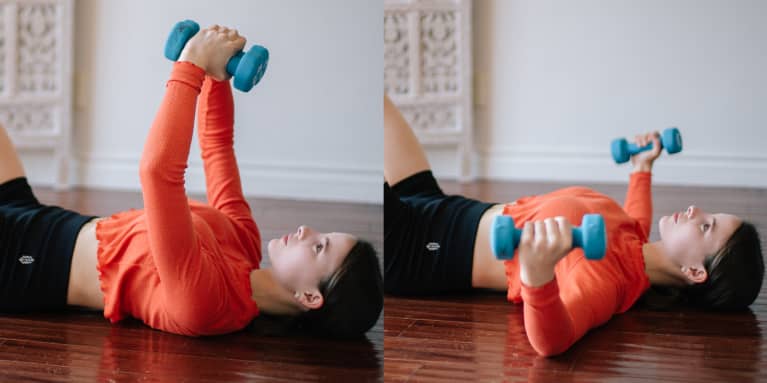 Hip Flexor Stretch: Start in a kneeling position, straighten the back leg, lifting the heel off the floor and place the opposite hand on the floor. Twist to open the body into that front leg, lifting the arm and gaze to the ceiling. Hold for 30 seconds, right and left.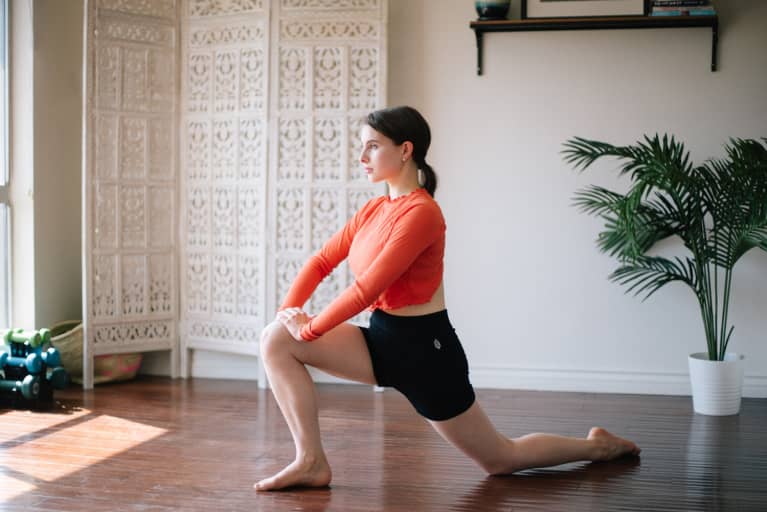 Glute Stretch: Start lying on your back placing one foot onto of the knee and hugging the legs in. Extend the bottom leg or keep it bent in tabletop. Hold for 30 seconds, right and left.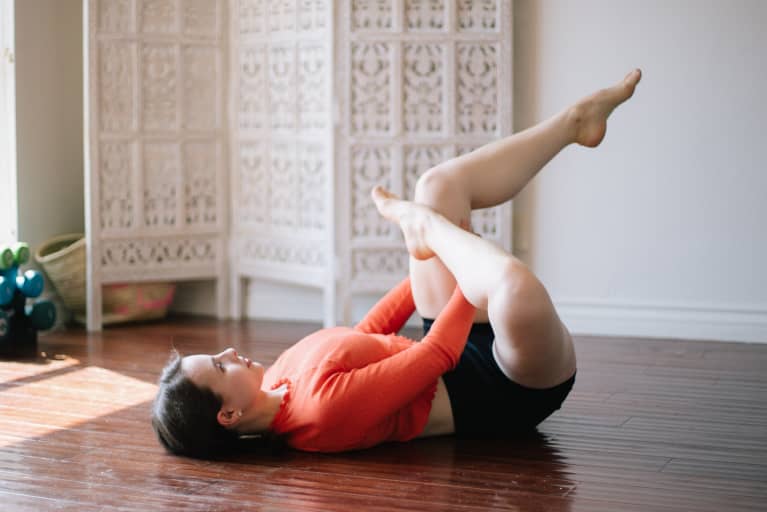 Lower back stretch: This twisted child's pose increases the stretch to your lower back. You're going to go back into a child's pose and then walk your left hand to the left side of the body, placing the right hand on top. Feel as though the right arm is reaching higher up than the left, increasing the stretch on the twist. Hold for 30 seconds, right and left.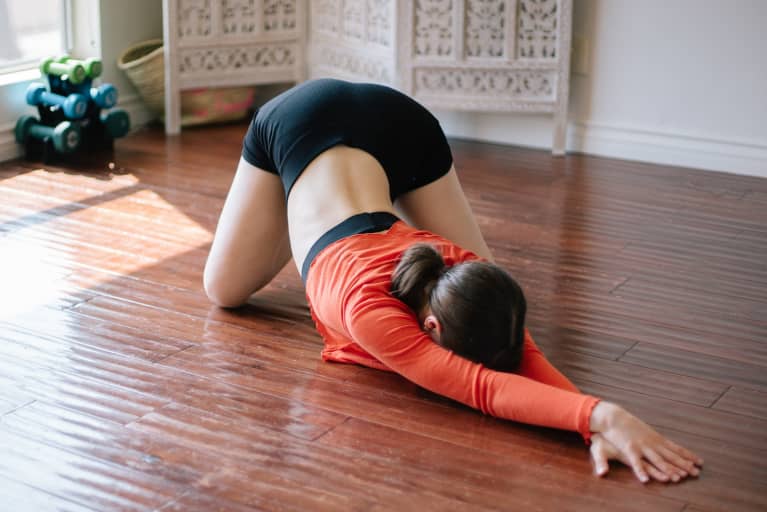 Glute Bridge: Lying on your back with feet hip-width apart, roll slowly up to a full glute bridge and back down. Do three sets of 12 repetitions.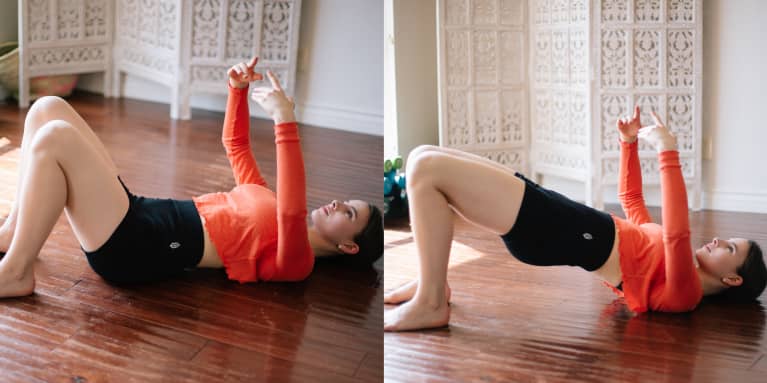 Single leg dips: Lying on your back with feet hip-width apart, roll slowly up to a full glute bridge, and shift one leg into tabletop. Drop your pelvis down to hover above the floor and then drive the pelvis back up. Do three sets of 12 repetitions.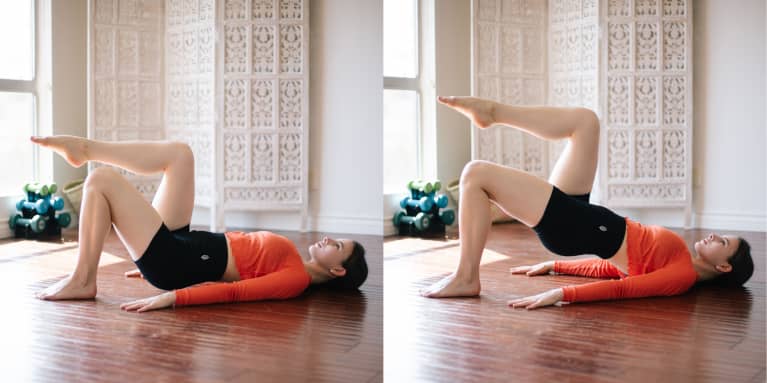 Plank: Hold a forearm plank, feeling the lats engage as you pull the head over your hands. Engage your core and keep your glutes squeezing under. Hold for one minute, rest, and repeat.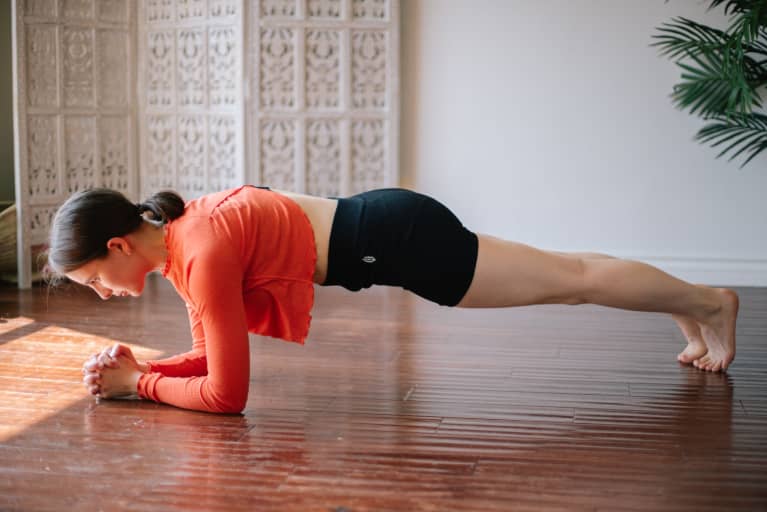 Side plank: You can do this side plank on your forearm or hand. It should feel as though your underneath hip is lifting up. Hold for one minute each on your left and right side.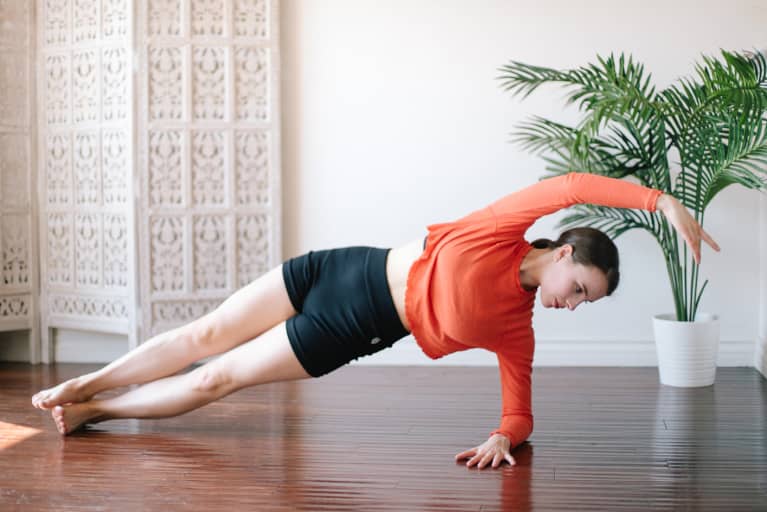 My final tip is consistency. It's simple but powerful—the more consistent you are, the sooner you'll fix your posture!