Close Banner
Advertisement
This ad is displayed using third party content and we do not control its accessibility features.

By Leigh Weingus
mbg Contributor
Leigh Weingus is a New York City based freelance journalist writing about health, wellness, feminism, entertainment, personal finance, and more. She received her bachelor's in English and Communication from the University of California, Davis.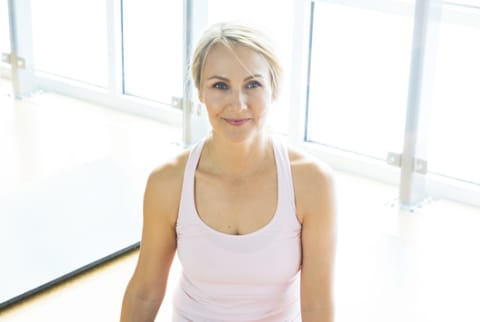 Photo by Tamara Muth-King
You'd be hard-pressed to find someone in the wellness world who doesn't rely on essential oils for relaxation and mood enhancement. Some people even add drops of these fragrant oils to foods and beverages!
Essential oils are hardly reserved for those who dedicate hours of their day to meditation. In fact, many fit people use the energy boosts and calming properties of aromatherapy to enhance athletic performance.
"Aromatherapy, when used during a workout, helps us bring our body, mind, and our intentions into the present moment, thus increasing our focus and attention on any task at hand, especially our workouts," says Tracy Griffiths, a spokesperson for the essential oil company Young Living. "Because of the physiological and emotional components of the olfactory system (how our brain processes scents), we can use our sense of smell to anchor a particular feeling to a particular essential oil. Most athletes know being in a positive and empowering mindset is crucial to a successful workout."
Here are the essentials these fit women swear by.
1. Kelsey Patel
"I love the NOW brand, which is sold at Whole Foods and online. My favorite scents are lavender for sleep, peace, and relaxation. I also love to use rosemary or peppermint for opening me up, clearing my mind, and preparing for meditation. I love the orange and lemon scents for health, energy, and detox. It helps energize my mind and awaken my senses, especially if I'm feel lethargic, tired, lazy, or depleted.
One of my favorite combinations is one to two drops of lemon with eight drops of lavender. I mix it in a mini glass bottle and use it when teaching yoga or during my meditation and reiki classes and my students love it."-Kelsey Patel, owner of Pure Barre Beverly Hills and reiki master
Sadie Lincoln
"Lavender, lavender, lavender. I love lavender essential oils. I often travel with a lavender-soaked scarf—lavender is calming and perfect when you're on an airplane or winding down before bed. When I need energy, I go for citrus. I find it very energizing. Put a few drops in your hands, rub together, and breathe in (waking up to the smell of citrus gives me energy). I also love The Balanced Guru's Organic Powerful Mist—it includes sandalwood, vetiver, ginger, lavender, bergamot, benzoin essentials! Perfect before a barre3 workout. Peppermint is great when I'm looking to stay calm but being active or meditating." —Sadie Lincoln, barre3 founder
3. Sara Quiriconi
"Eucalyptus is one of my favorites to use in the winter season, which is beautiful for clearing the lungs and nose airways. Add a little to your chest or tips of the nostrils prior to pranayama (your breathwork) or before any exercise. My other favorite? Sweet orange, for a quick, little boost of energy any time of the day." —Sara Quiriconi, Miami-based yoga teacher
4. Jordan Younger
"Clary Sage is the top essential oil I swear by. My therapist got me hooked on it a couple of years ago after he gave it to me to relieve anxiety and stress and to deal with insomnia. Because of its hormonal-balancing properties, it gives off a calm and peaceful feeling that helps me fall asleep. It also works wonders for digestion—I can't get enough of it.
"Frankincense is another oil that I use on the daily. Frankincense was also given to me to help relieve stress and anxiety. It also helps reduce pain and inflammation, so it's a nice oil to rub on your muscles after a long workout or if your hands are sore from too much writing or typing. Frankincense is also an immunity booster, so keeping it on hand in these colder, more 'kapha' months is a godsend!
"I also use peppermint when I feel nauseous or like I'm having an allergic reaction to food, I use peppermint oil. It is an instant calmer, and it's great for everything from digestion to stress relief." —Jordan Younger, yoga teacher and Breaking Vegan author
5. Sarah Levey
"I use five drops of DoTERRA's Serenity essential oil in my diffuser every night when I get into bed. The serenity blend is a combination of lavender (calming and relaxing), chamomile, ylang-ylang, Hawaiian sandalwood, ho wood leaf, and vanilla bean. The combination lessens feelings of tension and calms emotions. It puts me to sleep and helps me feel well-rested in the morning." —Sarah Levey, co-founder of Y7 yoga

Leigh Weingus
Leigh Weingus is a New York City based freelance journalist and former Senior Relationships Editor at mindbodygreen where she analyzed new research on human behavior, looked at the intersection of wellness and women's empowerment, and took deep dives into the latest sex and relationship trends. She received her bachelor's in English and Communication from the University of California, Davis. She has written for HuffPost, Glamour, and NBC News, among others, and is a certified yoga instructor.