20 Super Easy Smoothie & Juice Recipes That Will Transform Your Mornings

Contributing Health & Nutrition Editor
By Stephanie Eckelkamp
Contributing Health & Nutrition Editor
Stephanie Eckelkamp is a writer and editor who has been working for leading health publications for the past 10 years. She received her B.S. in journalism from Syracuse University with a minor in nutrition.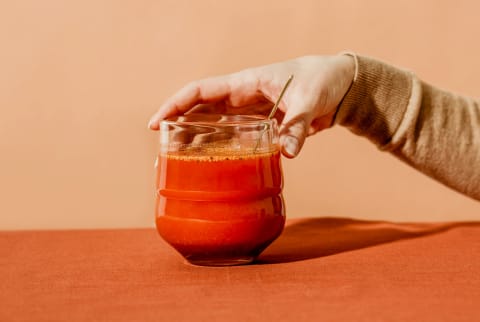 Image by Tatjana Zlatkovic / Stocksy
Last updated on August 21, 2019
Our editors have independently chosen the products listed on this page. If you purchase something mentioned in this article, we may
earn a small commission
.
Smoothies and juices can be a great way to get a hearty dose of nutrients in a single glass. The best part: They can be ready in just five to 10 minutes, making them an ideal snack or meal when you're strapped for time but don't want to compromise your health. Here, we've compiled 20 of our favorite easy smoothie and juice recipes to get you started, along with tips on how to make them nutritionally balanced so they won't spike your blood sugar.
Advertisement
This ad is displayed using third party content and we do not control its accessibility features.
Healthy smoothie recipes.
One of the simplest ways to boost overall health? Increase your intake of vegetables and fruits. One of the easiest ways to do just that? A smoothie. The truth is, chewing takes energy—which you don't always have in the morning—but a smoothie makes a delicious, easy-to-swallow alternative that ensures you're consuming loads of naturally occurring vitamins, minerals, and antioxidants. Plus, smoothies retain all the filling, gut-friendly fiber from fruits and veggies.
There's no exact science to smoothies, but in general, a great smoothie recipe will feature some veggies (leafy greens and beets are great), along with some fruit (berries are a solid low-sugar option, while bananas add awesome texture), flavor boosters like ginger and mint, and healthy fats and protein (think nuts and nut butters, seeds, and avocado).
1.
Cherry-Almond Recovery Smoothie
Featuring antioxidant-rich cherries, chia seeds, banana, Greek yogurt, and almond milk, this protein-rich cherry-almond smoothie is a favorite post-workout treat of world-class swimmer and 12-time Olympic medalist Natalie Coughlin.
Advertisement
This ad is displayed using third party content and we do not control its accessibility features.
This ginger-peach smoothie is like summer in a glass. The sweetness of peaches and honey is perfectly balanced by protein-rich plain yogurt and a spicy punch from digestion-friendly ginger.
3.
Keto Matcha Green Smoothie
This delightful keto green smoothie is ultra creamy (thanks, avocado!) and gets a subtle natural sweetness from raspberries and fresh mint. Matcha provides a small hit of caffeine and a dose of antioxidants, making it the perfect way to start your day.
Advertisement
This ad is displayed using third party content and we do not control its accessibility features.
4.
Pear-Ginger Citrus Smoothie
Let's just call this the kitchen sink smoothie. Loaded with avocado, orange and lemon, pear, kale, Romaine, ginger, and cashews, this smoothie's creamy-citrusy flavor is absolutely crave-worthy.
Taz Bhatia, M.D., sips on this berry, avocado, and kale smoothie every morning to help keep hormones balanced. Berries and leafy greens aid in detoxification and may help with estrogen dominance, she says, while flax provides anti-inflammatory omega-3s, and collagen delivers gut-friendly protein.
Advertisement
This ad is displayed using third party content and we do not control its accessibility features.
6.
Peanut Butter Cacao Nib Smoothie
When you're just itching for a Reese's, whip up this PB and cacao nib smoothie created by celebrity nutritionist Kelly LeVeque that's loaded with healthy fats and protein from chia seeds, vanilla protein powder, peanut butter, and cacao nibs.
7.
Dark Chocolate Sea Salt Smoothie
If you're a chocoholic, try this dessert-worthy smoothie featuring a double dose of chocolate from cacao nibs and a high-quality chocolate protein powder, healthy fats from coconut oil and flax, Himalayan salt, and ice. It's basically a healthy milkshake.
Advertisement
This ad is displayed using third party content and we do not control its accessibility features.
8.
Cauliflower Smoothie with Blueberry & Cinnamon
Want a low-sugar smoothie with a thick and creamy texture? Scale back on the frozen banana and add some frozen cauliflower to the mix. This smoothie—with greens, blueberries, hemp hearts, cauliflower, cinnamon, and more—proves it's damn delicious.
9.
Chlorella Superfood Green Smoothie
For an extra boost of nutrition, this green smoothie features powdered chlorella—a vibrant algae containing iron, calcium, magnesium, phosphorus, folic acid, zinc, and vitamins A, C, B6, B12, and E.
10.
Green Tea, Flax & Spinach Smoothie
This unique green smoothie delivers a serious dose of sustained energy, thanks to a hit of caffeine from green tea, healthy fats from almond butter and hemp seeds, and gut-friendly fiber from ground flax.
11.
Cherry Chamomile Smoothie
The perfect pre-bed smoothie, this blend created by holistic psychiatrist Ellen Vora, M.D., was specifically formulated with melatonin-containing cherries and calming (warm!) chamomile tea to help ease stress and lull you into a restful slumber.
12.
Pineapple & Grapefruit Green Smoothie
This vibrant tropical blend is loaded with anti-inflammatory (pineapple, turmeric), digestion-friendly (ginger), antioxidant (green tea), and generally nutrient-packed ingredients (spinach, cilantro, celery).
Healthy juice recipes.
Juice can be another potent source of vitamins, minerals, and antioxidants. But keep in mind: Not all juice is created equal, and experts like Frank Lipman, M.D., recommend opting for a variety that contains mainly veggies, nutrient boosters like turmeric and ginger, and minimal fruit—just enough to provide a hint of sweetness for palatability. Otherwise, you'll be setting yourself up for erratic spikes and dips in your energy levels, especially since there's no fiber there to buffer that blood sugar spike. Lucky for you, all of the juices below are veggie-heavy and packed with nutrition.
If you don't have a juicer, no problem. Simply blend up your ingredients, then strain with a cheesecloth or fine-mesh sieve. Pro tip: Save the fiber-rich pulp for later to use in recipes for muffins, breads, and other healthy-ish baked goods.
1.
Brain-Boosting Morning Tonic
This juice blend is a favorite of integrative neurologist Ilene Ruhoy, M.D., for its combination of anti-inflammatory ingredients that support a healthy brain and nervous system, including turmeric, lemon, ginger, beets, pear, and cucumber.
While we can't confirm celery juice's supposed miraculous benefits, we can say that (just like whole celery) celery juice contains nutrients such as vitamins A and C, folate, beta-carotene, potassium, sodium, and magnesium.
Experiencing PMS-induced bloating and crankiness? This juice recipe (with beets, celery, green apple, cilantro, and more) was specially formulated by hormone expert Alisa Vitti to reduce water retention and increase mood-stabilizing hormones.
4.
Zingy Ginger Green Juice
Full of strong flavors from potent nutrient-packed ingredients like lemon, kale, and ginger, this green juice will definitely wake you up.
5.
Adaptogen-Infused Green Juice
In addition to loads of green veggies and herbs, this juice gets a balancing boost from powdered ashwagandha—an adaptogenic herb that has long been touted in ayurveda for its anti-stress properties.
This dietitian-formulated juice packs carrots, oranges, and fresh ginger for a potent dose of anti-inflammatory, immune-boosting, and antioxidant nutrients including vitamins C and A.
Consider this green "lemonade" your morning lemon water upgrade, loaded with green veggies like Swiss chard and celery, tart flavor boosters like lemon and ginger, and a hint of sweetness from apple.
Beets are a great source of the minerals manganese, potassium, and iron, and the vitamins B9 (folate) and C—but their flavor can be divisive. This juice balances out beets' earthy flavor with naturally sweet veggies and fruits like carrots and oranges; and ginger and basil add a nice peppery punch.