mbg Food Contributor
By Abigail Hopkins, R.N.
mbg Food Contributor
Abigail Hopkins is a Registered Nurse, culinary nutrition expert, and co-founder of That Clean Life.
Stuck in a lunch time rut? Need an easy pre-workout snack? I'm about to solve all of that with a super simple, healthy, delicious recipe.
These Veggie Hummus Wraps are raw, vegan and packed full of protein and vegetables to keep you feeling light and energized all afternoon. I love to spiralize vegetables, but if you don't have a spiralizer - simply use a box grater and take long strokes to create noodle-like veggie strands.
Sprialized Veggie Hummus Wraps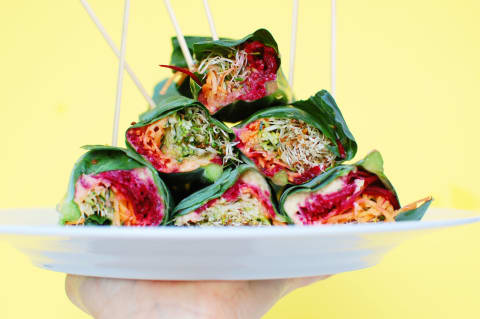 1 beet
1 sweet potato
1 zucchini
1 tablespoon extra virgin olive oil
sea salt and black pepper (to taste)
1 bunch collard greens (washed and stems removed)
1 cup hummus
1 cup alfalfa sprouts
1. Use a spiralizer or a box grater to julienne your beet, zucchini and sweet potato. Transfer veggies to a large mixing bowl and toss with extra virgin olive oil. Season with sea salt and black pepper to taste.
2. Lay your collard green wraps across a clean countertop. Spread a large spoonful of hummus across each wrap and add a handful of sprouts. Top with spiralized veggies and wrap. Secure with a toothpick if needed. Enjoy!
Photo courtesy of the author