Former mbg Deputy Editor
By Elizabeth Inglese
Former mbg Deputy Editor
Elizabeth Inglese is a writer living in San Fransisco, California. She earned her bachelor's in english literature and cultures from Brown University and her master's in writing from The University of Southern California. She's the former Deputy Editor of mbg, and has also worked for Vogue, Architectural Digest, Bon Appetit, and Good Magazine covering food, health, and culture.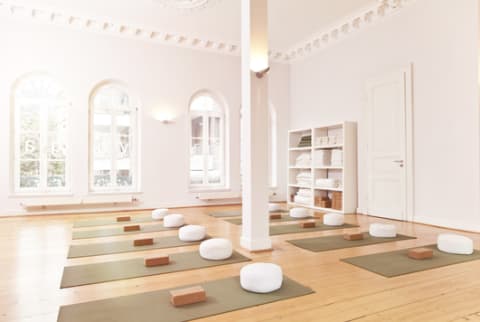 February 27, 2017
The first gym opened in America was an open-air tangle of hung ropes and steel bars configured in the style of the German Turnplatz. It was the mid-1820s. Not much changed about the space in which we exercise in the 150 year interlude between the advent of the Turnplatz and the opening of the Venice Beach Gold's Gym popularized by Arnold Schwarzenegger. But in the last few decades, wellness as we know it exploded as a cultural imperative, a way of life embraced by working moms, entrepreneurs, and students—those far outside the body-building community who beforehand comprised the majority of gym-goers.
As the population frequenting gyms changes, so, too, do the demands made of fitness spaces. "I have so little free time, if I'm making the choice to workout, I really want it to be a great experience," says Meredith, a 34-year-old publicist in New York. She has room in her budget to spend on a monthly membership and studios competing for her business. Her fitness routine developed while she was in college, using her University's rec center to lift weights and run on a treadmill. "I worked out because my roommates did, and I loved how exercising made me feel, but the complex was a miserable place to be. I wouldn't go when it was sunny outside." Meredith didn't keep up her nascent running habit after graduating and moving to New York. "I just preferred to spend my time after work meeting up with friends for dinner or drinks rather than in some gym listening to techno." But in her early 30s, she felt a change in her body that made her rethink her habits. When she re-entered the fitness world, she hardly recognized it. "I thought, whoa, this place is nicer than my apartment. Can I be here all the time?"
Sarah Robb O'Hagan, Flywheel's new CEO, is up on the trend, "High-end gyms and boutiques are putting a lot more time and thought into the full experience." And we've seen the signs of that from coast to coast. Trendy interior design, tech-enabled equipment, and over-the-top indulgent amenities have made what used to be industrial and barren places some of the most sought-after spaces in our lives.
Reflecting a Cultured Lifestyle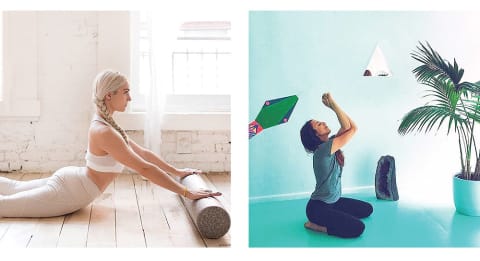 Left: New York Pilates. Right: Love Yoga
Sky Ting's thousands of Instagram followers are a product of their popularity (they have some of the most beloved yoga teachers In New York City) but also of their keen design sensibilities, which lend themselves readily to the social media. Their whitewashed studio minimally accented with fiddle leaf figs and whimsical mascots (a towering stuffed giraffe and bright pink flamingo) provide the ideal backdrop for a selfie generation. "We were interested in creating our dream space for practice," says co-founder Chloe Kernaghan. "Our designer, Nick Poe, brilliantly combined our want for the space to feel clean and beautiful while still maintaining a playful tone. I think the energy of a space is very influential on a practice."
Graceful windows and bleached-out interiors are practically de rigueur, seen across the country at Karen Lord Movement, New York Pilates, and Ballet Beautiful. Sparkling geodes and vibrant custom art define the look of Love Yoga in Los Angeles. Topanga Canyon-based artist Carly Margolis painted the fluorescent-hued reptilian pattern that snakes through their studio. Michel Basquiat's Boxer Rebellion adds an artful edge to NYC's Rumble Boxing. Co-founder Eugene Remm says, "The entire main level was designed to look like an art gallery. I curated pieces of art to represent different figures and times in pop culture." With original works by Brooklyn artists Michael DeAngelo and Carlos Jay, Rumble's studio engages the eye along with the fist.
Utilizing Innovative Tech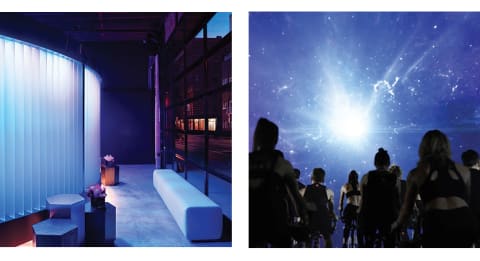 Left: 45 Grand. Right Imax Shift
If the yoga studio outfitted with birch-plank floors and succulents represent the minimalist side of the fitness design spectrum, tech-enhanced spaces represent the opposite, offering members every advantage the latest innovations can provide. Robb O'Hagan is at the forefront of tech fitness. "Everywhere you turn there are digital technologies that are enabling people to engage with their fitness lifestyle across many platforms wherever they are," says the CEO. At Flywheel, proprietary TechPacks allow riders to track their performance and control their resistance and RPMs. Their overhead TorqBoads display live data from other class members. Personal stats are stored online and on Flywheel's app. "We're seeing the demise of fitness businesses that don't deliver a really meaningful experience," explains Robb O'Hagan.
At cycling studio Imax Shift, ceiling-high projection screens displaying intergalactic spacescapes or sun-drenched coastlines transport riders to new worlds. And at Nike's private fitness studio, 45 Grand in SoHo, personalized motivational phrases and nameplates flash on the lockers' digital screens. Designed by powerhouse architect Rafael de Cárdenas, 45 Grand cloaks performance-enhancing hardware within sleek interiors for a futuristic finish.
Luring With Luxury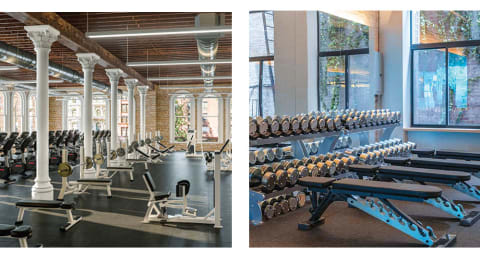 Left: Equinox. Right S10Training
Since Equinox launched their partnership with Kiehl's seven years ago, transforming gym showers from a necessary evil to an incentive to sweat, expectations of high-end amenities have risen. Lululemon's flagship fitness studio in New York City offers a concierge service to shoppers and class-goers looking for one-on-one customized experiences. S10Training, a gym catering to the metropolitan man, limits their sessions to a lucky eight so members always enjoy hands-on instruction in spacious atmosphere. Barry's Bootcamp stocks their locker rooms with peppermint shampoo, cilantro conditioner, and grapefruit cleanser by natural beauty line Malin + Goetz, to pamper their members after a hard workout.
Since joining Ballet Beautiful in Soho, Meredith's activity level has risen from a sporadic few classes per month, to regular two-per-week sessions. "I feel like a cool kid when I go to Ballet Beautiful." She says. She loves that the space reflects her aesthetic sensibilities, and that it's won her more than a few likes on Instagram. "Yes, the workout is amazing for my core. But it's also great for my self-image."