Spice Up Your Butternut Squash Soup With This Ingredient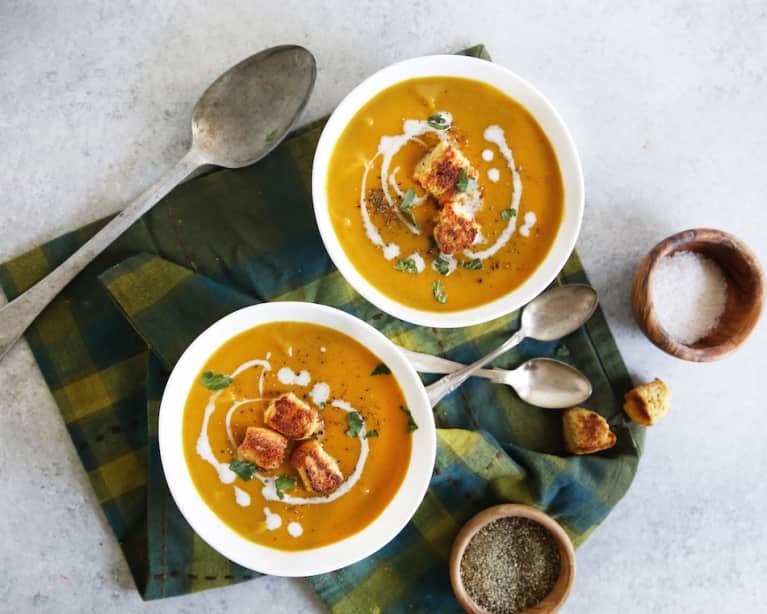 Our editors have independently chosen the products listed on this page. If you purchase something mentioned in this article, we may
earn a small commission
.
Alexis Kornblum Davidson, or Lexi, as she's known to fans of her blog Lexi's Clean Kitchen, creates paleo-friendly dishes that make eating clean easy and enticing. Her new cookbook is filled with ideas for meals that will make you feel energized and satisfied, like this seasonal soup that combines deeply comforting butternut squash with warming curry spices.
Curry and butternut squash together in soup form is divine. Simple as that. Packed with an enticing blend of flavors—a little sweetness and a punch of curry—this soup is bound to be a hit all fall and winter long (or spring and summer, if you enjoy soup year-round like I do)!
Curry Butternut Squash Soup
1 tablespoon ghee, unsalted butter, avocado oil, or extra-virgin olive oil
1 clove garlic, minced
1 large onion, diced
¼ cup coconut sugar
1½ tablespoons curry powder, plus more to taste
1 tablespoon ground cumin
½ teaspoon turmeric powder
½ teaspoon ground cinnamon
½ teaspoon freshly ground black pepper
2 teaspoons fine sea salt
1 butternut squash (about 3 pounds), peeled, seeded, and cubed
1 quart (32 ounces) chicken broth
½ cup full-fat coconut milk, plus more for garnish
Chopped fresh cilantro, for garnish
Croutons to garnish (optional)
Preparation
1. In a large pot over medium heat, melt the ghee, then add the garlic. When the garlic is fragrant, after about 2 minutes, add the onion and sauté until translucent, about 5 minutes.
2. Add the coconut sugar, spices, and salt and cook until the spices are fragrant, about 2 minutes.
3. Add the cubed butternut squash and cook for 5 minutes, stirring often until the squash begins to soften. Add the chicken broth and coconut milk and bring to a boil. Once at a boil, turn down the heat and simmer until the squash is tender, about 20 minutes.
4. In a blender, puree the soup in batches until it is smooth and creamy.
5. Return the soup to the pot, bring to a boil, and let reduce for 10 minutes, until thickened slightly.
6. Taste the soup and add more curry powder, salt, and/or pepper, if desired.
Serve the soup garnished with croutons (if using), chopped cilantro, a drizzle of coconut milk, and a pinch of ground black pepper. Store any leftover soup in the refrigerator for up to 5 days.
Dairy-free option: Use oil instead of ghee or butter.
Paleo-friendly option: Use ghee or oil instead of butter
Vegan option: Use vegetable broth instead of chicken broth and oil instead of ghee or butter.