Close Banner
Advertisement
This ad is displayed using third party content and we do not control its accessibility features.
This protein-packed, uber-simple recipe is ideal for taking to work for a lunch on a bed of greens, in a butter lettuce cup, or just eaten with crackers. It can be used as a sandwich filler, a wrap, or scooped onto seasoned sliced tomatoes when they are in season. It's super versatile. My 9-year-old likes it, and that's saying something.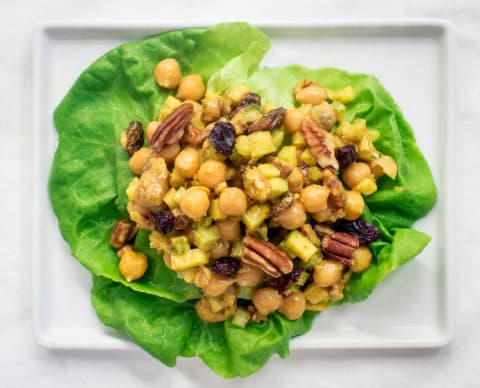 1 cup dried chickpeas, soaked then cooked until very tender, or two 15-ounce cans chickpeas, drained and rinsed
3 celery ribs, diced small
1 large organic Granny Smith apple, peeled and diced small
1/2 cup toasted chopped pecans
1/2 cup currants or raisins
1/3 cup vegan mayonnaise
1 tablespoon curry powder
2 tablespoons agave syrup
2 whole scallions, green parts thinly sliced and white parts minced
1 large garlic clove, minced
kosher salt and freshly ground black pepper to taste
1. Place half of the chickpeas in a food processor and pulse them once or twice to chop them up a bit. This can also be done in a bowl with a potato masher.
2. Place the chickpeas and the rest of the salad ingredients in a large bowl and mix them with a rubber spatula until well combined.
3. Season the salad with salt and pepper then cover and refrigerate it for 30 minutes minimum before serving.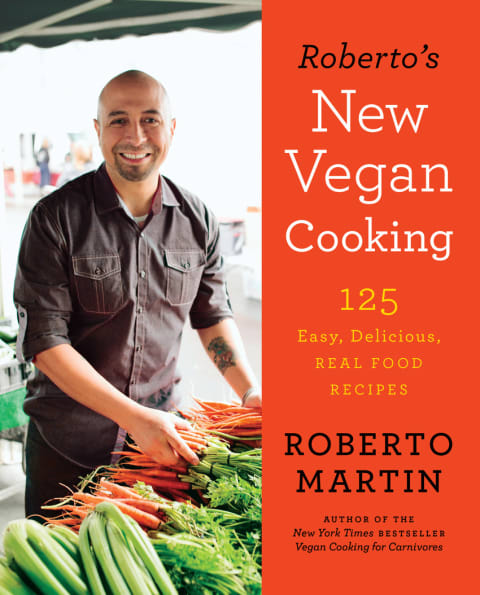 Salad is good for five days in the refrigerator.
Photo courtesy of the author

Roberto Martin
Roberto Martin is the author of the New York Times bestseller Vegan Cooking for Carnivores, and Roberto's New Vegan Cooking, and is the Owner and Head Chef of Elevate, a Los Angeles-based vegan restaurant. As a personal chef (working with celebrities including Ellen DeGeneres and Portia de Rossi), he focuses on nutrition and health. Martin lives with his family in Southern California.