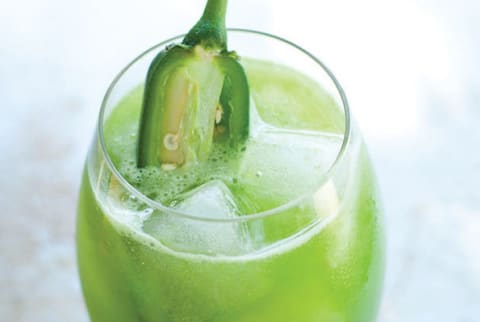 May 30, 2014
In this juice recipe, you can adjust the heat level from mild (by removing all the jalapeño seeds prior to juicing), to ambitiously spicy (if you juice the pepper whole), to anywhere in between.
I use this juice if I feel a cold coming on because it's low in sugar and high in immune-boosting nutrients, especially vitamin C and chlorophyll.
Spicy Green Cucumber-Kale Juice
makes approximately 18 ounces
2 cucumbers
4 celery stalks
3 kale leaves
2 romaine lettuce leaves
1 jalapeño pepper, seeds (partially or entirely) removed
1⁄2 lime, juiced
1⁄4 teaspoon camu berry powder
1. Juice the cucumbers, celery, kale, lettuce, and jalapeño pepper.
2. Transfer the juice to a shaker cup or blender, add the lime juice and camu berry powder, and blend until ingredients are fully incorporated.
Want to give your juice a boost?
Add cilantro to this blend for a flavor upgrade, and gain the benefits of its natural antibacterial and anti-fungal properties.

Julie Morris
Julie Morris is a Los Angeles-based natural food chef, superfood expert, and bestselling author of 5 books including Superfood Soups, Superfood Snacks, Superfood Smoothies, Superfood Juices, and Superfood Kitchen. She has worked in the natural food industry for a decade as a recipe developer, culinary writer, on-camera personality, national speaker, and is an active advocate for whole, plant-based foods and superfoods for optimal health. Her mission is simple: to share recipes and nutrition tips that make a vibrantly healthy lifestyle both easy to achieve and delicious to follow.
For more of Julie's superfood kitchen, visit her at JulieMorris.net, or through her social media channels: Facebook, Twitter, and Instagram.