5 Healthy Soup Recipes To Keep You Warm All Winter Long
Assistant Managing Editor
By Abby Moore
Assistant Managing Editor
Abby Moore is an assistant managing editor at mindbodygreen. She earned a B.A. in Journalism from The University of Texas at Austin and has previously written for Tribeza magazine.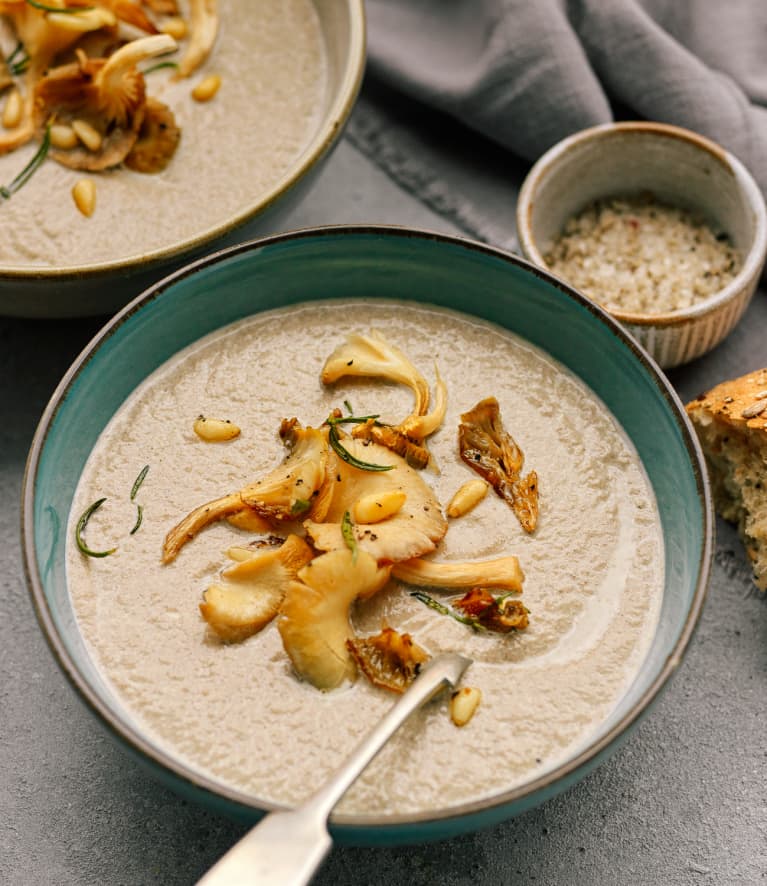 This article was produced to support the mindbodygreen supplements+ line. Our supplements adhere to the highest standards of ingredients and quality. We hope you enjoy these products, for more information
click here
.
Whether you're using a low-and-slow crockpot, a Dutch oven, or a high-speed pressure cooker, making soup in bulk is a simple way to feed yourself or your family throughout the winter. With so many recipes out there, though, it can be overwhelming to know where to look.
So, consider this your one-stop-shop for a list of cozy, yet healthy, wintertime soups:
2.
Creamy black bean soup
All too often black beans are served as a side—until, finally, this creamy black bean soup was developed, giving the protein and fiber-rich legumes the main-dish treatment they deserve.
"Thick, creamy, and packed with vegetables, this soup tastes like it's been simmering on the stove for hours, but it actually comes together fairly quickly," says Brynn McDowell, R.D., the soup's recipe developer and author of The Mediterranean Diet Made Easy.
Pumpkin may be out of season come December, but the warmth of this nutritious pumpkin soup will make you want to make it anyway. If you're having trouble finding fresh pumpkin in the winter months, canned pumpkin puree should do the trick. Along with being comforting, this soup contains organic veggies+ to help support digestion.* The blend of natural fibers, as well as pre- and probiotics enhances the health of the gut microbiome.*
4.
Creamy carrot lime soup
According to Ayurvedic practices, this creamy carrot lime soup is perfect for making in "early winter," aka mid-November to mid-January. Certified Ayurvedic practitioner Ananta Ripa Ajmera says adding hing and kalonji seeds in place of garlic and onions can help open your crown chakra.
5.
Chili with extra veggies
A big bowl of chili is a cold-weather staple. This formula for chili guarantees a hearty, nutrient-rich lunch or dinner. It contains beans, organic veggies+, a variety of spices, olive oil, onions, bell peppers, and tomatoes for a combination of protein, fiber, vitamins, minerals, healthy fats, and antioxidants.*