Movement, Meditation & Matcha: How This Yoga Entrepreneur Starts Her Mornings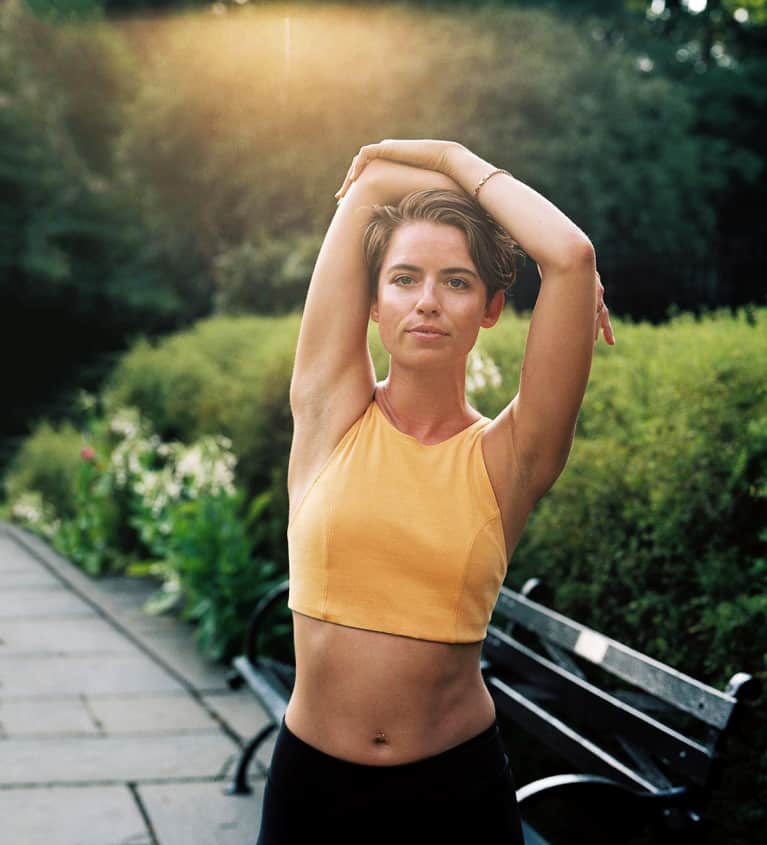 Chloe Kernaghan knows a thing or two about mastering a morning routine. As the co-founder of SKY TING yoga, known for down-to-earth teachers and pretty, plant-filled studios, some semblance of a morning ritual fuels Kernaghan to prep for the unpredictable days of running a popular business while prioritizing health and well-being. Here's a look into the practices that guide her mornings.
First things first: hydration.
"First thing I do is drink two large glasses of water from my Walter Water Filter," Kernaghan told mbg. As an entrepreneur and yoga instructor, starting the day off right with proper hydration can make a huge difference in decision-making. "I'll freshen up and head to my living room floor for a 20-minute sit. Post-meditation I usually do a little movement to get my body moving, and then maybe some breakfast and tea if I have time!
Meditation is flexible and always evolving.
When it comes to the various schools of meditation, Kernaghan remains open: "Meditation for me is an ever-evolving and transforming space. I don't adhere to one strict 'school or type' every day but rather try and note in the moment what might serve me as I start my day. I play with a range of breath awareness, Vedic mantra, body scan, mindfulness, visualization." Still, Kernaghan sticks to one style for one sit and makes sure to drop the judgment of her thoughts. "There are some days when sitting is easy and my meditation is peaceful and calming, there are other days when my mind whirls nonstop—I try not to judge the work but instead appreciate just showing up to check in and see what is going on."
A bit of movement helps to wake up the body for the day ahead.
Yoga takes center stage in Chloe's life, so it's no surprise she manages to squeeze in a short morning sequence. I usually only do a short practice in the a.m.—maybe five to 10 minutes. "The cat-cow pose is super effective for just waking up my spine; forward hangs and down dogs always help to start to ground my legs and feet; headstands are super potent in the a.m. to wake me up." Preferred morning pose aside, Kernaghan goes with the flow and adjusts accordingly. "I try and register what would serve me best that morning and decide what to do from there!"
A simple sun salutation goes far.
Kernaghan's go-to pose for instilling a sense of grounding? A sun salutation. "I riff on transitions and maybe add a pose or two into the mix, but it's one of those sequences that feels like home, no matter where I am in the world."
Breakfast is traditional with a bit of a twist.
Breakfast can be a touchy subject for some, but for Kernaghan, simple and straightforward keeps her mornings satisfying. "Ideally, two eggs over easy, half and avocado, 1 piece of Mestemacher toast (super old school, but I love), and some nutritional yeast." And in case you're wondering, she's a matcha-over-coffee kind of person. "I don't do coffee, so I'll either do a green tea, earl grey, or make myself a fun matcha latte in my Vitamix with fun add-ins like collagen, Sun Potion Adaptogens, or CAP Beauty coconut butter—extravagant but delicious."
Adapting to seasons is key.
For seasonal changes, the foundation of Chloe's routine remains fairly consistent. "My water, meditation, yoga is pretty consistent all year round, but my diet for sure shifts based on the season and what's available at the markets." And when it comes to her overall morning ritual, she keeps her routine on the lean side. "I tend to make my routine way more succinct in the winter when it's still dark out in the mornings when I wake up. As the daylight hours increase, I'm more likely to be up earlier and really take my time getting ready. I'm a warm-weather kind of gal always and forever!"
Curious about SKY TING's fresh take on yoga? Read more about the studio and its origins here.