mbg Food Contributor
By Abigail Hopkins, R.N.
mbg Food Contributor
Abigail Hopkins is a Registered Nurse, culinary nutrition expert, and co-founder of That Clean Life.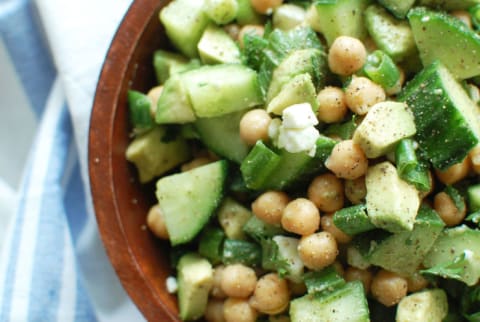 May 26, 2015
With the weather getting warmer, a delicious, cold, refreshing salad is sometimes just what the body needs. This delicious chickpea, cucumber and avocado salad does the trick. It only takes 10 minutes to throw together, and is perfect for summer lunches and dinner parties.
Chickpea, Avocado + Feta Salad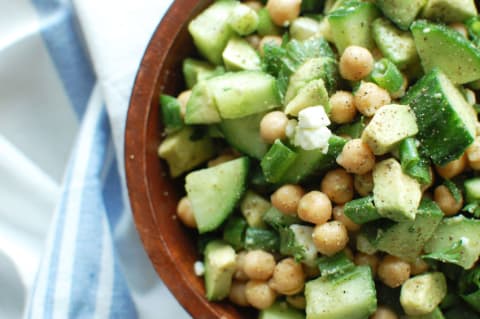 1 can chickpeas, drained and rinsed (19 oz.)
1 cucumber (diced)
4 green onions (diced)
1/4 cup parsley (chopped)
1 avocado (diced)
4 cups baby spinach
1/2 cup feta cheese
1 lime (juiced)
1/2 lemon (juiced)
2 tablespoons extra virgin olive oil
sea salt and black pepper (to taste)
1. Combine chickpeas, cucumber, green onion, parsley, avocado, baby spinach and feta cheese together in a large salad bowl.
2. Drizzle with lime and lemon juice and add the extra virgin olive oil.
3. Toss well until evenly distributed. Divide into bowls and season with sea salt and black pepper to taste. Enjoy!
Photo courtesy of the author