A 10-Minute Yoga Flow To Do The Next Time You Can't Sleep
Registered Yoga Teacher
By Claire Grieve
Registered Yoga Teacher
Claire Grieve is an international yoga specialist, stretch therapist, plant-based health coach, and wellness writer based out of Beverly Hills.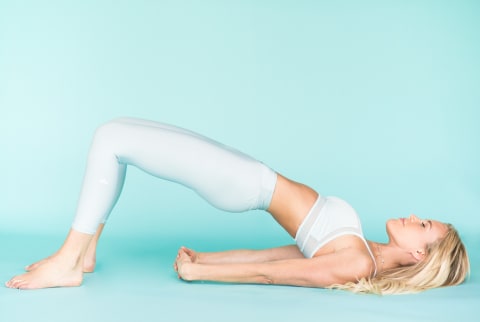 October 31, 2019
Taking the time to wind down at the end of the day can make or break your sleep quality. From the stress of the day to the constant stimulation of screens, emails, and texts, our brains are often in a state of chaos by bedtime. If we don't take the time to calm and collect our thoughts and nervous system each night, we can fall into a downward spiral leading to more serious health concerns.
To avoid this fate, try this 10-minute simple and relaxing yoga flow to calm your mind and nerves before bed.
Butterfly Pose
This pose will gently increase circulation deliver a fresh dose of nutrients and oxygen throughout your body and mind.
Start seated on the floor or bed with a straight spine.
Touch the soles of your feet together.
Lean forward, keeping length in your spine until you can't bend any farther, and then gently release your spine into a curve position.
Hold here for 30 seconds.
Child's Pose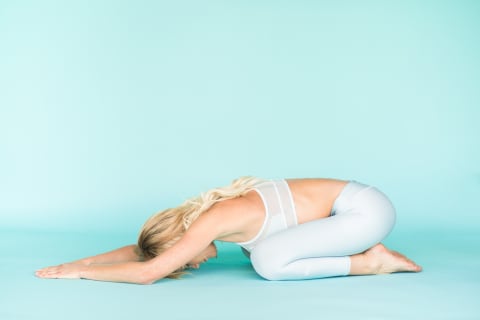 Child's pose is one of the best and simplest ways to calm your nervous system because it helps put your mind and body in a restful state.
From butterfly pose, gently move so that you are sitting on the floor with your knees wide and your toes touching.
Lower your belly between your thighs, and rest your forehead on the floor.
Extend your arms, facing your palms down, and lengthen from your hips through your fingertips.
Breath gently in this pose for 1 minute.
Hip Stretch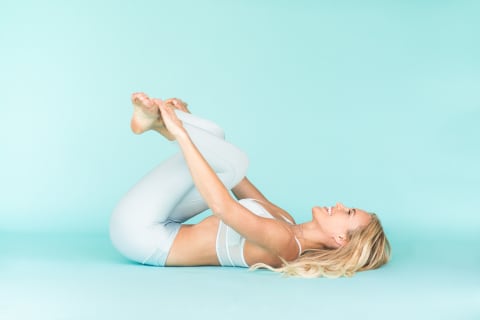 Did you know that your body stores emotions in your hip muscles? Stretching your outer hips at the end of the day can help prevent built-up emotions and tension day after day.
From child's pose, gently lie on your back.
Pull your knees into your chest.
Gently cross your knees and grab the opposite foot with each hand.
Gently pull your feet toward the ground until you reach the edge of discomfort and hold for 30 seconds.
Switch legs.
Bridge Pose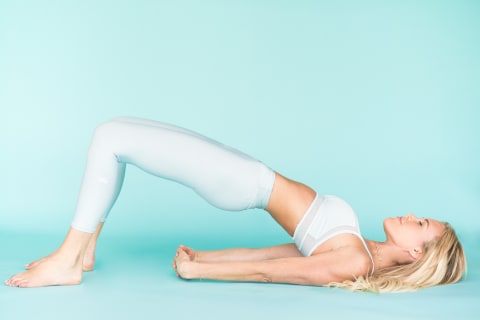 Bridge pose is a gentle backbend that can also help you calm your mind at the end of a long day.
From hip stretch, release your feet and uncross your legs.
Place your feet flat on the floor, hips-width apart with your knees bent.
On an exhale, lift your hips and chest toward the sky. Interlace your hands underneath you, and straighten your arms.
Draw your chin away from your chest, creating space for your neck.
Slip a block under your hips at your sacrum to make this pose more restorative.
Hold this pose for up to 1 minute.
Fish Pose
This pose can help provide your spine some relief from the pressure and tension caused by sitting all day.
From bridge pose, release your legs so that you are lying on your back with your legs straight in front of you.
Pull your elbows and forearms along the ground and lift up until your chest is arched and the middle of your head is on the floor.
Hold this pose for up to 1 minute.
Gentle Twist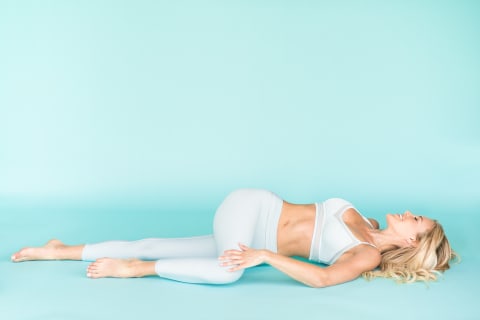 Twists are incredibly restorative as they gently stimulate the organs of digestion and detoxification; they can also help reduce anxiety.
Gently release fish pose so that you are lying flat on your back with your legs straight in front of you.
Bend one knee into your chest, and gently grab it with your opposite hand.
Pull the knee across your body onto the floor.
Extend your opposite arm on the ground and look in that direction.
Hold this pose for up to 1 minute and then switch sides.
Savasana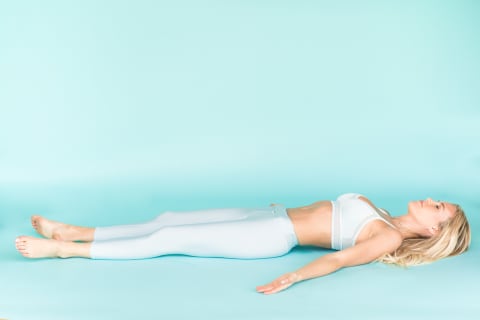 The ultimate relaxation pose, savasana can help you relax your whole body and mind. It can also help reduce fatigue and balance your nervous system. Savasana is also good for relieving headaches and lowering blood pressure.
Lying on your back, with your feet hips-width apart, relax your arms by your sides with the palms facing up.
Let your shoulders soften away from your ears, keeping your neck long.
Breathe deeply and enjoy for 2 minutes!
Claire Grieve
Registered Yoga Teacher
Claire Grieve is a highly sought after international yoga specialist, stretch therapist, plant-based health coach, and wellness writer. Claire underwent extensive yoga training with some of the world's top yogis, studied nutrition through the Institute for Integrative Nutrition, and received her bachelor's in education from the University of Melbourne. Grieve has dedicated almost a decade to teaching and is on a serious mission to make yoga enjoyable and accessible to everyone. Her deep and pure passion for helping people transform through yoga and wellness has led her to work with with a vast array of celebrities, professional athletes, fitness leaders and people of all genders, professions, shapes and sizes.
For more yoga flows and mindfulness tips, check out Claire's new ebook ENERGIZE!