Brodo's Fat-Frothed Bone Broths Take The Healthy Habit To The Next Level
Former mbg Deputy Editor
By Elizabeth Inglese
Former mbg Deputy Editor
Elizabeth Inglese is a writer living in San Fransisco, California. She earned her bachelor's in english literature and cultures from Brown University and her master's in writing from The University of Southern California. She's the former Deputy Editor of mbg, and has also worked for Vogue, Architectural Digest, Bon Appetit, and Good Magazine covering food, health, and culture.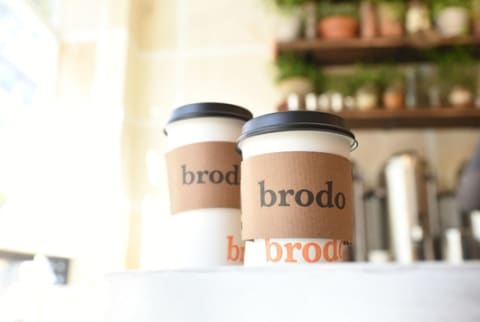 December 12, 2016
At first it wasn't easy for Marco Canora to convince New Yorkers to swap their single-origin brews for bone broth. But two years and two storefronts later, broth is on the menu citywide, and Canora's again pushing the boundary of the American palate. His new charge? Fat. "Half of the people who come in are like, 'What do you mean you're putting butter in there?'" laughed Canora, acknowledging the bias still held by so many Americans. After decades of food pyramid proselytism, the public has been cautiously re-evaluating their relationship to fats, and Canora's eager for a change of heart. "We've been duped. Our bodies, and our brains in particular, really need fat."
That's why his newest concoctions are emulsified with coconut oil, ghee, bone marrow, or butter. Canora explains, "We froth it into the broth. It's the perfect way to ingest it. It's easy for the digestive system to take it in. And because fat is one of the most caloric macronutrients, it's a way to turn up the caloric value of these drinks so that they can become a meal replacement." Patrons can cozy up to healthful fats with eight combinations by Canora, from the savory Oishi Oishi (Chicken broth, shiitake tea, reishi powder, and roasted garlic spiked with grass-fed butter) to the sweet and spicy Tom Yum (Chicken broth mellowed with coconut milk and spiced with curry and chili oil).
Advertisement
This ad is displayed using third party content and we do not control its accessibility features.
Herbs further bolster Canora's next-generation broths. "A big handful of parsley pulverized in a mortar and pestle turns into a heaping teaspoon, which is really cool when you think about nutrient density. Incorporating that into your broth really amps up the value of that cup," says the chef. Aromatics chosen with spice savant Lior Lev Sercarz, owner of the venerated La Boîte shop, add a la minute freshness to the rich brew.
"There's a simplicity and a beauty to a cup of simple broth that I really love, and I want to make sure that I don't muck that up, but at the same time, the chef-y, creative side of me can't help it. Broths turns out to be a perfect canvas." Guests inspired by Brodo's ingredients can combine their own blends. Canora, who these days you can often find behind the counter of the new West Village location, loves to see patrons take Brodo's ingredients into their own hands." You can see people get more comfortable and start playing. You watch their confidence grow as they come in day after day and get creative on their own."
If you're in New York City, head to Brodo's East Village and West Village locations, or find them at their Bryant Park pop-up. Out of town? Brodo is generously sharing with mbg readers the recipe for their most alluring creation: the Swiss Mister. Blend it up for an unusual, nutritious take on a holiday classic.
Brodo Broth Shop, 496 Hudson Street, Christopher Street; 212-366-0600
Swiss Mister
1½ ounces organic coconut milk
2 tablespoons cocoa powder
2 teaspoons coconut oil or grass-fed butter
½ teaspoon ground cinnamon
¼ teaspoon ground nutmeg
½ teaspoon ground cardamom
1 tablespoon maple syrup
12 ounces hot Brodo chicken broth
Advertisement
This ad is displayed using third party content and we do not control its accessibility features.
Mix all ingredients, except for broth, together in a small bowl.
Pour mixture into the bottom of your favorite cup.
Add 12 ounces of hot Brodo chicken broth.
Buzz with mini handheld frother to combine.
Top with a dusting of cocoa powder.
Sip, savor, enjoy.
Advertisement
This ad is displayed using third party content and we do not control its accessibility features.