9 Best Resistance Bands To Make Your Workouts Even More Effective
Health Writer & Editor
By Kristine Thomason
Health Writer & Editor
Kristine is a writer, editor, and editorial consultant who lives in Long Beach, CA.
Image by Guille Faingold / Stocksy
January 12, 2023
We carefully vet all products and services featured on mindbodygreen using our
commerce guidelines.
Our selections are never influenced by the commissions earned from our links.
The selection of high-tech at-home workout equipment continues to grow—and you certainly won't hear me complaining. There are kettlebells that magically adjust weight with the touch of a button, stationary bikes with all kinds of bells and whistles, and full gym systems that are compact enough to fit in the corner of your living room. Still, sometimes the simplest pieces of equipment are the best. Case in point: a resistance band.
Seriously, do not overlook these handy bands—they're incredibly versatile and useful for any number of fitness goals. They come in many different forms (loops, handles, tubes, open-ended) and levels of resistance, to suit your needs. These seemingly innocuous bands can make a bodyweight strength exercise much more challenging, and they're fantastic for building stability, too. Not to mention, their compact nature makes them perfect for travel or even an ad hoc outdoor workout.
As a health editor and NASM-certified trainer, I've tested out a lot of different resistance bands. Below, I've rounded up some of my favorite options to add to your own home workout routine. Once you grab a set, consider trying out this resistance band abs workout and total-body routine.
Best set: Workout Bands by Bala®
You may know Bala for their gorgeous wrist and ankle weights, but the brand also makes equally aesthetically pleasing resistance bands. I appreciate that this set comes with five different options, with clear indications about the resistance level.
Workout Bands by Bala®, athleta.gap.com ($20)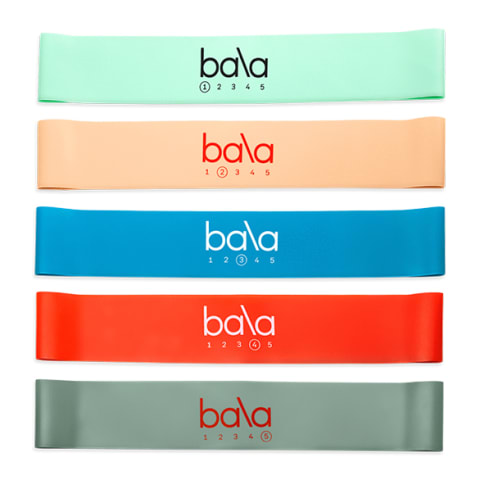 Best budget buy: Fit Simply Resistance Band
For a sturdy, reliable set of resistance bands, this no-fuss collection is a solid option. It comes with five different loops, in varying resistance levels to fit any of your fitness needs.
Fit Simply Resistance Bands, amazon.com ($10)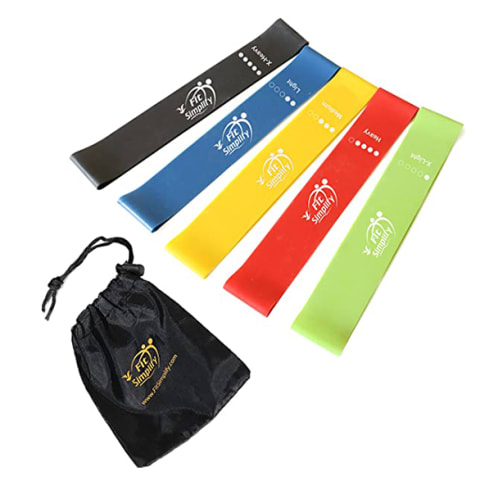 Best for upper body: Blogilates Resistance Bands
If you prefer handles to closed-loop resistance bands, this pretty set is a great choice, particularly for arm and back workouts (think biceps curls, arm extensions, overhead presses). Developed by leading fitness personality and Pilates instructor Cassey Ho, these bands feature super-comfortable handles and sturdy TPR tube construction. The pack comes with a light and medium option, perfect for different muscle groups or leveling up your workout.
Blogilates Resistance Bands, target.com ($17)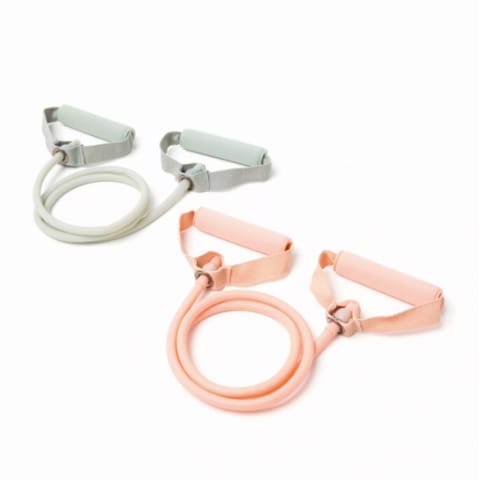 Best for lower body: Resistance Booty Bands
Created by beloved fitness trainer Katie Dunlop, these closed-loop mini bands were designed specifically to give your lower-body workouts a bonus burn (but they're great for arm and abs exercises, too). The set comes with three different bands (light, medium, and heavy) plus a pouch to keep them in one place. I love adding these to a core routine—like the workout Dunlop created for mbg.
Resistance Booty Bands, lovesweatfitness.com ($12)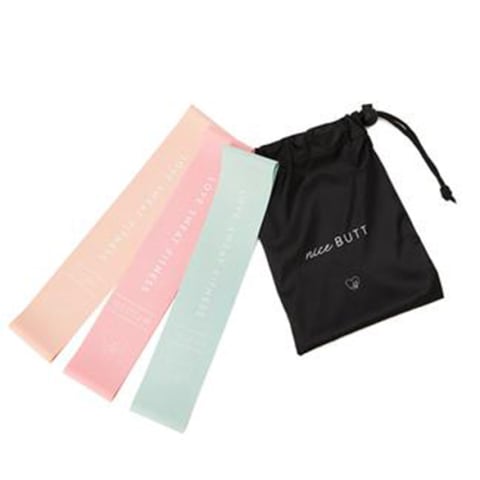 Best ease of use: obé Resistance Loops
These were created for popular digital fitness company obé, and I really love the smooth feel of these minimalist resistance loops. They clearly indicate the level visually with lines on the side (one line for easy, two for medium), which I find really helps when I'm reaching for the right resistance band mid-workout.
obé Resistance Loops, shopobefitness.com ($18)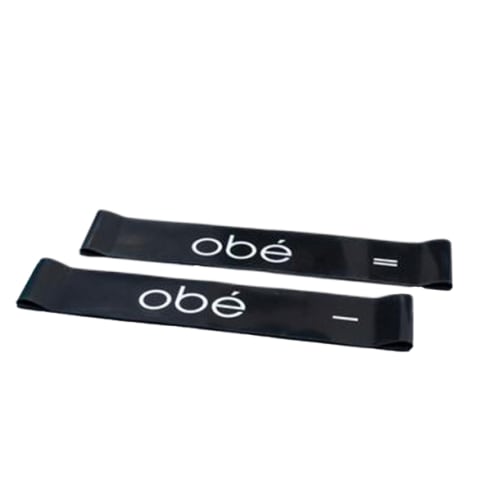 Best heavy-duty band: TRX Strength Bands
You're probably familiar with TRX because of their popular suspension trainer—but the brand actually makes an array of useful fitness tools, like these high-quality strength bands. The versatile bands come in multiple sizes and are top-notch for adding intensity to your go-to exercises. They can also be helpful in other fitness endeavors, like supporting your body weight during a pullup, for example.
TRX Training Strength Bands, amazon.com ($40)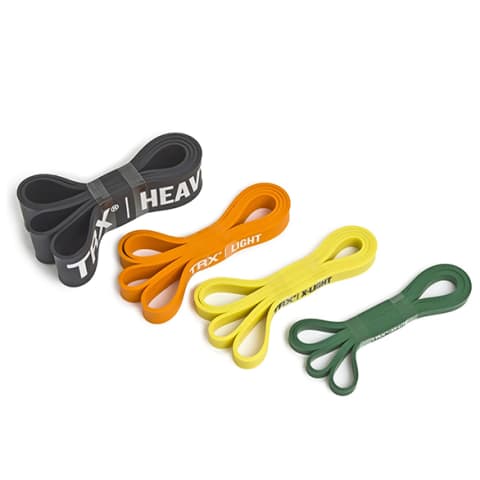 Best for stretching: TheraBand
TheraBand is a favorite among physical therapists and ideal for Pilates, yoga, stretching, rehab, and recovery. These are my absolute go-to if I want to work on stretching out my tight hamstrings, to name an example. The open-ended bands can also double as tools for strength workouts, too—think of them as your stretchy cross-trainer.
TheraBand Latex Beginner Set, amazon.com ($16)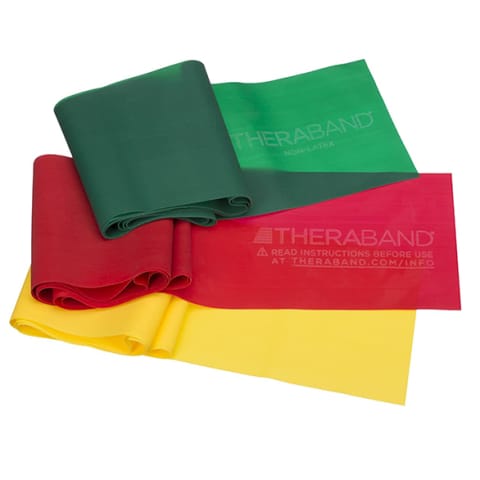 Best for travel: TSS Booty Bands
Another fab mini band set, these three resistance loops were developed by fitness instructor and creator of The Sculpt Society Megan Roup. If you've tried one of Roup's classes, you know that these sturdy bands can add a major burn to even a super-quick routine.
TSS Booty Bands, thesculptsociety.com ($17)
Best tube band: SPRI Braided Xertube
This is another great option if you prefer a tube resistance band with handles. It's actually made of four braided tubes, for extra durability and support, during even the most rigorous full-body workout.
SPRI Braided Xertube Resistance Band, amazon.com ($26)
Kristine Thomason
Health Writer & Editor
Kristine is a writer, editor, and editorial consultant who lives in Long Beach, CA. Kristine is a New York University graduate with a degree in journalism and psychology, and also a NASM-certified personal trainer. She has spent her editorial career focused on health and well-being, and formerly worked for Women's Health and Health. Her byline has also appeared in Men's Health, Greatist, Refinery29, HGTV, and more. In her current role she oversees, edits, and writes for the health, food, and movement sections of mindbodygreen.