These Are The 25 Best Fall Hikes In The United States

By Leigh Weingus
mbg Contributor
Leigh Weingus is a New York City based freelance journalist writing about health, wellness, feminism, entertainment, personal finance, and more. She received her bachelor's in English and Communication from the University of California, Davis.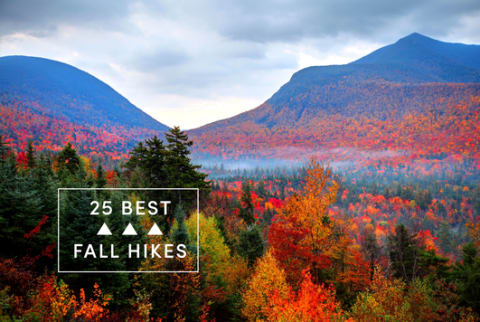 October 22, 2016
When it comes to outdoor adventures, fall is about as good as it gets. The near-perfect temperatures are a welcome change after the stifling summer heat, and bright orange leaves contrasted against a clear blue sky bring on a soothing energy.
With conditions like that, it's hard not to be mindful while taking a fall hike, which is why we're such huge fans of longs walks in the wilderness this time of year.
Advertisement
This ad is displayed using third party content and we do not control its accessibility features.
With a little help from the mbg community, we decided to round up the 25 best hikes in the United States. So whether you're looking to take a day hike or a full-on backpacking trip this fall, we've got you covered.
1. Old Rag Mountain: Shenandoah National Park, Virginia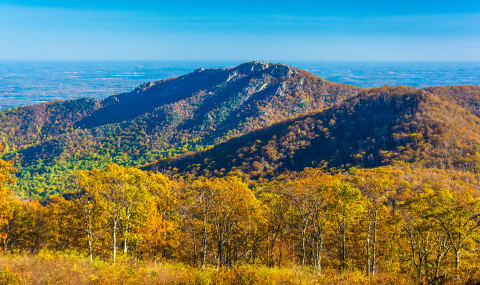 The Old Rag Mountain hike is one of the most popular hikes in Shenandoah National Park, Virginia. Be prepared for nine challenging (but rewarding) miles, complete with rock scrambles and gorgeous autumn views.
Advertisement
This ad is displayed using third party content and we do not control its accessibility features.
2. Wildwood Trail: Forest Park, Oregon
This trail is 3.1 miles long and semi-challenging. Aside from its beauty, this trail is unique because of its proximity to Portland, making it a fun day hike for city-dwellers.
"Forest park is great early in the morning to catch the sunrise over Mount Hood," Barre3 founder Sadie Lincoln tells mbg. "Fall is absolutely my favorite time to hike there. The leaves are starting to turn, and they're often shimmering from rainfall during the evening. I have so many memories as a kid tromping through the forest and especially in the fall. The giant leaves on the ground, the sounds, and even the feeling of the wind reminds me of those carefree days."
3. Cornish Estate Trail Loop: Cold Spring, New York
Cornish Estate trail is a 5.1 mile loop that's especially gorgeous in the fall. As an added bonus, it's accessible via public transportation.
"I love taking the train to cold spring. It's great for New Yorkers because you don't need a car," holistic psychiatrist Dr. Ellen Vora tells mbg. "You just take MetroNorth to Cold Spring and walk from the train station to the trailhead. You can even get hiking snacks in the town of Cold Spring on your way to the trailhead, and stop for dinner on your way back."
Advertisement
This ad is displayed using third party content and we do not control its accessibility features.
4. May Lake: Yosemite National Park, California.
This stunning Yosemite hike is a short one (just 2.5 miles), but it's steep. You'll also gain a lot of elevation, so prepare to take breaks and take in the gorgeous scenery.
5. Jordan Pond Full Loop: Acadia National Park, Maine
If you're looking for an easier hike with breathtaking views, the Jordan Pond loop is a great choice. Located in Acadia National Park, Maine, this loop is 3.4 miles total. Bonus: Dogs are allowed.
Advertisement
This ad is displayed using third party content and we do not control its accessibility features.
6. Blodgett Canyon to Waterfall hike: Hamilton, Montana
Want to hike to a waterfall while surrounded by colorful leaves? Go on this hike in Hamilton, Montana, which is 4.9 miles long and pretty moderate as far as hikes to waterfalls go.
7. Denali National Park: Alaska
OK, so Denali National Park may not be driving distance from your home. But if you do feel like hopping on a plane for an outdoor adventure, this national park is full of gorgeous hiking opportunities. Check them out here.
Advertisement
This ad is displayed using third party content and we do not control its accessibility features.
8. Paseo Miramar Trail, Santa Ynez Canyon Park, California
The leaves might not be changing colors, but this 5-mile Los Angeles-area trail is still a great idea in the fall when temperatures are a little cooler.
"The trailhead is roughly 20 minutes from my front door in Santa Monica," TMAC Fitness founder Todd McCullough tells mbg. "I get out of my jeep and feel the crisp fall air. I often see deer and other critters on their morning stroll. You have another 25 minutes until you get arguably the best view of L.A. Directly in front of you is the entire Santa Monica bay, To the left is Palos Verdes, and to the right is Point Dume in Malibu. Behind and to the left you have a few of Century City and downtown. It really is a special place and worth every bit of sweat to get to."
9. Quincy Quarries Climbing Trail, Quincy, MA
If you want to get a short hike in, this Boston-area hike is a great bet. It's only half a mile long and features stunning foliage.
"As a city dweller, having a nature respite close by was super important for me to ground," yogi Sara Quiriconi tells mbg. "Quincy Quarries is about 20 minutes outside downtown Boston, with a variety of heights, climbs and rocks to choose for your adventure. There's a ton of graffiti there, which makes for an 'artistic' exploration along the way, and I've been known to practice a few yoga postures and flows to film and share to inspire here. The crisp air and colorful leaves make the fall seasons the perfect time to explore this area."
10. Maroon Bells: Aspen, Colorado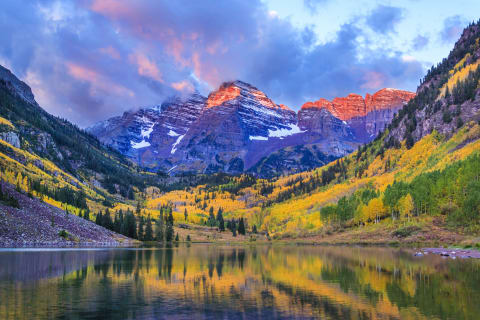 Colorado is a notoriously snowy state. In the fall, though, this glacial valley is full of the most beautiful fall colors (with some snowy mountaintops in the distance, of course). There are five trails in the Maroon Bells area that are between 1 and 13 miles in distance, but none of them are too difficult.
11. Hidden Falls Trail: Grand Teton National Park, Wyoming
This trail is 5 miles long and great for taking in the fall colors while hiking, running, or just casually strolling.
12. Horton Creek Trail: Tonto National Forest, Arizona
Arizona may be known for its gorgeous desert landscape, but this 7.7-mile, moderate trail is great for scoping out fall colors.
13. Highbanks Trail: Huron National Forest, Michigan
If you're located in the Midwest, this trail is a fantastic way to spend a fall day. It's 8 miles out and back, and most of the trail is along a river.
14. Chain Lakes Loop Trail: Mt. Baker National Forest, Washington
This is a tough 5.7-mile trail, but it's bursting with fall colors. And hey, taking a few minutes to stop for a break and take in the scenery is hardly a bad thing.
15. Breakneck Ridge Trail: Beacon, New York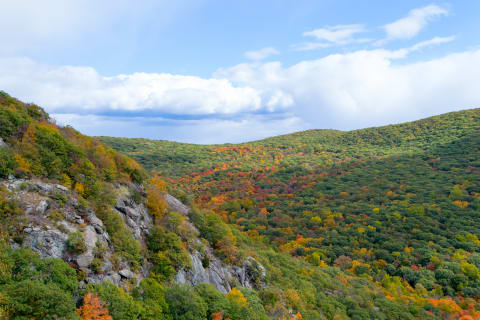 The Breakneck Ridge loop in New York's Hudson valley is almost 6 miles long. It's a steep hike, but the views and vibrant colors make it worthwhile.
16. The Enchantments: Central Cascades, Washington
There are three hikes around The Enchantments, and none of them are easy—the shortest one is 7 miles. But this is another national park that was formed by glaciers, so the lakes and rock formations are nothing short of incredible.
17. Stowe Pinnacle Trail: Stowe, Vermont
The Stowe Pinnacle trail is rated as moderate, and in the fall it's 3.1 miles of gorgeous foliage. It's the perfect day hike. And if you get out there early enough, maybe you can follow it up with some apple picking.
18. Stone Door Trail: South Cumberland State Park, Tennessee
This 1.4-mile trail is great for a day hike year-round, but it's especially nice in the fall when the colors are changing. Be prepared for a not-so-challenging hike with great views.
20. Welch and Dickey Loop Trail: White Mountain National Forest, New Hampshire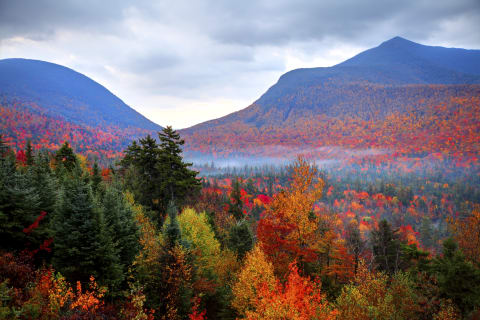 In the warmer months this trail is full of gorgeous wildflowers, and in the fall it's full of equally gorgeous foliage. It isn't the easiest 4.1-mile hike (there's some scrambling), but it isn't the toughest one either. And the view from the summit makes it worthwhile.
21. White Pine Lake Trail: Bear River Range, Idaho
This trail is 6.6 semi-challenging miles full of great views, colors, and wildlife. This is also a popular trail for backpacking if you want to make a weekend out of it.
22. Sterling Pond Trail: Underhill State Park, Vermont
This trail is short (2.5 miles) and very popular, so you won't get much solo time in. But you will get some uphill climbing in while surrounded by fall foliage.
23. Whitaker Point Trail: Ozark National Forest, Arkansas
Want a waterfall, great scenery, and a crag that overlooks a valley? You'll get it all with this trail. It's only 2.7 miles long, so it's ideal for a day trip.
24. Coastside Trail: Half Moon Bay State Beach, California
A solid 7.7 miles long, this trail is packed with stunning views and wildlife.
"I love walking along the cliffs of Half Moon Bay," yoga instructor Lauren Imparato tells mbg. "You have the trees and dried classic California grass that reminds you that it's fall after a Steinbeck-esque summer on one side, and the waves of the Pacific that remind you of the expansiveness that is our existence on the other. The combination calms and centers me like none other."
25. Bear Lake Loop: Aspen, Colorado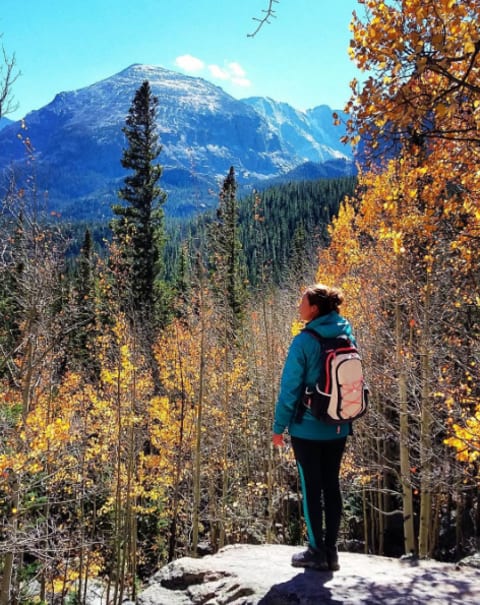 Photo by jessicamoermelon
This is a long trail (9.6 miles), but you don't have to be a superskilled hiker to take it on and enjoy the beauty. Because it's a more moderate trail, it's also great for trail running, biking, and even fishing.

Leigh Weingus
Leigh Weingus is a New York City based freelance journalist and former Senior Relationships Editor at mindbodygreen where she analyzed new research on human behavior, looked at the intersection of wellness and women's empowerment, and took deep dives into the latest sex and relationship trends. She received her bachelor's in English and Communication from the University of California, Davis. She has written for HuffPost, Glamour, and NBC News, among others, and is a certified yoga instructor.