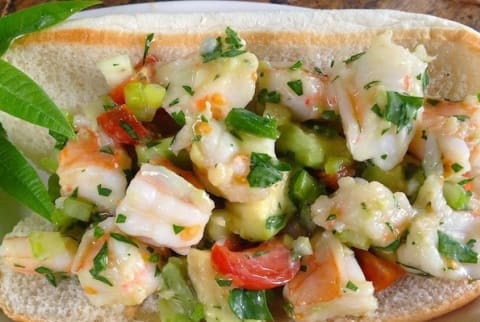 July 24, 2014
Recently I got back from vacation in Block Island, a small island off the coast of Rhode Island known for their lobster rolls. I craved one when I got home, but didn't have any lobster meat. I did, however, have jumbo shrimp in my freezer.
So I sautéed eight shrimp in a little extra-virgin olive oil and garlic, added some fresh lemon juice, lots of chopped parsley, half an avocado, celery, scallions and some sweet cherry tomatoes. Then I chilled the mix and seasoned with salt and pepper.
This result? Heaven in every bite … better than any lobster roll I ever had! The best part is that this recipe is easy and can be made in minutes.
8 jumbo shrimp, peeled and deveined
1/2 avocado, medium dice
6 to 8 cherry tomatoes, quartered
1 celery stalk, small dice
1 scallion, thinly sliced
2 to 3 Tbsp. extra-virgin olive oil
1 clove garlic, finely chopped
1 Tbsp. finely chopped Italian parsley, stems removed
Juice of half lemon
Salt and pepper to taste
Defrost, clean and devein shrimp.
Place a small skillet over medium heat, add oil and heat.
Add shrimp and cook until the underside turns pink. Flip and add the garlic to the pan (about a minute or less on each side).
Remove from heat and set aside.
In a small bowl, add all of the remaining ingredients.
Cut shrimp into small bite-sized pieces and add to the bowl. Toss and season to taste.
Chill in the fridge (at least 20 minutes until cold) and serve on rolls, alone, or over greens.
Silvia Bianco
Live a vibrant, connected, physically and spiritually nourished life.
As a native Italian, connection is in my DNA. As a holistic professional chef, good nutrition and great taste go together.
We've sacrificed cooking for convenience and lost the sacredness of sharing a lovingly prepared meal. I'm on a mission to change that.
For 20 years, I've taught thousands of people (regardless of their dietary choices or restrictions) how to cook whatever they want to learn using simple, fresh, everyday ingredients along with practical, easy techniques.
Now I've gathered the tools and inspiration for you to make cooking simple and meeting at the table a meaningful and memorable experience. Get them by
SUBSCRIBING to chefsilvia.com and LIKE my FB page to get my latest divine, Mediterranean inspired recipes and cooking tips. Subscribe to Miracles & the Chef for some Sacred Sustenance - based on the teaching of ACIM.