Close Banner
Advertisement
This ad is displayed using third party content and we do not control its accessibility features.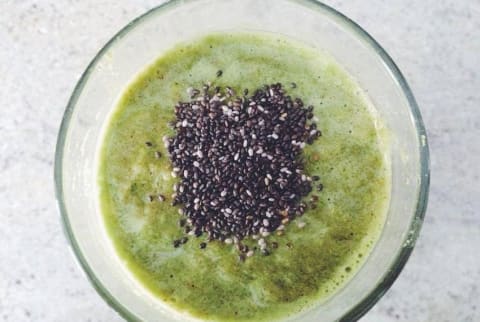 Inflammation has a wide range of causes, and is often disguised as anything from weight gain to skin problems, headaches to depression.
Here's a green smoothie recipe that's packed with nutrients and ingredients that have anti-inflammatory effects in the body. For a little more substance, try adding in a plant based or brown rice all natural protein powder.
1 cup frozen or fresh pineapple chunks
1 handful of arugula
1 handful of spinach and kale
1/2 inch fresh ginger root, peeled
1 1/2 cups of coconut water and/or green tea
1/2 tsp. of ground turmeric powder or 1/2 inch fresh turmeric root
1/2 tsp. ground cinnamon
*optional scoop vegan and gluten-free protein powder
water and ice to blend.
Blend ingredients. Top it with chia seeds and a handful of walnuts. Enjoy!

AJ Govoni
AJ Govoni is a certified fitness professional who loves using nature as her gym while exploring the world. She leads outdoor fitness programs, specializes in training techniques geared for athletes and women, and works with people all around the world, advising individuals with workout programs, nutrition coaching and lifestyle changes. Her love for travel and sense of adventure has led her backpacking throughout different regions of the world where she became fascinated the activities, diets and lifestyles of other cultures. By infusing these discoveries along the path of exploration into her work, she brings a fresh perspective on overall health, happiness and well-being. She's got a strong love for shaping lives, short but sweet workouts, sweating in the outdoors, shuttle rides with strangers in foreign lands and sunset beers. AJ shares her passion for travel and living a happy, active lifestyle through her writings on her blog and social media.