5-Ingredient Oatmeal Cookies (Gluten Free & Vegan!)
By Caroline Shannon-Karasik
mbg Contributor
Caroline Shannon-Karasik is a Pittsburgh-based writer, the author of The Gluten-Free Revolution, and a pilates instructor. She has a bachelor's in journalism from Point Park University and received her health coach certification from the Institute for Integrative Nutrition.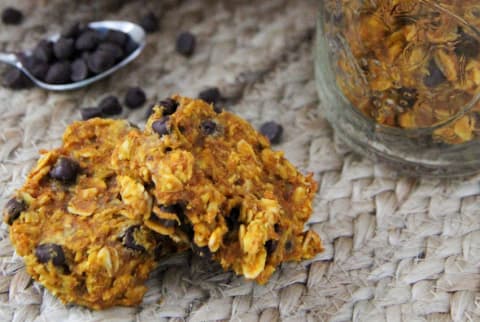 March 18, 2014
The only "bad" thing about these cookies is that they're dangerously easy to make and eat! But with only five ingredients and no refined, processed ingredients, these cookies are one of your best options when the urge to splurge strikes—they're even vegan and gluten-free. Store in an resealable container in the refrigerator for up to one week.
5-Ingredient Cookies
Ingredients
1/2 medium banana
1/4 cup pumpkin purée
1 Tbsp. almond butter
1/2 cup gluten-free oats
2 Tbsp. dairy-free chocolate chips
Method
Preheat oven to 350 degrees F. Line a baking sheet with parchment paper or a baking mat and set aside.
Add banana to a medium bowl, mashing against sides of bowl until small chunks remain. Stir in pumpkin purée and almond butter, vigorously mixing to evenly distribute.
Fold in oats and chocolate chips.
Drop mixture by the Tablespoonful onto prepared baking sheet, using your finger to press down the center of each one.
Bake for 15 minutes. Remove from oven and allow cookies to cool on tray for 5 minutes before transferring to a baking rack to cool completely.