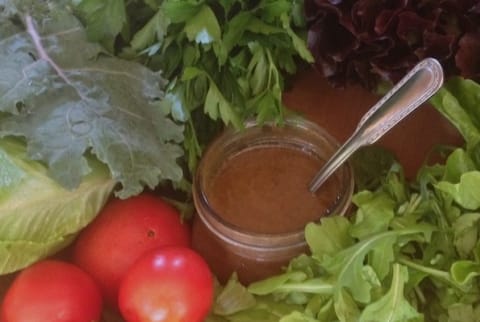 October 17, 2013
Why prepare a salad using fresh, nutrient-rich greens, only to toss them with store-bought dressing? Yes, they're convenient, come with delicious-sounding names and pretty pictures, but using prepared dressings is like taking an organic apple picked from a local farm and dipping it in cheese whiz. I'm sure most of you realize this. What you may not know is how easy it is to make a batch of great-tasting and healthy dressing worthy of your greens.
Make a batch and I guarantee you'll wonder why you haven't been doing it for years. Put them in pretty glass jars and you have your own custom-made dressing that will be ready and waiting for you in the fridge. You can even rinse out one of those store bought bottles, stick a white label on it and give it a new name.
Below is a recipe for a simple vinaigrette that we made at least once a week in my restaurant. It's a basic balsamic vinaigrette, but it has countless variations, so don't worry about getting bored. The trick for any vinaigrette is to use 1 part vinegar to 3 parts oil (for most dressings), and to add the oil very, very slowly so it can emulsify, or thicken. You can do this in a blender, a food processor, or by hand in a bowl with a wire whisk.
Once you know the basic technique, you can play around with different oils, vinegars and ingredients to come up with your own family favorites, confident that your greens are dressed in flavorful style. The recipes below make about a cup of dressing, which is a good amount to experiment with. You can easily double or triple each recipe.
1/4 cup vinegar
3/4 cups extra virgin olive oil
1 clove garlic
1 teaspoon dijon mustard
Seasoned with salt and pepper
My Health-Boosted Balsamic Vinaigrette
1/4 cup balsamic vinegar
3/4 cups extra virgin olive oil
1 clove garlic
1 teaspoon dijon mustard
1 teaspoon grated fresh ginger
1 sprig fresh parsley, flowers only
Sprinkle of chia seeds
Sprinkle of turmeric
Seasoned with salt and pepper
Champagne Orange Vinaigrette
1/4 cup champagne vinegar
3/4 cups extra virgin olive oil
1 small shallot, peeled and quartered
1 teaspoon dijon mustard
juice of 1/2 orange
Seasoned with salt and pepper
Place all ingredients (except oil) in the bowl of a food processor or mixer. Vitamix is great for this.
Add oil slowly — a few drips at a time — for about a minute or so. This helps the dressing emulsify.
Once it begins to thicken, you can add the oil in a steady stream.
Season, stir and spoon over the greens.
Notice I said spoon. Go one at a time, because the biggest mistake people make when dressing greens is to overdress them. Like sending your kids to a backyard birthday party in their Sunday best, this is not a good thing.
Note: if the oil doesn't emulsify, don't worry. Sometimes it just doesn't. It happens. It'll still taste good, it just won't hug the greens quite as well.
Silvia Bianco
Live a vibrant, connected, physically and spiritually nourished life.
As a native Italian, connection is in my DNA. As a holistic professional chef, good nutrition and great taste go together.
We've sacrificed cooking for convenience and lost the sacredness of sharing a lovingly prepared meal. I'm on a mission to change that.
For 20 years, I've taught thousands of people (regardless of their dietary choices or restrictions) how to cook whatever they want to learn using simple, fresh, everyday ingredients along with practical, easy techniques.
Now I've gathered the tools and inspiration for you to make cooking simple and meeting at the table a meaningful and memorable experience. Get them by
SUBSCRIBING to chefsilvia.com and LIKE my FB page to get my latest divine, Mediterranean inspired recipes and cooking tips. Subscribe to Miracles & the Chef for some Sacred Sustenance - based on the teaching of ACIM.