10-Minute Invigorating Yoga Sequence
This invigorating yet grounding 10-minute sequence is a great way to get yourself going while remaining rooted and steady. For a more energizing flow, stay in each pose for only one breath. For a more grounded flow, stay in each pose for 5 breaths. Follow your breath and enjoy!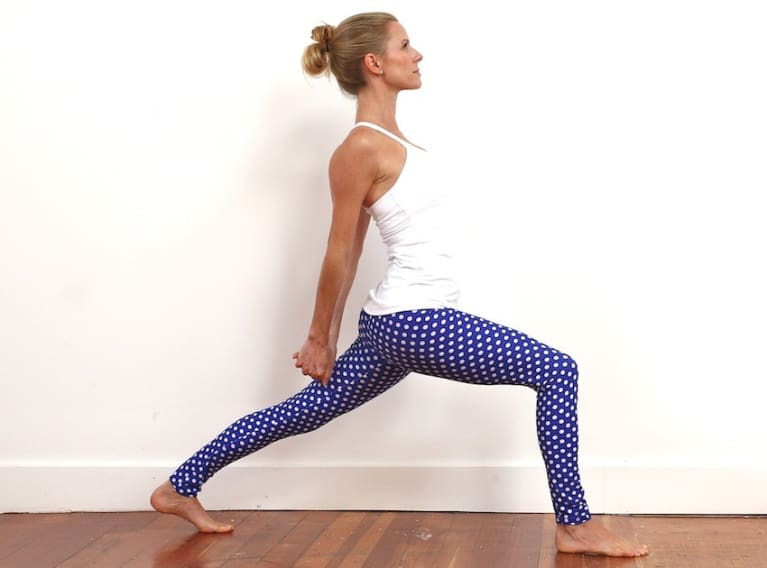 From downward-facing dog, step your right foot forward to the top of the mat. Stay on the ball of your back foot for high lunge legs. Lift the torso so the shoulders stack over the hips, and interlace the fingers behind the back. Draw the belly off of the right thigh and widen the collar bones, lifting the back of the heart to the front of the heart.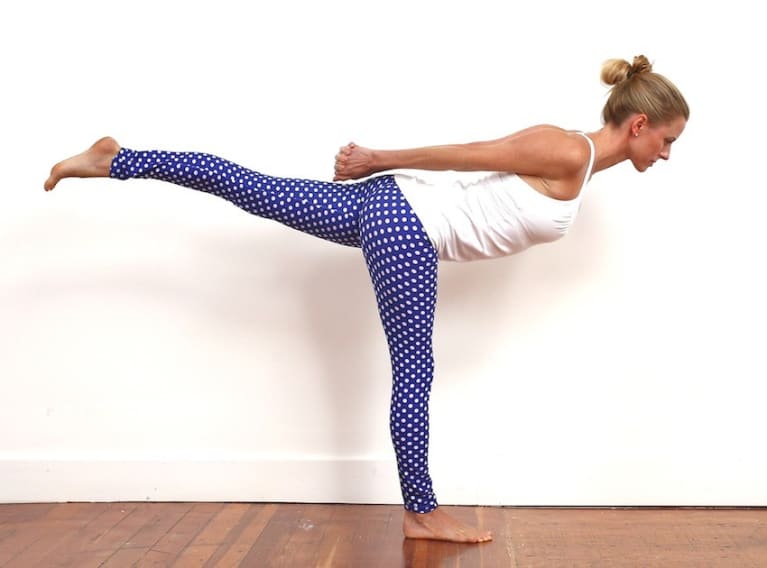 Shift the weight into the right foot and on an inhale lift the left leg from the inner left thigh. Let the outer left hip spin down as you hug the right hip in and back. Extend back through the left heel and draw the heart forward, lifting the collar bones.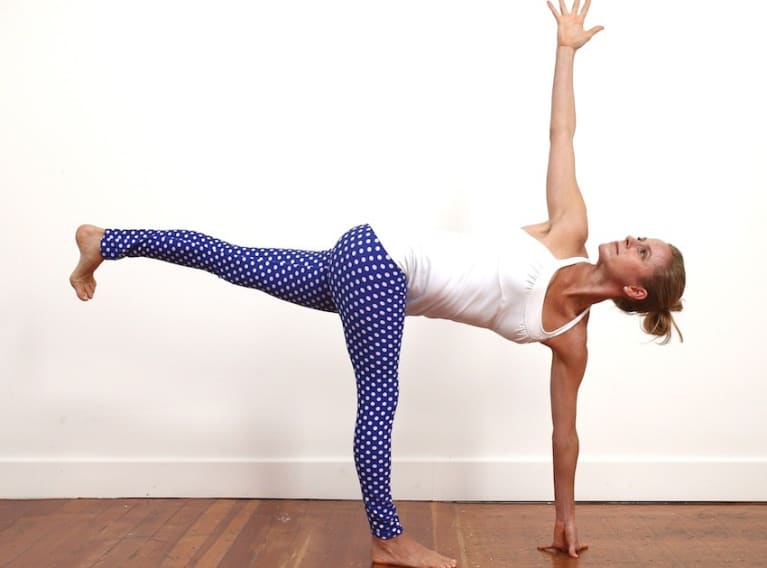 Lower the left finger tips down to the earth, and as you draw the right hip in, turn the left belly, the left ribs and the left side of the heart up to the sky. Allow the right arm to reach up, expanding across the chest. Keep both legs really engaged and lengthen both sides of the waist.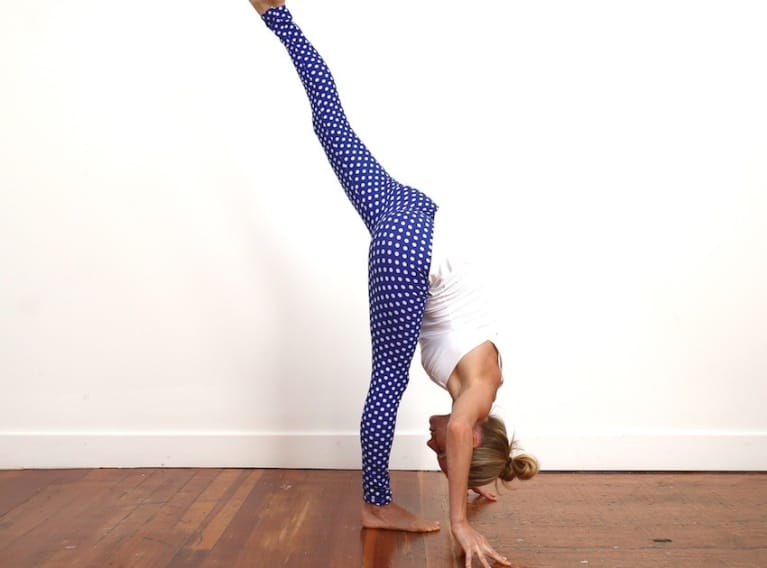 Lower your right hand down to the earth and fold over your standing leg. Turn your heart slightly to the right and draw the right hip in and back. Spread through the left toes and reach up with a strong left leg.
Wide Legged Standing Forward Bend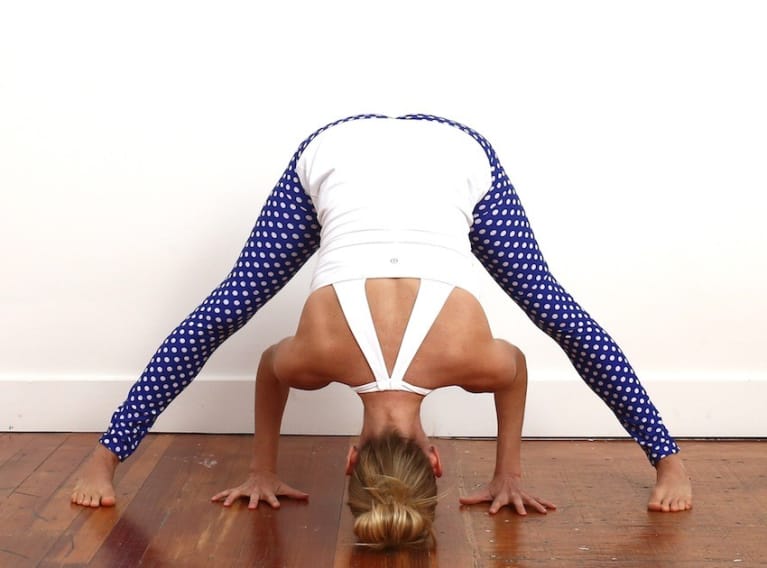 Lower the back foot to the back of the mat. Spin the heel down and walk your hands in between your feet, turning your heels out slightly wider than your toes. Line up the tips of the fingers with the tips of the toes and bend your elbows to draw yourself deep into the pose.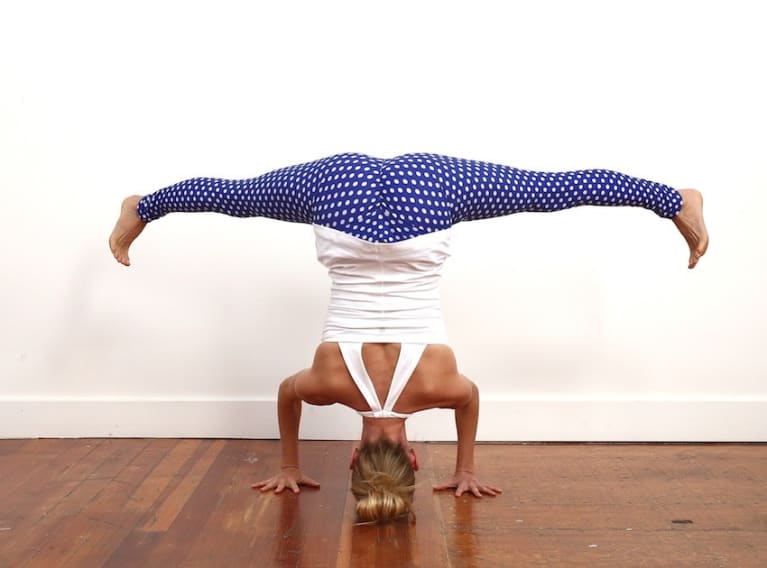 Separate your legs wide enough so that the crown of your head can rest on the earth, creating a tripod with your hands. Keep the legs really active and slowly begin to lift the feet off of the earth. Spread through the toes, reach out through the balls of the feet and maintain the straddle.
Headstand With Eagle Legs
From your sirsasana straddle variation, bring your legs together and extend them straight up to the sky. From here, cross your right thigh over your left for eagle legs, hooking the right toes behind the left ankle. Keep the core tight, hug the inner thighs together and extend up through the inner ankles.
Wide Legged Seated Forward Bend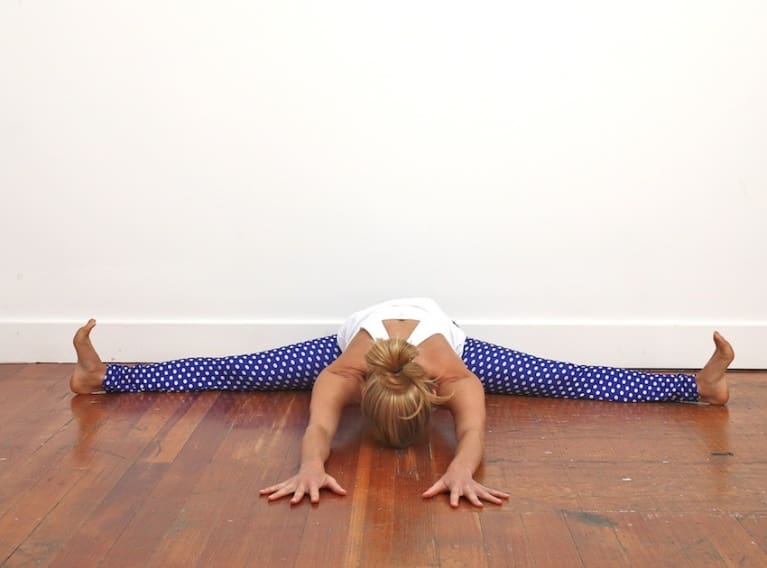 Return to the straddle leg variation and carefully lower your legs down to the ground. Keeping the legs wide, lower your bottom to the earth. With knees and toes pointing up to the sky slowly begin to bow forward.