10 Body-Love Affirmations To Help Activate Your Fitness Goals
I love incorporating yoga, meditation, chanting, and affirmations into my Thyroid Yoga classes and practitioner trainings—because in synergy, these tools work to amplify our intentions and healing, fast. Reframing the language around our exercise and choosing to focus on its positive health and wellness benefits rather than the outcome in pounds or inches invites us to be gentle with ourselves and less competitive. I notice that in my own practice, by sending out positive vibes I can emotionally feel the warm hug of the Universe.
However, I didn't always treat myself with kindness.
At one time, when I looked at myself in the mirror, I loathed my reflection and would say terrible things to myself, things I would never say to a friend or lover. So body love didn't exactly come naturally to me. I spent years fighting my body when I was struggling with Hashimoto's hypothyroidism and working hard to treat symptoms like brain fog, muscle stiffness, fatigue, and weight gain.
Through exercise, meditation, and an anti-inflammatory diet, I have been extremely successful at treating my thyroid imbalance and autoimmune condition. So successful, in fact, that I've come to love my body in a way I never imagined possible.
Affirmations paired with movement makes me feel so happy and grateful for the beautiful, strong body I have been blessed with. I love how motivated and excited I feel about life after a Thyroid Yoga practice—I naturally find myself attracting the most exciting opportunities and wonderful people after a great sequence. It's almost as if I create this glow around me.
I've noticed that many of my clients—like myself at one point—may experience negative feelings about working out or starting a new yoga routine, especially when it's the first time moving the body in months or even years. I've made it my passion to replace the negative "It's hard" and "I'm not good/flexible/fit enough" conversations with positive thoughts and vibrations. Plus, it's scientifically proven that exercise becomes more enjoyable and becomes easier when we do this. When we think positively and combine those thoughts with movement, our body is much more open and receptive to accepting and embracing those ideas.
If you want to boost your fitness game and get more results from the training you are doing, consider adding a positive affirmation to your next workout.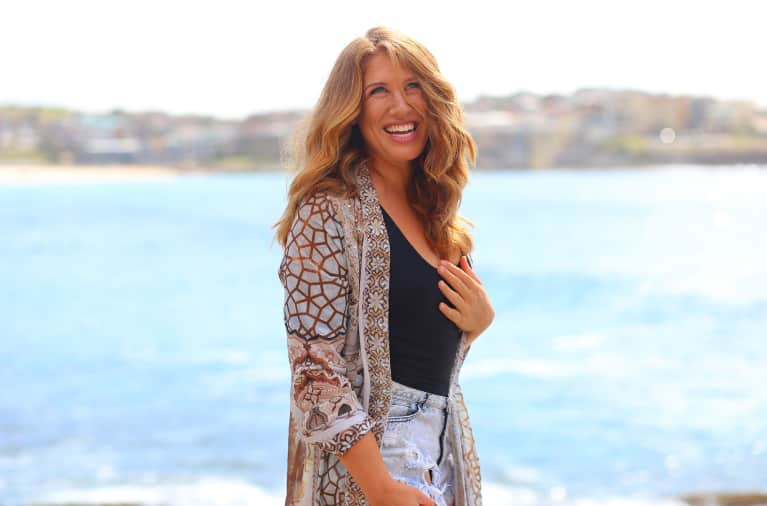 What affirmations should you be using?
In my experience, affirmations work best when they are personal and feel sacred and special for you. I have included my top 10 affirmations below as inspiration to create a powerful sentence or statement that really speaks to you.
How to use your affirmation:
Take a deep breath in for a count of 4.
Hold at the top of the breath for a count of 4.
Slowly exhale for a count of 4 as you recite the affirmation in your mind.
Repeat this process 3 times to invite the affirmation to resonate and vibrate into your body.
I love to roll on Radiance Alchemy on my throat chakra, heart, and wrists before my practice while repeating the affirmation "I am radiant."
Watch your thoughts during the session. Any time you notice a negative thought pattern, repeat your affirmation. At the end of your session, repeat the breathing exercise you started with. This will help to build confidence that your thoughts and your actions are in alignment.
My advice? Start with a 21-day affirmation challenge. Pick one of these affirmations and begin incorporating it into your movement routine today:
My body moves with ease, grace, and fluidity.
I am fit. I love the way I look when I see my reflection in the mirror.
I am getting more toned and supple every day.
I embody strength now. I am building a strong and lean body.
I am going at my own pace and building my fitness in my own way.
I am creating a healthy body and mind.
I am powerful now. I am capable of achieving anything I put my mind to.
My legs feel strong. My breathing is strong. My heart feels strong. I am strong.
I am becoming fitter, faster, and stronger every day.
I love myself. I love myself exactly how I am today.