What the Heck Is Karaoke Yoga?
mbg Contributor
By Jennifer Pastiloff
mbg Contributor
Jen Pastiloff is known for her unique style of teaching, which she has taught to thousands of women in sold-out workshops all over the world. She has been featured on Good Morning America, New York Magazine, Health Magazine, CBS News and more.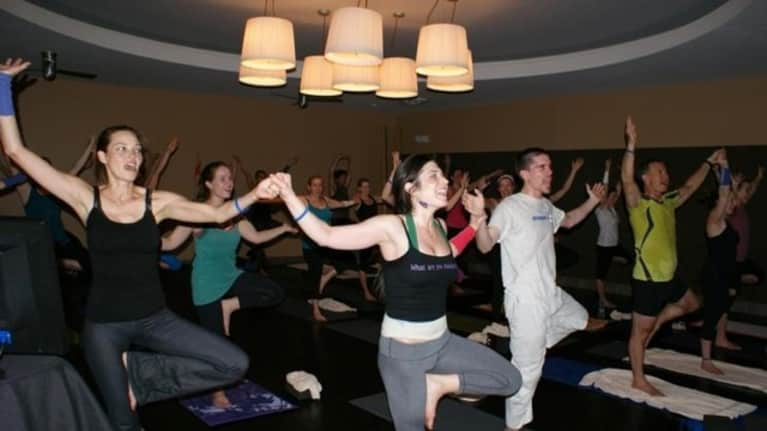 We sing in my classes. A lot.
We laugh. A. Lot.
We sometimes have dance parties.
We a lot of times have dance parties.
(We do all the things I had been depriving myself of for years.) I got wind that my friend and manager at Equinox, Aimee Nicotera was doing a "Sing & Cycle" class (karaoke with spinning) and I got a little interested.
We were are coffee and I flat out asked: Can we do karaoke with my yoga class?
She flat out said: Done. An idea was born.
It couldn't be done without DJ Gina Mooring of Sing Out Loud Karaoke, of course. (I will never do it without this rockstar. She is the butter to my bread. She is the glass to my wine.)
Good Morning America was looking for a way to feature me and heard of this karaoke yoga and decided to fly out from NYC to film it. It aired the day after Christmas. A true dream come true. It was even on my vision board.
Since then, I have been in countless magazines, both foreign and domestic for karaoke yoga and now ABC is coming back to film us June 20 at The Pasadena Equinox. 10:45 am for those in L.A. (Let me know if you'd like to go.)
So what is it?
It is, in a word: JOY.
It is what I always dreamed was possible. People being authentic and fearless and being inspired.
It is food for your soul.
It is yoga without taking yourself too seriously.
It is singing your heart out and laughing and dancing and balancing and sweating and letting go of all your fears.
It is connecting and letting your inner light shine.
It is finding your inner rockstar.
It is being silly and not giving a damn.
It is NOT about alignment.
It is NOT about being perfect.
It is NOT about singing well.
It is about being the most you.
It is about being authentic.
It is connecting some of the greatest pleasures I know of in life: dancing, singing, yoga, connecting and good old fashioned rock'n'roll.
You may never be the same!