10 Vegan Sources Of Protein That Anyone (Even Meat Eaters) Will Love
mbg Associate Movement & Wellness Editor
By Ray Bass, NASM-CPT
mbg Associate Movement & Wellness Editor
Ray Bass is the associate movement and wellness editor at mindbodygreen and a NASM-Certified Personal Trainer. She holds a degree in creative writing from the University of Pennsylvania, with honors in nonfiction.
Medical review by
Jaime Schehr, N.D., R.D.
Naturopathic Physician and Registered Dietitian
Jaime Schehr, N.D., R.D., is a nationally recognized expert in integrative medicine and nutrition, based in New York City. She holds dual licenses as a naturopathic physician and a registered dietitian, from University of Bridgeport and University of Nebraska respectively.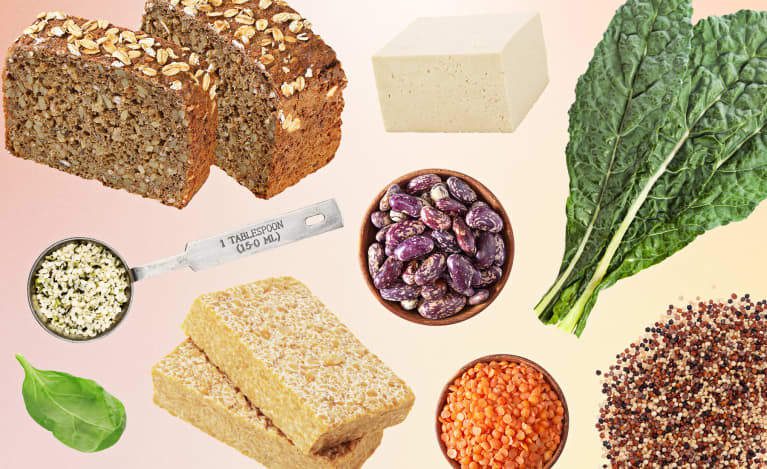 Last updated on September 15, 2019
My, my, how the tables have turned. The idea of eating less meat used to send shudders through a crowd, but nowadays everyone is tossing around the word plant-based. Plant-based meat substitutes are more or less taking over the world, and people who used to turn their noses up at vegan food are seeking it out like a panther on the prowl.
If you, like the nose turners, are looking to move away from your animal-based diet—or perhaps you need something to cook for your meatless friends—know that "plant-based" meals aren't always just plants. On the contrary, nothing pairs better with a vegetable than a protein (and a healthy fat), and the globe is sprawling with sources of vegan protein. They're versatile, healthy, and—dare we say?—more affordable than meat.
Here are the 10 we (OK, I) can't shut up about:
1. Pea-based protein powder
15 to 20 grams in 1 or 2 scoops (see serving size on nutrition label)
A longtime champion of the protein cause, I felt it unjust to put anything else atop the list. When combined with minimal, clean ingredients, pea protein powder can be an important (and even tasty) part of any plant-based diet, especially if you're not meeting your protein needs.
What kind of protein powder should you get, you wonder aloud? Pea or hemp protein with as few ingredients as possible and ideally 15 to 20 grams per serving. If you plan to mix the powder with water or plant-based milk, it's best to sample a few and choose one with a tolerable taste. Should smoothies be your intention, you have some more leeway on taste (there's nothing a banana can't fix).
9 grams per ½ cup and 6 grams per ½ cup, respectively
Full of protein and fiber, with a texture that makes you wish you ate slower, lentils and chickpeas are a beloved source of protein in any vegan, vegetarian, or plant-based diet. If I listed out all the ways you can use them, I'd be glued to this chair for eternity, and I have eight more foods on this list. So here's a recipe for Red Lentil Soup and Chickpea Avocado Salad instead.
Hot take: Tofu haters are just people who have never had good tofu. Unless you're allergic or react poorly to soy, organic tofu is worth considering. Tofu is one of the cheapest, most filling forms of plant-based protein out there—it depends on where you buy it (smaller specialty stores tend to charge more), but even Whole Foods Market sells 12 ounces of organic tofu for $2. Next time you're craving chicken pad thai or need to bulk up a stir fry, try swapping or adding in tofu. Just make sure you get the extra-firm variety—silken tofu is for desserts and smoothies only.
Tempeh is the great polarizer of plant-based protein—you love it, hate it, or mistake someone saying "tempeh" for a sneeze. But despite judgment, tempeh is nothing short of protein-packed. It crumbles, marinates beautifully, and sautés with the best of 'em.
Seitan is perhaps the most underrated plant-based protein out there. Seriously. Maybe it gets dismissed because it's made from wheat (so it has gluten), but it's high protein content and similarity in texture to meat is impressive. It's a solid replacement for meat in dishes like barbecue pulled pork, cheesesteaks, tacos, or any Indian dish that uses chicken (including tikka masala). That said, don't go into trying seitan thinking it's the perfect meat replacement. It isn't—nothing is. That's why it's not meat. Moving on.
Anywhere from 6 to 15 grams per 1 cup
The best characteristic of beans is that there are at least 685.71 kinds of them, each with its own unique flavor profile and protein content. That means that anyone who says they don't like beans is probably lying. What a great opportunity to open their minds! Pinto, black, and navy beans have a little more than 15 grams of protein per cup, with kidney beans close behind at about 13 grams. Lima beans have less, but we're not sure anyone really eats those. I'm not sure we'll ever know.
By now you're probably reading this and thinking "8 grams for a cup? What am I, an ant?" I know, I know, but quinoa is a complete protein, which is more than I can say for the rest of these chumps, except spirulina and nutritional yeast. Complete proteins have all nine of the essential amino acids that our bodies need but can't produce—we have to get them from food. Most of us will garner all of the amino acids we need by consuming different plant foods, but by eating quinoa, you absolve yourself of any worry. And really, are you gonna deny yourself that?
Hemp seeds (or really any seed) are one of my go-to add-ons when I want to add protein to a meal—mostly because they pair well with anything. They deftly blend into smoothies, make a splash in salads, and make a swell topping for soups.
9 grams per 1-ounce serving (about ¼ cup)
Best kept secret in the world: Pumpkin seeds have 9 grams of protein in a quarter cup. Yea, those small gray-green pips we so casually toss into autumnal dishes have 9 grams of protein. Most protein bars don't have nine grams of protein, but a few sprinkles of raw pumpkin seeds does. I can hear the heavens singing. Toss these in your salad like the graceful flower girl you are and thank me later when you're feeling full and focused.
Much to my dismay, the dairy-free world is utterly cheeseless. Sure, there are nut cheeses and other imposters, but anyone who has ever eaten cheese knows that eating dairyless cheese is like buying a T-shirt outside a concert venue: It's fake. And that's fine if you like it! But it's fake.
The only cheesy-ish product to emerge from the plant-based community worth mentioning is nutritional yeast. It's the closest we have to healthy Cheetos dust. Don't be thrown off by its bright yellow ensemble and resemblance to fish food—it doesn't taste like Crayola crayons or food fit for marine life. Add it to popcorn, pasta, or atop roasted vegetables. A tablespoon is nothing, and 5 grams of protein is definitely something.