Keep Breakfast Simple With This Healthy Homemade Granola & Yogurt Bowl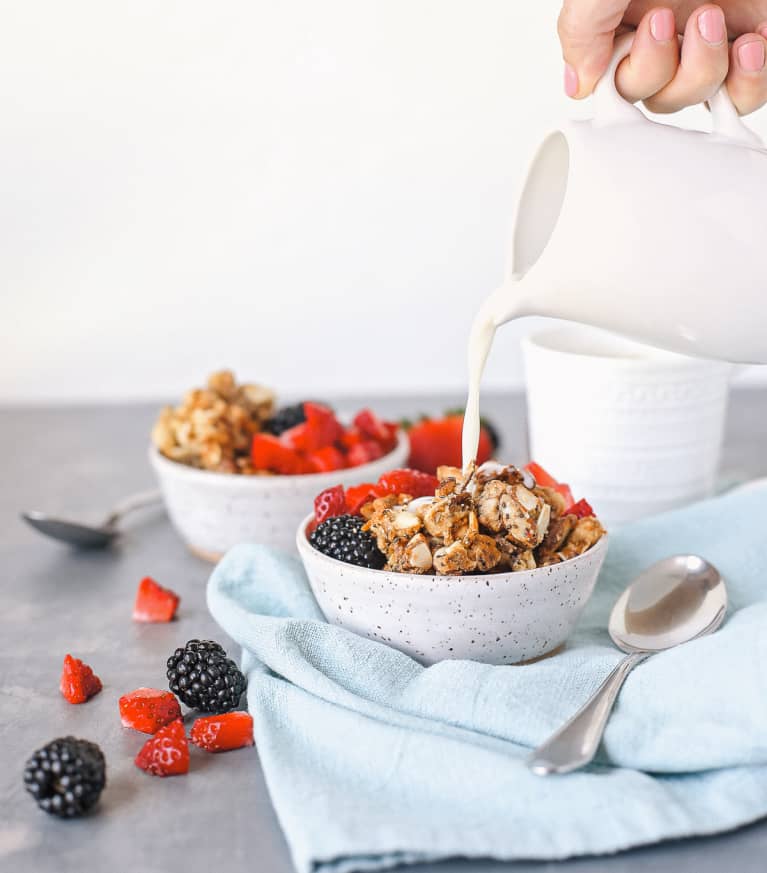 Our editors have independently chosen the products listed on this page. If you purchase something mentioned in this article, we may
earn a small commission
.
While weekends may be synonymous with brunch, sometimes it's nice to simplify your morning routine and to just have a good breakfast at home instead. And if you ask us, bowls like these should be a way more regular part of breakfast plans.
Thanks to the new cookbook Unbelievabowl Paleo, you can make all the components of this vegan-friendly breakfast from scratch. Even better, the recipes can all be made ahead—whether as a part of meal prep yourself or for when you plan on having friends around for coffee and eats.
Packed with vegan-friendly nutrients, and even following a paleo diet, these may become a more regular part of your weekly routine. Nutty granola (with walnuts, almond, and cashews) may quickly become a regular part of your weekly routine, and while the recipe calls for a strawberry compote, you can always try other berry flavors.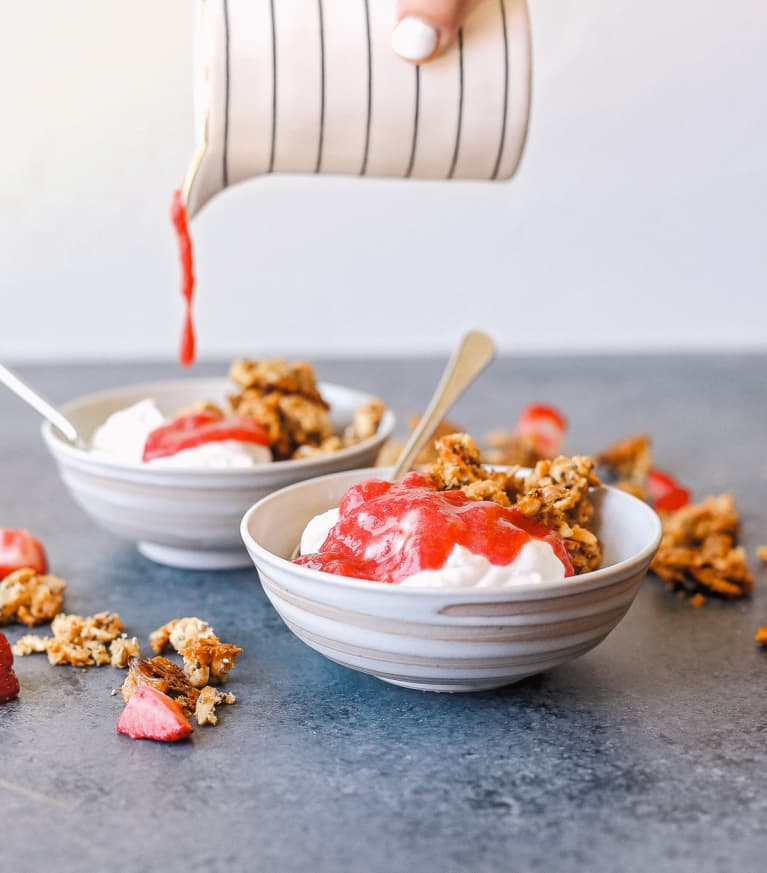 Creamy Coconut Yogurt Bowls
1 14-oz. can full-fat coconut milk
2 capsules probiotics
For the Chunky Paleo Granola
½ cup chopped walnuts
½ cup slivered almonds
½ cup raw cashews, chopped
¼ cup almond flour
½ tsp. salt
1 tbsp. chia seeds
1 tbsp. melted coconut oil
1 tbsp. cashew butter
2 tbsp. honey
1 tsp. vanilla extract
For the strawberry compote
1 cup frozen strawberries
2 tbsp. orange juice
1 tsp. vanilla extract
To make the coconut yogurt: Place the closed can of coconut milk in a bowl of warm water for about 10 minutes to soften it. Shake vigorously, then pour it into a clean glass jar or bowl. Open the probiotic capsules into the coconut milk and use a wooden spoon (no metal) to stir them in and disperse them evenly. Cover the jar with cheesecloth or a thin tea towel, and secure it on top with a rubber band. Let it sit in a warm environment—by a window if the sun is shining, or near your stove—for 24 to 48 hours, then transfer it to the refrigerator.
To make the strawberry compote: In a medium saucepan combine the frozen strawberries, orange juice, and vanilla. Place the pan over medium heat and cook for 5 minutes until the strawberries break down. Transfer the compote to a bowl and place it in the fridge until cooled.
To make the granola: Preheat the oven to 350°F and line a baking sheet with parchment paper. In a large bowl, combine the walnuts, almonds, cashews, almond flour, salt, and chia seeds.
In another bowl, combine the coconut oil, cashew butter, honey, and vanilla. Pour the wet ingredients over the nuts. Stir well to combine. Pour the mixture on the baking sheet and press into one even layer. It will look like a large cookie.
Bake for 13 to 15 minutes, or until lightly browned all over. Remove the granola from the oven and let it cool completely. Once cool, break the granola into small, bite-size pieces.
To make the bowl: Scoop the coconut yogurt into a bowl and top it with strawberry compote or fresh fruit and the granola.
You can store the yogurt and compote in separate airtight containers in the refrigerator for up to two weeks. If you make the granola ahead of time, keep it in an airtight container in a cool, dry place for up to two weeks.